Eternal Love – Yang Mi, Mark Chao
Eternal Love is a costume fantasy drama directed by Lin Yufen, led by Yang Mi, Mark Chao, co-starring Ken Chang, Dilraba Dilmurat, Vengo Gao Weiguang, Maggie Huang Mengying, Vin Zhang Binbin, Yu Menglong, Wayne Liu Ruilin, Wang Xiao, Zhu Xudan, and Daisy Dai, with a special appearance by Lian Yiming.

The drama is based on Tang Qi's novel of the same title, which tells the story of the beautiful immortal love between Bai Qian, the female ruler of Qingqiu, and Ye Hua, the Crown Prince of the Heaven, who experienced love-hate entanglements over three lives and finally became a couple.
Details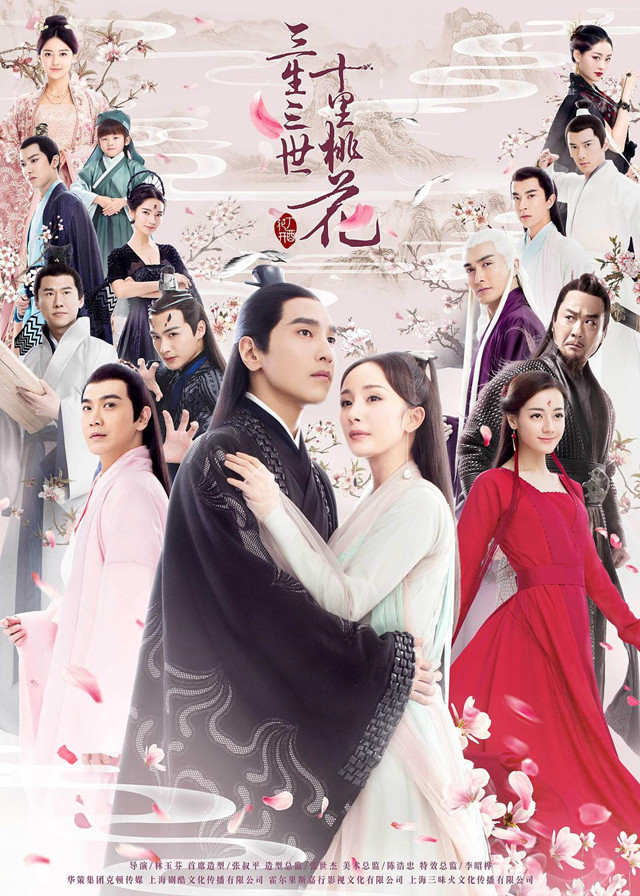 English Title: Eternal Love
Chinese Title: 三生三世十里桃花
Genre: Historical, Romance, Fantasy, Immortal
Tag: Xianxia, Fate, Strong Female Lead, Strong Male Lead, Steamy Kiss, Older Woman/Younger Man
Episodes: 58
Duration: 45 min.
Director: Lin Yufen, Yu Cuihua, Ren Haitao
Writer: Hong Huo
Product Company: GCOO ENTERTAINMENT, JAYWALK STUDIO, SEARCH FIRE
Released Date: 2017-01-30
Watch On: Croton MEGA HIT, Viki
Subtitle:
English, Chinese, Thai, Indonesian, Spanish, Hungarian, French, German, Persian, Korean, Polish, Dutch, Greek, Italian, Japanese, Portuguese, Romanian, Russian, Serbian, Serbo-Croatian, Slovak, Tagalog
Cast
Synopsis
The evil lord of Wings, Qing Cang provoked war with the gods, who paid a terrible price to seal Qing Cang.
In the same year, the heavenly grandson Ye Hua was born.
Seventy thousand years later, Qing Cang broke out of the seal, Qingqiu fox emperor's youngest daughter Bai Qian (Yang Mi) sealed Qing Cang again, but lost her magic, memory and fell into the mortal world.
She met and fell in love with Ye Hua in the mortal world and then was brought into the Heavenly Palace.
In the Heavenly Palace, Su Jin, who adores Ye Hua, repeatedly framed Bai Qian and made her misunderstand that Ye Hua is cold and heartless, and then caused Bai Qian to have both eyes gouged out.
After giving birth to her son, Bai Qian jumped from the Zhu Xian Tai.
Because Zhu Xian Tai's hostile energy cracked the seal, she restored her memory.
To forget Ye Hua, Bai Qian drank forgetfulness medicine.
A hundred years later, they reunited in Dong Hai, Ye Hua recognized Bai Qian, accompanied her, and awakened Bai Qian's memory finally.
Faced with old grudges, Bai Qian asked Su Jin to get her eyes back, but unexpectedly, she fell into Su Jin's trick and refused to forgive Ye Hua.
At this time, Qing Cang woke up again. Ye Hua was too late to explain, personally killed Qing Cang with his life to seal the Donghuang Bell.
In face of the result, Bai Qian was remorseful. Fortunately, three years later, Ye Hua woke up and they renewed their relationship.
Reviews
You May Also Like
Related Posts