Pretty Li Hui Zhen – Dilraba Dilmurat, Sheng Yilun
Pretty Li Hui Zhen is a romantic comedy directed by Zhao Chenyang, starring Dilraba Dilmurat, Sheng Yilun, Sierra Li Xirei, Vin Zhang Binbin, Wang Xiao, Wang Yinan, Ren Wei, Wang Yifei and Song Wenzuo.

The drama tells the story of Li Huizhen, who turns from a "supernumerary" to a perfect "princess". She meets her first love Bai Haoyu again, which leads to a twisted romantic love story.
Details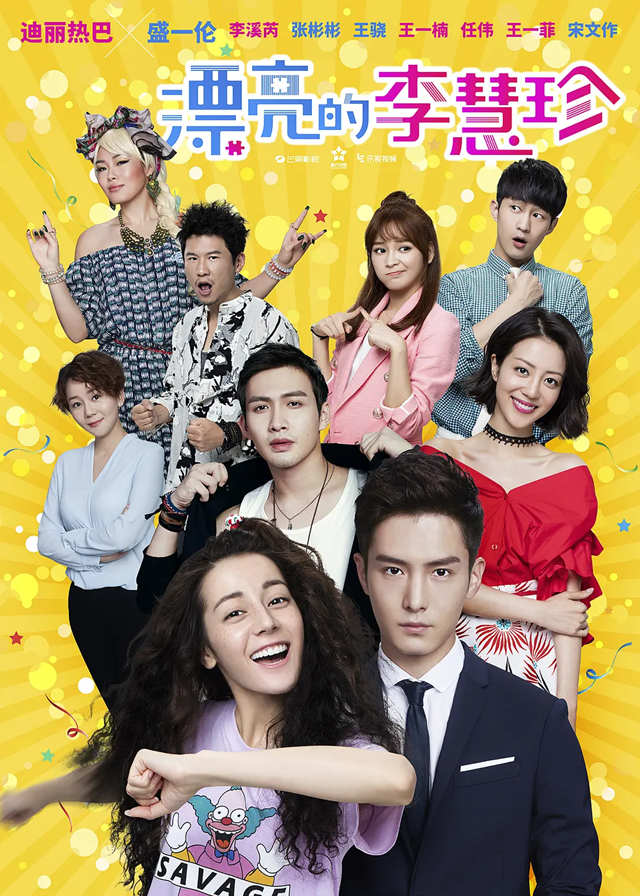 English Title: Pretty Li Hui Zhen
Chinese Title: 漂亮的李慧珍
Genre: Urban, Romance, Comedy
Tag: Fashion Industry, Mean Male Lead, Love Square, Workplace Romance, Sismance, Secret Romance
Episodes: 46
Duration: 45 min.
Director: Zhao Chenyang
Writer: Lu Zhirou, Yang Qing
Producer: Zhang Yong, Gao Chen, Gao Fei
Product Company: MANGO STUDIO, JAYWALK STUDIO
Released Date: 2017-01-02
Watch On: Fresh Drama, Idol & Romance
Cast
Synopsis
Bai Haoyu returned to Binjiang City after studying abroad and wanted to meet his childhood friend Huizhen.
Huizhen was beautiful when she was a child, but became ordinary when she grew up. In order not to disappoint Haoyu, Huizhen asked her best friend Xia Qiao to meet Haoyu instead of her.
Bai Haoyu did not find that Xia Qiao was a fake.
When Huizhen went to work at the magazine, she discovered that her boss was Bai Haoyu. Bai Haoyu was very strict with work that Huizhen was also reproached for this.
Lin Yimu, a reporter, teased Huizhen on the surface but secretly helped her.
When Bai Haoyu got along with Xia Qiao, he realized that Xia Qiao was far from the Huizhen he remembered.
Huizhen gradually overcame her shortcomings at work and grew up slowly. Bai Haoyu noticed that Huizhen in the company was closer to the Huizhen in his memory.
After discovering the truth that Xia Qiao was not Huizhen, Bai Haoyu returned to the real Huizhen.
Lin Yimu also started to pursue Huizhen at this time, competing with Bai Haoyu.
When the magazine suffered from a sales crisis, Lin Yimu took the initiative to let Bai Haoyu interview him, who turned out to be a very famous writer. He just came to the office to experience life.
Huizhen draw her work experience as a cartoon and published it on the internet, which triggered a hit craze. In the end, Huizhen and Haoyu are finally getting together.
Reviews
You May Also Like
Related Posts
Chinese Dramas Like Pretty Li Hui Zhen

Does Dilraba Dilmurat have a Boyfriend? Secret Marriage Rumor Troubled Her Much

Yang Yang, Dilraba: Is It Possible For them To Be In A Relationship In Reality?

Vin Zhang Binbin's Rumored Girlfriend, Who Is His Ideal Type?

Luo Yunxi and Dilraba His Favorite Actress on the same stage

Will Johnny Huang And Dilraba Declare Together After The Spring Festival Gala

Dilraba and Johnny Huang were suspected of being in love, fans asked the studio to disprove the rumor.

Yang Yang, Dilraba: The Wedding Scene Of "Jing Tu CP" Was Exposed In Advance.

Dilraba Dilmurat Photos

Dilraba, Leo Wu Lei Playing A Couple In "The Long Ballad" Led A Hot Discussion On The Net.

Diliraba's Suspected Pregnancy Triggered The Discussion Once Again

The Two Sweet Dramas Starred By Yang Yang, Ding Yuxi, Who Will You Choose?

Dilraba Dilmurat Dramas, Movies, and TV Shows List

Sheng Yilun Dramas, Movies, and TV Shows List