Love Designer – Johnny Huang, Dilraba Dilmurat
Love Designer is an urban romantic drama directed by Shen Yang and Ben Fang, led by Johnny Huang Jingyu and Dilraba Dilmurat, co-starring Zhang Xinyu, Yi Daqian, Hu Bing, Zhang Doudou, Wang Yiming, and Cai Guangtai.

The drama tells the inspiring story of business elite Song Lin and fashion designer Zhou Fang, who grow together from fighting each other to overcoming difficulties and finally achieve a successful career and love.
Details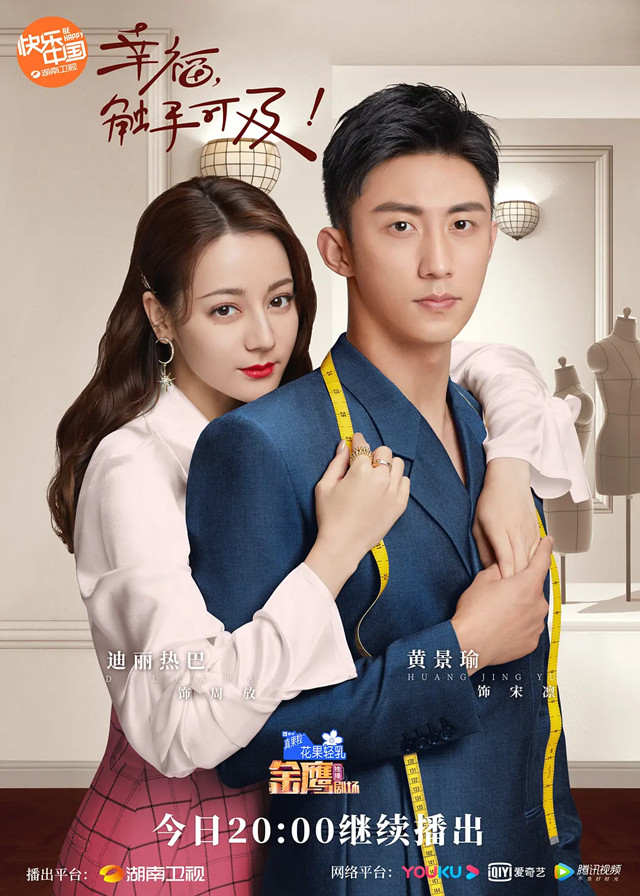 English Title: Love Designer
Chinese Title: 幸福,触手可及!
Genre: Urban, Romance, Business
Tag: Strong Female Lead, Love/Hate Relationship, Competition, Slow Burn Romance, Steamy Kiss, First Love
Episodes: 51(TV) / 45(DVD)
Duration: 45 min.
Director: Shen Yang, Ben Fang
Writer: Li Ranning, Wang Fang, Zhang Ziwei
Product Company: WANDA PICTURES, HUOERGUOSI XINMEI CHENGPIN CULTURE&MEDIA
Released Date: 2020-05-19
Broadcast Website: Viki, China Zone
Cast
Synopsis
Zhou Fang, a fashion designer, and Song Lin, an e-commerce tycoon, encountered each other over a business lawsuit.
They were at odds with each other, but they were forced to cooperate because of various ties in their lives and work.
The two stubborn and strong-willed people were in constant conflict. However, they grew up in the process of competing with each other and gradually fell in love.
Zhou Fang and Song Lin supported each other while disliking each other. They got through all kinds of difficulties together and kept improving themselves in order to realize their ideals.
The designer Zhou Fang eventually owned a well-known high-fashion brand, while Song Lin developed a business model of haute couture and made a new breakthrough in his career.
Reviews
You May Also Like
Related Posts
Chinese Dramas Like Love Designer

Will Johnny Huang And Dilraba Declare Together After The Spring Festival Gala

Dilraba and Johnny Huang were suspected of being in love, fans asked the studio to disprove the rumor.

Does Dilraba Dilmurat have a Boyfriend? Secret Marriage Rumor Troubled Her Much

Vin Zhang Binbin's Rumored Girlfriend, Who Is His Ideal Type?

Yang Yang, Dilraba: Is It Possible For them To Be In A Relationship In Reality?

Luo Yunxi and Dilraba His Favorite Actress on the same stage

Dilraba, Leo Wu Lei Playing A Couple In "The Long Ballad" Led A Hot Discussion On The Net.

Huang Jingyu Photos

Dilraba Dilmurat Photos

Diliraba's Suspected Pregnancy Triggered The Discussion Once Again

Yang Yang, Dilraba: The Wedding Scene Of "Jing Tu CP" Was Exposed In Advance.

Li Qin, Johnny Huang Jingyu Had A Love-Hate Relationship In "My Dear Guardian"

Huang Jingyu Dramas, Movies, and TV Shows List

Dilraba Dilmurat Dramas, Movies, and TV Shows List

The Two Sweet Dramas Starred By Yang Yang, Ding Yuxi, Who Will You Choose?