Dating in the Kitchen – Lin Yushen, Zhao Lusi
Dating in the Kitchen is an urban romantic drama directed by Chen Chang, led by Lin Yushen and Zhao Lusi, and co-starring Zhang Xiaoqian, Yu Xinhe, and Fu Jia.

The drama is adapted from Lan Bai Se's novel "Zhong Yu Deng Dao Ni", which tells the story of Lu Jin, a snarky foodie president, and Gu Shengnan, a female chef. They finally fall in love and reap the benefits of happiness under the dual magic of food and love.
Details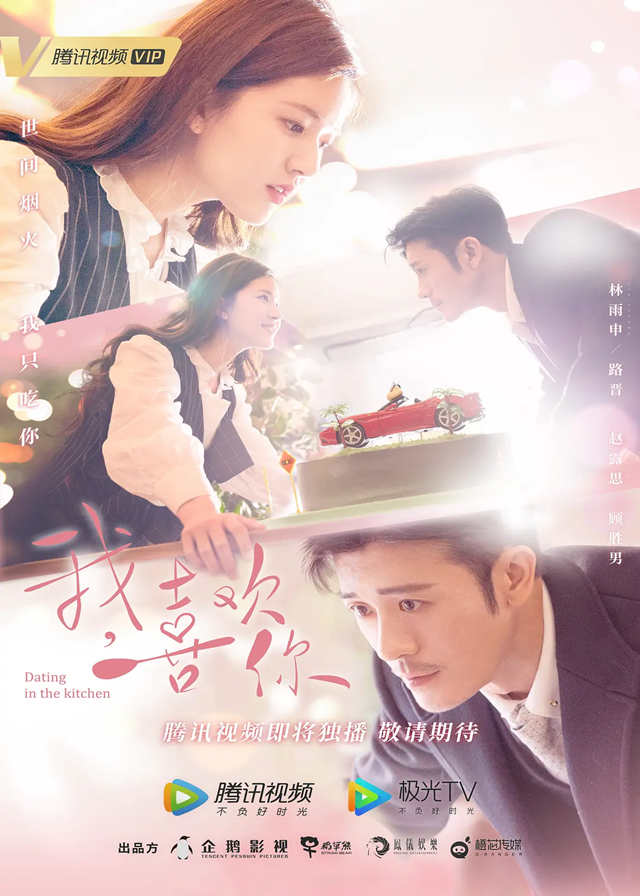 English Title: Dating in the Kitchen
Chinese Title: 我,喜欢你, 终于等到你
Genre: Urban, Romance
Episodes: 24
Duration: 45 min.
Director: Chen Chang
Writer: Zhao Xiaolei, Li Tian, Wu Zhongquan
Producer: Zhang Na
Product Company: TENCENT PENGUIN PICTURES, STRAWBEAR, PHOENIX ENTERTAINMENT, O-RANGER
Broadcasting Website: WeTV, Viki
Released Date: September 15, 2020
Cast

Lin Yushen
as Lu Jin

Zhao Lusi
as Gu Shengnan

Zhang Xiaoqian as Meng Xinjie

Yu Xinhe as Xu Zhaodi

Fu Jia as Cheng Ziqian

Wu Yaheng as Gao Quan'an

Li Qian as Li Man

Yu Xiang as Lu Zheng
Synopsis
The most unbelievable thing in the life of the girl Gu Shengnan is when she was suffering a double hit of break-up and unemployment, waiting for the prince to come to rescue her on a white horse, she met Lu Jin.
But who would have thought that this prince is a tricky and picky, snarky and arrogant, upgraded version of "Monk", but this "Monk" is not vegetarian!
The arrogant foodie Lu Jin had a lot of conflicts with the talented chef Gu Shengnan after they met, but he was always attracted by Gu Shengnan's exquisite cooking.
In the process of getting along, they fatedly got closer and closer.
  
Finally, president Lu Jin took off his cool elite mask and turned into a loyal boyfriend, and the "little faerie" also learned how to love.
They reaped simple happiness in food.