Hidden Love – Zhao Lusi, Chen Zheyuan
Hidden Love is a romantic drama led by Zhao Lusi and Chen Zheyuan, co-starring Ma Boqian, Zhang Bojia, Gu Shuqi, Wang Yilan, Qi Tianqing, Lu Dongxu, Tang Sijia, Zhu Zihao, Guan Zijing, Xu Shixin, and Hu Yuxuan.
The drama is based on the novel of the same name by Zhu Yi.
Details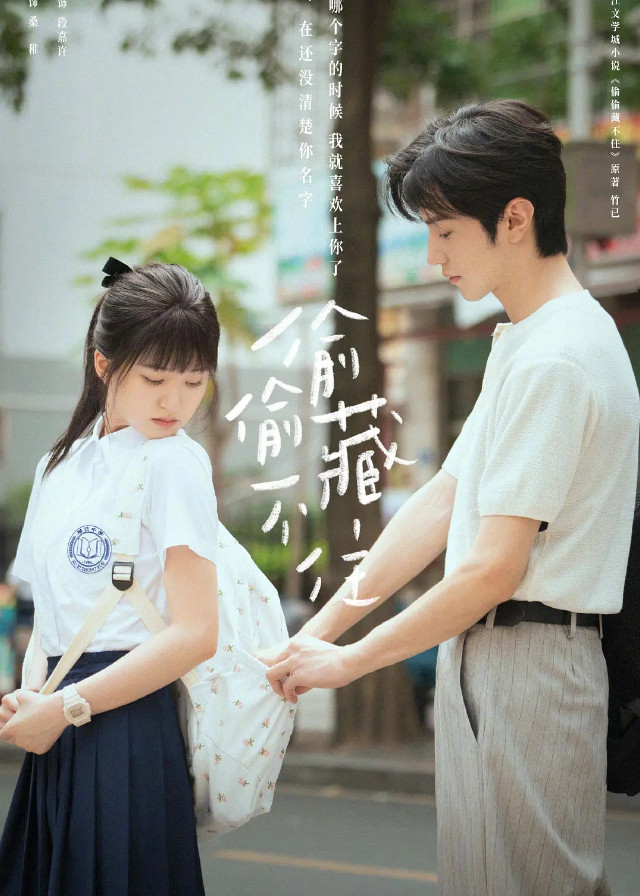 English Title: Hidden Love
Chinese Title: 偷偷藏不住
Genre: Urban, Romance, Youth
Episodes: 24
Duration: 45 min.
Director: Zhang Weilin, Zhang Junbo, Guan Wei, Du Bing
Writer: Ou Sijia, Zhu Yi
Producer: Zhang Weilin, Zhang Junbo, Guan Wei, Du Bing
Product Company: WAJIJIWA ENTERTAINMENT
Released Date: –
Boradcast Website: –
Cast
Synopsis
During high school period, Sang Zhi is frequently asked by her teacher to meet with her parents. In order to solve the problem, Sang Zhi decides to ask her brother to take the blame. However, she fails, she has no choice but to turn to her brother's roommate Duan Jiaxu, who comes to play with her brother.
As a result, Duan Jiaxu helps Sang Zhi to meet with her teacher at school, and they become close, and then Duan Jiaxu treats Sang Zhi as his own sister.
As Duan Jiaxu graduates from university, they are separated from each other, and due to some misunderstandings, they become estranged.
It is not until Sang Zhi is an adult that they reunite when she is admitted to Duan Jiaxu's city, as she had hoped.
Gradually, Sang Zhi discovers the source of Duan Jiaxu's constant stress and wants to protect this older brother who has always been so kind to her and revive her hidden love.
With the company of Sang Zhi, Duan Jiaxu slowly unravels the "knot" in his heart, and he truly falls in love with the grown-up Sang Zhi.
You May Also Like
Related Posts
What's Yang Yang And Zhao Lusi's Relationship?

What's Zhao Lusi, Leo Wu Lei's Relationship? Why Fans Can Not Calm Down

Chen Zheyuan Dramas, Movies, and TV Shows List

Zhao Lusi Dramas, Movies, and TV Shows List

Chen Zheyuan Photos

Zhao Lusi Photos

Does Rosy Zhao Lusi Have a Boyfriend? Her College Boyfriend was Exposed

Liu Te, Rosy Zhao Lusi Were In A Relationship? His Ex-Girlfriend Was Rocket Girls' stylist

Zhao Lusi, Ryan Ding Yuxi Refused To Be CP, Will They Played In "The Romance Of Tiger And Rose 2"?

Rosy Zhao Lusi was Involved in a Dating Rumor, Studio Issued a Statement

Does Chen Zheyuan Have A Girlfriend? What's His Ideal Type

What's Shen Yue and Chen Zheyuan's Relationship?

Chen Zheyuan, Rainbow Xu Mengjie Return To Campus, Interpreting Of The Sweet And Sentimental Youth

Terry Liu Te: Shy To Shoot Kiss Scenes With Zhao Lusi, Don't Mind Being Judged On Looks

Rosy Zhao Lusi, Liu Yuning Gained Large Popularity For "Hao Yan CP" In "The Long Ballad"

Rosy Zhao Lusi, Xu Kaicheng Interpret The Sweet Relationship Between Teacher And Student In The Ancient Campus

Who Is Jason Gu Jiacheng's Girlfriend?

Zhao Lusi, Xu Kaicheng's New Drama Is Hit, But The Douban Rating Is Only 4.3