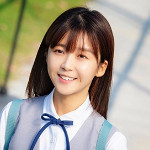 Ireine Song dramas, movies, and TV shows list contains the best TV series, films of Ireine Song and the ongoing and upcoming shows. The list will be updated continuously, bookmark this list to get the latest tv shows of Ireine Song.
Ireine Song Dramas List
TBA

#1

Urban, Romance, Comedy

Zhang Yunlong, Ireine Song

Influenced by his childhood experience, AI engineer Gu Jiuli founded his company, Jiuqian Technology, which is dedicated to developing escort robots. Hao Liang, a senior Kindergarten Education major, loves to sing, but because of her mother's opposition, she can only secretly work as a singing live blogger at night - "Sister A Dia". As she approaches graduation, Hao Liang comes to Gu Jiuli's company for an internship in order to avoid her mother finding out about her identity as a net anchor. When they meet, Hao Liang falls in love with Gu Jiuli at first sight and makes frequent advances. However, due to his "face blindness", Gu Jiuli does not realize that the girl who has secretly expressed her feelings for him is Hao Liang, which leads to a series of hilarious stories. They finally get together after clearing up their misunderstanding. As a result of Gu Jiuli's excellence, Hao Liang decides to improve herself and try to become a better herself. At the same time, the presence and companionship of Hao Liang warm Jiuli's heart. Gu Jiuli gradually learns about Hao Liang's dreams and gives her encouragement, making her more confident. In the end, with the support of each other, they are able to fulfill their respective dreams.

TBA

#2

Historical, Romance, Fantasy

Ireine Song, Guo Junchen

Qi Chunjiao, a discus athlete, experienced a series of collapses, such as career interruption, failed confession of first love, and misunderstanding with her mother. But she accidentally became Gu Qingqiao, an ancient girl with a head injury. At the same time, her crush Duan Yu and his nephew Duan Shaoyi, her best friend Lu Zizheng, and team doctor Ruan Siqiong also took on different identities and met her again. In the course of their legendary journey to find the "Si Ling" treasure, they slowly dissolved her knotted heart and made her learn to love and found a new direction in life.

2020-10-17

#3

Youth, School, Romance

Ireine Song, Aaron Deng

The young girl with a dream of oil painting, Yuan Qian was transferred to the sculpture department. In order to pass the departmental transfer test, she tried her best but eventually failed because of the male lead. Qin Shen, a straight, cool school hunk who aspired to be a sculptor, was very popular on campus because of his good looks. But he gradually changed himself after meeting Yuan Qian. The meeting of them was like a chemical reaction. For a long single, they were full of disdain for love but surprisingly started a hilarious love mode. After experiencing many misunderstandings, challenges and crises, they recognized their hearts and approached their dreams step by step. The college students from the art department overcome many difficulties on the way to pursuing their artistic ideals, and eventually gain love, and friendship and approach to their dreams.

2020-04-10

#4

Urban, Youth, Romance

Ireine Song, Zhang Yao

Lin Xichi is a young girl from a divorced family. Xu Fang is an arrogant and conceited cool archer. Their different lives seem destined to be entwined. Because her mother was absent during her childhood, Lin Xichi has always had doubts about the existence of stable relationships in this world. But Xu Fang, the cool teenager, companies her from childhood to the teenage years and made it his lifelong goal to give her a stable and unchanging relationship. When Lin Xichi has not yet figured out why Xu Fang, a candidate for the provincial shooting team, gave up going to Beijing but came to her university, she was once again in abuse mode. They soon became the focus of the school for their respective excellence, but repeatedly denied the possibility of falling in love. Lin Xichi has always lacked sensitivity in her emotion, so Xu Fang can only keep back his confessions again and again. The only way to get close to Lin Xiuchi is to act domineering. After all the trials and tribulations, Lin Xichi finally realized that Xu Fang's companionship and watchfulness from the beginning to the end was the most precious existence in the world. This time, she decided that even in the face of her greatest fears of separation, she would bravely go on and become his most determined force, accompanying him on his road to the championship.

2020-01-13

#5

Historical, Fantasy, Wuxia

Dylan Wang, Ireine Song

There is a rumor in this world: the coming of the ever night, the earth's catastrophe. Only by finding the one who related the omens can the crisis be resolved. With a strong will, Ning Que, a young soldier in a border town, has made his way and cultivation, successfully vindicating his family who died unjustly, and becoming the guardian of the Tang Empire. However, at the urging of ambitious people, the people discover that Sang Sang, a childhood friend of Ning Que, is a legendary person and wants to kill her. Ning does not want to see the kind-hearted Sang Sang get hurt, so he accompanies her to break through the many obstacles, and they travel the world and live together. At this time, the ambitious warriors are intent on destroying the Tang Kingdom in one fell swoop and have assembled a coalition of armies to crush it. Ning Que received his orders and put aside his personal grudges and lead the Tang army and people to fight against them and become the guardian of the country. With the strength of millions of people and their determination to defend their homeland, Ning and his companions defeat the powerful enemy and restore peace and tranquillity to the world. Finally, Ning Que continues on his journey to find his lover, Sang Sang.

2019-11-07

#6

Urban, Romance, Fantasy

Gong Jun, Ireine Song

After meeting a young girl with no sense of taste, a highly trained and highly regarded taste genius, Lu WeiXun, unexpectedly suffered a major setback in his life – he lost his sense of taste. HeBuzui did everything she could to help Lu Weixun out of her predicament. At the same time, Lu Weixun devised a whole set of methods to help He Buzui restore her sense of taste. He Buzui overcame all difficulties, accepted the devil's training, deeply felt the hard work and efforts behind the industry elite, and experienced all kinds of wonderful flavors in the world. Lu Weixun and He Buzui have very different personalities, but in the process of getting along, the cool and lonely Lu Weixun was infected by the resilient and optimistic He Buzui. He Buzui grew up to be a highly qualified industry insider, and in the mutual help and cooperation with Lu Weixun, they were touched by each other's sincerity, establishing a deep emotion and meeting their own love.

2019-07-22

#7

Youth, School, Sport

Peng Yuchang, Dong Li, Zhang Yijie

The rapid developments in the tennis sport of China have led to a tennis fervor in high school. The tennis team of Yuqing High School, with veteran coach Qi Na as head coach, has had many successes. It has also trained a lot of excellent tennis talents. However, in the current national tournament, Yuqing High School is facing the crisis of not being able to enter the national tournament. Lu Xia joins the team as a transfer student, and he is determined to become the best tennis player. After joining the team, he meets various tennis players and sees more possibilities. With the help of everyone, Lu Xia learns the true joy of competitive sports. In the process of playing in the national league, he feels the joy of team life and gets the strength from the group to lead the team towards the set goal, breaking through and pushing forward.

2018-12-10

#8

Romance, Comedy

Ireine Song, Yan Yuhao

The silly "serious king" girl Lin Lu signed a "100-day love contract" with president Shi Liansen because her brother Lin Cheng was seriously ill and need high medical bills. Under the contract marriage, Lin Lu always mistakenly intruded into the area of Shi Liansen, Shi Liansen's poisonous words also made Lin Lu very crazy. They gradually come closer to each other and staged a modern urban love drama.
Ireine Song Movies List
2017-08-03

#1

Historical, Fantasy, Romance

Liu Yifei, Yang Yang

Mo Yuan, the God of War of the Heavenly Clan, seals the ghostly ruler, Qing Cang, in the Wuwang Sea. His soul is scattered and his immortal body is frozen in the Qinqiu Yanhua Cave. Bai Qian, the Qingqiu empress, has an engagement with Heavenly Clan's crown prince, Ye Hua, but they have never met. It is not until the banquet at the East Sea that Ye Hua discovers that Bai Qian looks just like his late wife Su Su, and he decides to live in Bai Qian's Qingqiu, in order to solve the mystery of Bai Qian and Su Su. However, his concubine Su Jin becomes jealous and secretly helps the Queen of the Ghost Tribe, Xuan Nu steal Mo Yuan's immortal body. Bai Qian gets angry and fights in a bloody battle against the Ghost Clan in Daziming Palace, and is seriously injured. She is finally saved by Ye Hua. Bai Qian follows YeHua to the Heavenly Clan and recovers her memory through the Heavenly Clan's magic lantern. When she gains the memory of Ye Hua hurting her, she can't forgive him. Su Jin, who framed Bai Qian, was punished and sent to the Wuwang Sea. She becomes crazy that she uses the blood of A Li, the son of Ye Hua, to free the ghost ruler Qing Cang, who was sealed by Mo Yuan. In order to protect the world, Ye Hua sacrificed his spirit to the Donghuang Bell and sealed Qing Cang again.

2015-09-25

#2

Urban, Romance, Drama

Liu Yifei, Song Seung Heon

The capable and smart female lawyer Zou Yu and the second son of the Zhi Lin Group, Lin Qizheng, met each other because of a court trial. Under Lin Qizheng's fierce "attack", Zou Yu overcame her emotional scars and fell in love with him. However, she didn't know that he already had a fiancée, Jiang Xinyao, who was a suitable match for him due to their family backgrounds. Zou Yu's younger sister, Zou Yue, also had feelings for Lin Qizheng and even resorted to suicide to win his love. Trapped in a vortex of emotions, what should they do when faced with this special third way of love?
Related Posts