The Prince of Tennis – Peng Yuchang, Dong Li
The Prince of Tennis is a sports-themed youth school drama directed by Zhao Xiaoou and Zhao Xiaoxi, starring Peng Yuchang, Dong Li, Zhang Yijie, Xie Binbin, Zhu Zhiling, Xu Ke, Wu Xudong, Li He, Fan Linfeng, with special appearances by Li Na, Jiang Shan, and Ireine Song.

The drama tells the story of the players of the tennis team of Yuqing High School who breakthrough themselves, inspired by their tennis dreams and friendship. They go from fighting alone to gradually appreciating the meaning of teammates and even opponents, and finally understanding the true meaning of tennis.
Details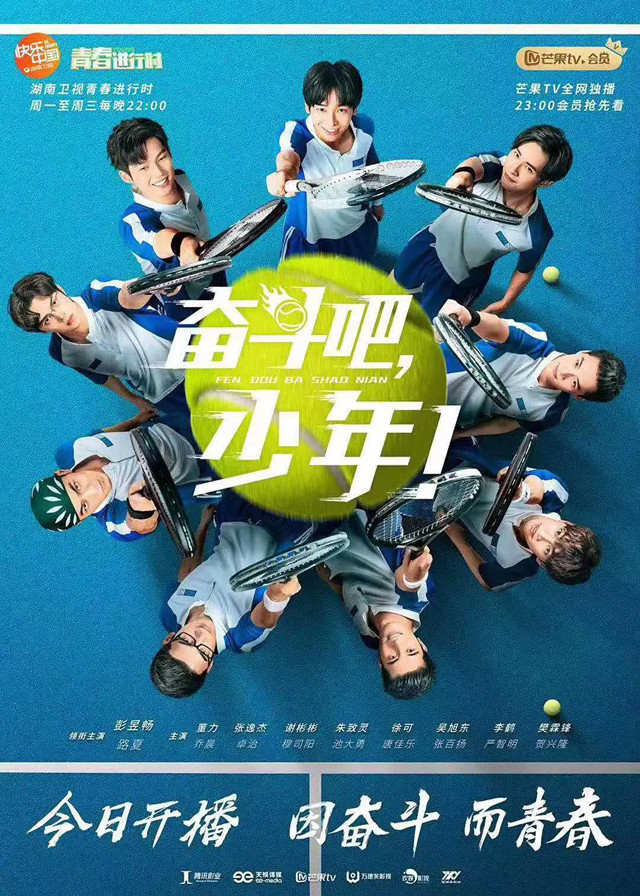 English Title: The Prince of Tennis
Chinese Title: 奋斗吧,少年!
Genre: Youth, School, Sport
Tag: High School, Student, Competition, Bromance, Slight Romance, Multiple Mains
Episodes: 42
Duration: 45 min.
Director: Zhao Xiaoou, Zhao Xiaoxi
Writer: Chen Chong, Pan Zhixin, Li Yiwan, Zhang Yulan, Liu Ruiyang, Tang Shiyun, Luo Binyi, Xu Chongjiang, Wen Wen, Yang Kailin
Producer: Yang Yan, Yang Yaqiong, Tang Fan
Product Company: TENCENT PICTURES, EE MEDIA, MGTV, Huanyu Entertainment
Released Date: 2019-07-22
Broadcast Website: Netfilx
Cast
Synopsis
The rapid developments in the tennis sport of China have led to a tennis fervor in high school.
The tennis team of Yuqing High School, with veteran coach Qi Na as head coach, has had many successes.
It has also trained a lot of excellent tennis talents. However, in the current national tournament, Yuqing High School is facing the crisis of not being able to enter the national tournament.
Lu Xia joins the team as a transfer student, and he is determined to become the best tennis player.
After joining the team, he meets various tennis players and sees more possibilities.
With the help of everyone, Lu Xia learns the true joy of competitive sports.
In the process of playing in the national league, he feels the joy of team life and gets the strength from the group to lead the team towards the set goal, breaking through and pushing forward.
Reviews
You May Also Like
Related Posts