My Strange Friend – Wang Yibo, Zhang Yijie
My Strange Friend is a youth school fantasy drama directed by Xing Xiao, led by Wang Yibo, Zhang Yijie, Wang Mengli, Zhang Nan, Xiao Xu, and Wang Bowen, co-starring Zhang Xueheng, Zhang Weiwei, Fei Long, De Bo, Wang Yueyun and Shi Rui.
The drama tells the story of a group of young people who have superpowers and use them to overcome difficulties and solve problems, growing and transforming in the process.
Details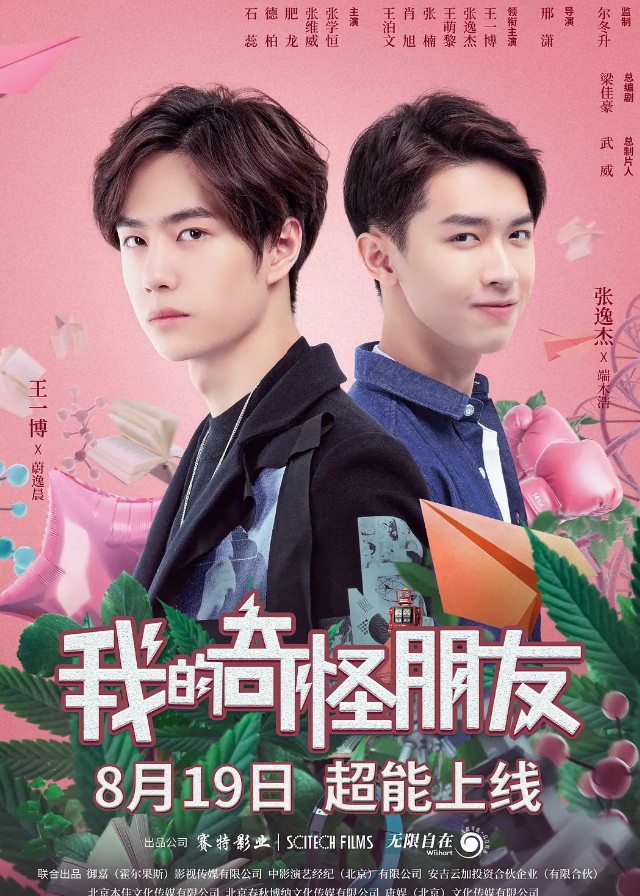 Cast
Synopsis
A gifted young man, Wei Yichen, loses his superpowers accidentally and the notebooks that contain the secrets of his powers go missing.
As he explores the truth behind the loss of his powers, he meets a group of friends who also have superpowers.
Mind reading, predicting the future, high-powered electric shocks, mind-shifting, invisibility, and other extraordinary powers are revealed one by one, and the extraordinary team grows from initial panic to tacit cooperation and gains true friendship.
Reviews
You May Also Like
Related Posts
Chinese Dramas Like My Strange Friend

Is Xiao Zhan and Wang Yibo's Relationship Getting Worse?

Wang Yibo is Once Again Rumored to be in Love, The Girl is Emily Qi Meihe

Wang Yibo's Ideal Type - How To Be Yibo's Girlfriend

Who is Emily Qi Meihe? Is Wang Yibo Chaseing After Her?

How is Wang Yibo, Cheng Xiao's Relationship, Will They Be In Love?

Wang Yibo Xiao Zhan's Controversial Interactions - Another Infighting Between "Bojun Yixiao"?

Wang Yibo's 70 Quotes

Wang Yibo Photos

Xiao Zhan Ranked 1st, Wang Yibo 2rd - The Most Popular Chinese Actor in Thailand

Xiao Zhan And Wang Yibo Become Competitor, "Douluo Continent" and The Legend of Fei" May Be Aired at The Same Period

Wang Yibo's web drama "My Strange Friend" was aired, it's really laughable

Wang Yibo Agency Denied The Relationship With Li Zixuan

Wang Bowen Dramas, Movies, and TV Shows List

Wang Mengli Dramas, Movies, and TV Shows List

Zhang Yijie Dramas, Movies, and TV Shows List

Zhang Nan Dramas, Movies, and TV Shows List

Wang Yibo Dramas, Movies, and TV Shows List

Zanilia Zhao Liying And Wang Yibo's Second Coopertion Rumor Led To Fan's Boycott

Studio Denied Li Zixuan's Dating Rumors, The Boy Is Not Wang Yibo