The Untamed – Xiao Zhan, Wang Yibo, Meng Ziyi, Xuan Lu
The Untamed is an ancient Xianxia drama co-directed by Zheng Weiwen and Chen Jialin, starring Xiao Zhan, Wang Yibo, Meng Ziyi, Xuan Lu, Wang Zhuocheng, Yu Bin, Liu Haikuan, Zhu Zhanjin, and Wang Haoxuan, with special appearances by Li Ruotong, Lu Jianmin, Huang Ziteng, and Xiu Qing, and Shen Xiaohai in a guest role.

The drama is based on the novel "魔道祖师/ Mo Dao Zu Shi" of Mo Xiang Tong Chou. It is based on the background of the five families and tells the story of Wei Wuxian and Lan Wangji, who met again and worked together to find out the truth about the past years and protect the people's peace and happiness.
Details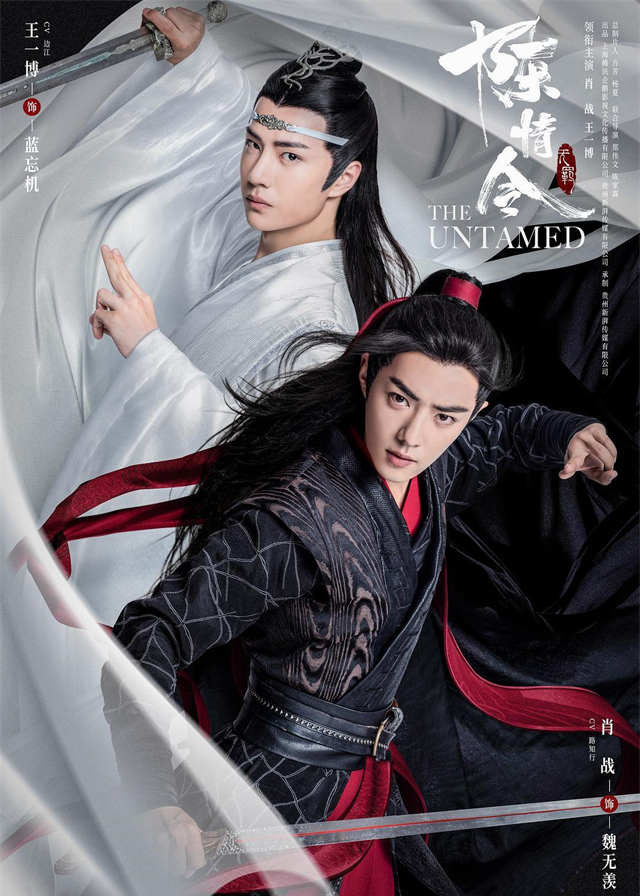 English Title: The Untamed
Chinese Title: 陈情令
Genre: Historical, Wuxia, Fantasy, Political
Tag: Xianxia, Censored Adaptation of Same-sex Original Work, Wrongfully Accused, Playful Male Lead, Strong Male Lead, Soulmates
Episodes: 50
Duration: 45 min.
Director: Zheng Weiwen, Chen Jialin
Writer: Mo Xiang Tong Chou
Producer: Fang Fang, Yang Xia, Wang Chu, Liu Mingyi
Product Company: TENCENT PENGUIN PICTURES, NewStyle Media
Released Date: 2019-06-27
Boradcast Website: WeTV, Netfilx, TencentVideo, Prime Video
Cast
Synopsis
Sixteen years ago, the world was divided into five, Gusu Lan, Yunmeng Jiang, Qinghe Nie, Qishan Wen, and Lanling Jin, who ruled the world together. The Wen Family was dominant, and the other four families suffered from it.
Among the youths, Wei Wuxian, the son of a deceased member of the Jiang family, has a cheerful personality. He met and became friends with Lan Wangji, a disciple of the Gusu Lan family, who is known for his elegance.
By chance, they discovered the secret that the Lan Family has been guarding, and they inherited the will to eliminate the hidden danger for the people.
But they never thought that the master behind everything was Wen Ruohan, the head of the Wen family. The other four families can not stand the humiliation, they joined forces to crush the Wen family.
After the ruin of the Wen family, Wei Wuxian went against all the families to protect the innocent members of the Wen family. However, he was eventually victimized by a traitor and caused a big disaster, mistakenly harming his senior sister, Jiang Yanli. He chose to end his life by jumping off a cliff.
Sixteen years later, Wei Wuxian appeared in the Mo Family as Mo Xuanyu and met his old friend, Lan Wangji.
A series of weird murder cases in Mo Family seems to be confusing. As the truth was uncovered step by step, Jin Guangyao, who was behind the scenes, gradually can hardly hide.
In the end, Jin Guangyao died, and Lan Wangji took up the mission of protecting the world, while Wei Wuxian did not forget his original intention, and lived freely.
You May Also Like
Related Posts
Chinese Dramas Like The Untamed

Is Xiao Zhan and Wang Yibo's Relationship Getting Worse?

Wang Yibo Xiao Zhan's Controversial Interactions - Another Infighting Between "Bojun Yixiao"?

Xuan Lu Dramas, Movies, and TV Shows List

Meng Ziyi Dramas, Movies, and TV Shows List

Xiao Zhan Dramas, Movies, and TV Shows List

Wang Yibo Dramas, Movies, and TV Shows List

Xiao Zhan Photos

Wang Yibo Photos

Xiao Zhan Ranked 1st, Wang Yibo 2rd - The Most Popular Chinese Actor in Thailand

Xiao Zhan And Wang Yibo Become Competitor, "Douluo Continent" and The Legend of Fei" May Be Aired at The Same Period

Wang Yibo is Once Again Rumored to be in Love, The Girl is Emily Qi Meihe

Wang Yibo's Ideal Type - How To Be Yibo's Girlfriend

Xiao Zhan Party Denied Rumors of Dating, Getting Married And Having A Baby Secretly.

How is Wang Yibo, Cheng Xiao's Relationship, Will They Be In Love?

Who is Emily Qi Meihe? Is Wang Yibo Chaseing After Her?

What A Pity Of Xiao Zhan And His Girlfriend In College

Who is Cheng Yi's girlfriend? Meng Ziyi?

Wang Yibo's 70 Quotes

How Is the Relationship Between Xiao Zhan, Yang Zi?