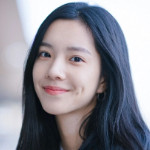 Sabrina Zhuang dramas, movies, and TV shows list contains the best TV series, films of Sabrina Zhuang and the ongoing and upcoming shows. The list will be updated continuously, bookmark this list to get the latest tv shows of Sabrina Zhuang.
Sabrina Zhuang Dramas List
TBA

#1

Historical, Romance, Comedy

Daddi Tang, Sabrina Zhuang

The mysterious thief "Liu Ye Thief", whose name is Liu Rong, was saved by Duke Su 13 years ago during a flood in the south. To repay him for saving her life, Liu Rong marries Xu Muchen as Su Jinzhen, the daughter of Duke Su. Both husband and wife have no feelings for this marriage. On the surface, Liu Rong is the gentle and caring Mrs. Xu, but in secret, she is the "Liu Ye Thief". Under the instructions of Duke Su, Liu Rong repeatedly infiltrates various parts of the Xu Mansion in search of the jade pendant, while also repeatedly confronting Xu Muchen as the "Liu Ye thief". Every time Xu Muchen gives trouble to the "Liu Ye Thief", he will be fixed by his wife "Su Jinzhen" when he returns home. In their daily life together and in the "official-thief battles", they gradually develop a true love for each other ......

2023-08-12

#2

Youth, Romance, Drama

Sabrina Zhuang, Zhou Yiran

After her parents' divorce, Lin Yujing transferred to a new city with her father. Faced with a new build family, Lin Yujing felt uneasy in her heart, but she also received sincere love from her stepmother and stepbrother. Thinking it would be difficult to integrate into the new group, Lin Yujing quickly made friends with an interesting group of classmates at her new school. Her arrival also brought about a change in Shen Juan, her unsociable classmate. However, their settling lives were disrupted by Lin Yujing's mother, Lin Zhi, who forcefully took her back to their hometown. A year later, Lin Yujing and Shen Juan reunited at university, and she learned that Shen Juan had experienced a tragedy in his family and had yet to recover from the trauma of losing loved ones. With the help of Lin Yujing and their classmates, Shen Juan gradually emerged from the darkness and returned to the life arena that rightfully belonged to him. Lin Yujing also found her own life direction during her university life.

2023-03-24

#3

Historical, Romance, Drama

Sabrina Zhuang, Huang Junjie

Born in a military family, the young girl Chun Tumi planned to live peacefully, but she never thought that her father would be unjustly imprisoned. As there were no male members in the family, she had to go to court to redress her father's grievances and thus embarked on the path of a litigator. The difficulties and criticisms faced by a woman who is a litigator can be imagined, and even affected her marriage. But with her persistence and the support and encouragement of her family, she saved the poor, fought against the power, solved all kinds of difficult cases, sharing the worries of the country. She willingly became a pawn in the hands of the emperor. In the end, Chun Tumi grew up to be the first female Litigator in ancient times. At the same time, she won the love of Crown Prince Han Wufei, Prime Minister Kang Zhengyuan, and the exotic Prince A Su Rui. Eventually, she chose to marry A Su Rui, who had been with her all along the way.

2022-10-11

#4

Drama, Life, Family

Yao Chen, Chang Yuan, Sabrina Zhuang

The girl band "Kuang Hua" was once a big hit in China, but its lead singer Peng Lai went to the United States after a divorce, leaving her six-year-old daughter, Bai Tian, to be raised by her ex-husband during the day. The band's music career failed miserably in the US, and Peng Lai was left to wander alone. Twelve years later, when her ex-husband passed away, 19-year-old Bai Tian is left alone to deal with the troubles of growing up, and Peng Lai decides to return home. The relationship between a rebellious teenager and a "crazy" middle-aged woman is more like a stranger than a mother and daughter. Conflict continues to escalate. But both Peng Lai and Bai Tian persevere in their rock music dreams. Through various difficulties, mother and daughter finally joined hands and blossomed in courage and determination, inspiring young people to push forward for their dreams.

2022-05-27

#5

Romance, School, Comedy

Sabrina Zhuang, Ren Youlun

The binary "1+1=10" just confirms the decade-long relationship between Zhou Linlin and Fang Yuke. In this binary love with Fang Yuke, Zhou Linlin becomes a permanent variable for Fang Yuke, the computer master, because of her spooky and cheerful personality. Zhou Linlin is a young girl who tends to go overboard on one or some subjects. She entered the best university in the country under the careful guidance of Fang Yuke. After entering the school, the careless Zhou Linlin accidentally got into trouble with the rising tennis star Wen Tao and Fang Yuke's best friend Xie Duanxi; and built up a wonderful and warm sisterly friendship with her roommates Ye Ruting and Zhu Li. In the end, with the help of Da zui and Lao Ding, Fang Yuke's crush is finally finished. However, in the process of love, they encountered a variety of tests….

2020-01-22

#6

Fantasy, Romance, Historical

Dilraba Dilmurat, Vengo Gao

The Qingqiu empress Bai Fengjiu was saved by the Donghua emperor. She kept it in mind. To repay the kindness of Dong Hua, Bai Fengjiu went to the Tai Chen Palace as a palace maid for many years. After Dong Hua was locked into the lotus field of ten evils, Bai Fengjiu transformed into a fox to save Dong Hua. Since then, Bai Fengjiu accompanied Dong Hua as a fox and learned that Dong Hua will marry Ji Heng, Bai Fengjiu was sad and left. Later, Dong Hua went to the mortal world to experience the disaster, Fengjiu also followed him. In the valley of Fanyin, Fengjiu fell into the dream world of A Lanruo and experienced the past of A Lanruo and Shen Ye again. Dong Hua saved Fengjiu in the identity of Xi Ze. In the battle with the evil Miao Luo, they overcame the evil. Eventually, Dong Hua and Bai Fengjiu got together with a happy ending.

2018-11-06

#7

Youth, Romance

Yang Zishan, Elvis Han

Su Yunjin and Cheng Zheng met in high school. Cheng Zheng was quite fond of Su Yunjin, but he did not know how to approach her and often made Su Yunjin at a loss. Although Su Yunjin was touched, she was aware that their family backgrounds and personalities were very different, so she stayed away from Cheng Zheng's "care". After graduation, they entered society and their differences widened. Su Yunjin was busy with work and Cheng Zheng complained. Their misunderstanding and conflict increased, and Su Yunjin finally decided to break up with him. Cheng Zheng finally understands that love is about equality, respect, and trust when Su Yunjin left. He let go of everything his family has given him and started his own career. Meanwhile, he still kept his love for Su Yunjin silent. When Su Yunjin turned back, she found Cheng Zheng still waiting for her, and they finally get back together.
Related Posts