Being A Hero – Chen Xiao, Wang Yibo
Being a Hero is a suspense criminal drama written and directed by Fu Dongyu, starring Chen Xiao, Wang Yibo, Wang Jingsong, Liu Yijun, Zhao Zhaoyi, and Guo Xiaoting.

The drama is a story of Wu Zhenfeng, a lone hero, and Chen Yu, anti-drug police, who work together in a drug trafficking organization and finally catch all the drug dealers.
Details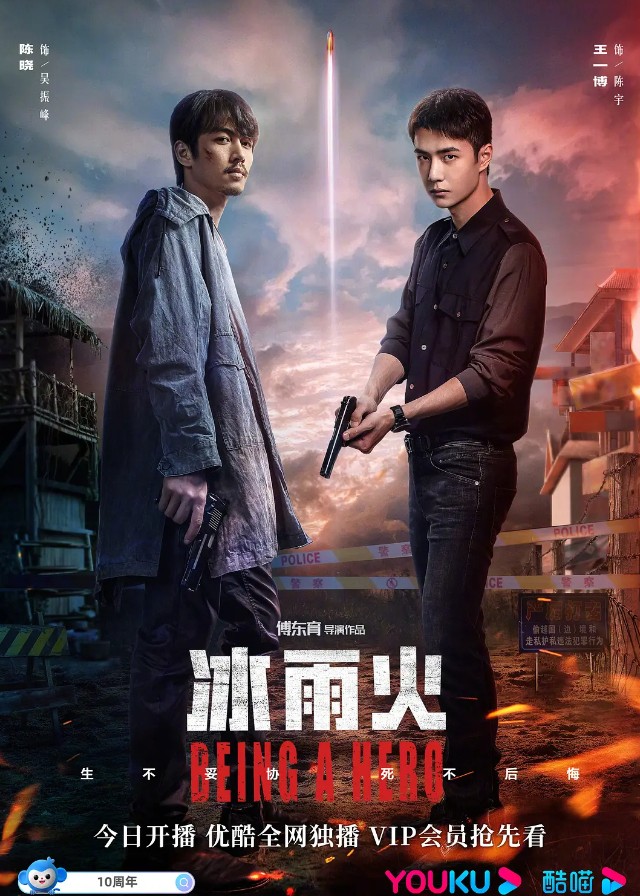 English Title: Being a Hero
Chinese Title: 冰雨火
Genre: Crime, Suspense, Thriller
Tag: Investigation, Idol Actor, Tragic Past, Drugs, Kidnapping, Police Officer Male Lead
Episodes: 32
Duration: 45 min.
Director: Fu Dongyu
Writer: Maili Yasi,Zhang Yuanang, Fu Dongyu
Producer: Zhang Linxi
Product Company: Mango Entertainment, Youku, Mango Excellent Media, Guangjing Pictures, Ershisige culture
Released Date: 2022-08-11
Watch On: Youku, Viki, youku.tv
Subtitle:
English, Chinese, Thai, Indonesian, Malay, Vietnamese, Spanish, Portuguese, Persian, Turkish, Czech, French, German, Greek, Hebrew, Hungarian, Italian, Japanese, Polish, Romanian
Cast
Synopsis
Three years ago, Wu Gang was killed by a drug cartel named" K". His son, Wu Zhenfeng, was expelled from the police force for recklessness and indiscipline. Wu Zhenfeng is heartbroken and is prevented from leaving the country by his brother Chen Yu. On the way, they are nearly hijacked. To save Chen Yu, Wu Zhenfeng is taken away by drug dealers. Since then, they have never heard from each other again.
Three years later, Chen Yu becomes anti-drug police. But unexpectedly Wu Zhenfeng returns and is involved in a murder case. After Wu Zhenfeng is purged of suspicion, Chen Yu discovers that he is connected to the drug cartel. To catch all of the drug-traffickers, Chen Yu start a new career in the anti-drug field. At the same time, he finds that Wu Zhenfeng is the lone hero lurking in the cartel.
Chen Yu and Wu Zhenfeng fight side by side to wipe out the cartel under the Ministry of Public Security's deployment. The two brothers continue to work in the public security anti-drug cause, never forgetting their original intentions and remembering their mission.
Reviews
You May Also Like
Related Posts
Chinese Dramas Like Being a Hero

Is Xiao Zhan and Wang Yibo's Relationship Getting Worse?

Wang Yibo is Once Again Rumored to be in Love, The Girl is Emily Qi Meihe

Wang Yibo's Ideal Type - How To Be Yibo's Girlfriend

Who is Emily Qi Meihe? Is Wang Yibo Chaseing After Her?

How is Wang Yibo, Cheng Xiao's Relationship, Will They Be In Love?

Wang Yibo Xiao Zhan's Controversial Interactions - Another Infighting Between "Bojun Yixiao"?

Wang Yibo's 70 Quotes

Chen Xiao Photos

Wang Yibo Photos

Xiao Zhan Ranked 1st, Wang Yibo 2rd - The Most Popular Chinese Actor in Thailand

Who Is Chen Xiao's Wife? He and Michelle Chen Fell In Love Over A Drama

Xiao Zhan And Wang Yibo Become Competitor, "Douluo Continent" and The Legend of Fei" May Be Aired at The Same Period

Chen Xiao Dramas, Movies, and TV Shows List

Wang Yibo Dramas, Movies, and TV Shows List

Wang Yibo's web drama "My Strange Friend" was aired, it's really laughable

Crystal Liu Yifei Coupled With Chen Xiao in "A Dream of Splendor", A Kiss On set, A Beautiful Scene

Wang Yibo Agency Denied The Relationship With Li Zixuan

Zanilia Zhao Liying And Wang Yibo's Second Coopertion Rumor Led To Fan's Boycott

Studio Denied Li Zixuan's Dating Rumors, The Boy Is Not Wang Yibo