Being A Hero – Chen Xiao, Wang Yibo
"Being a Hero" is a 24-episodes criminal drama written and directed by Fu Dongyu. Chen Xiao and Wang Yibo head the bill. Wang Jinsong and Liu Yijun star.

The drama is a story of Wu Zhenfeng, a lone hero, and Chen Yu, anti-drug police, who work together into a drug trafficking organization and finally catch all the drug dealers.
Details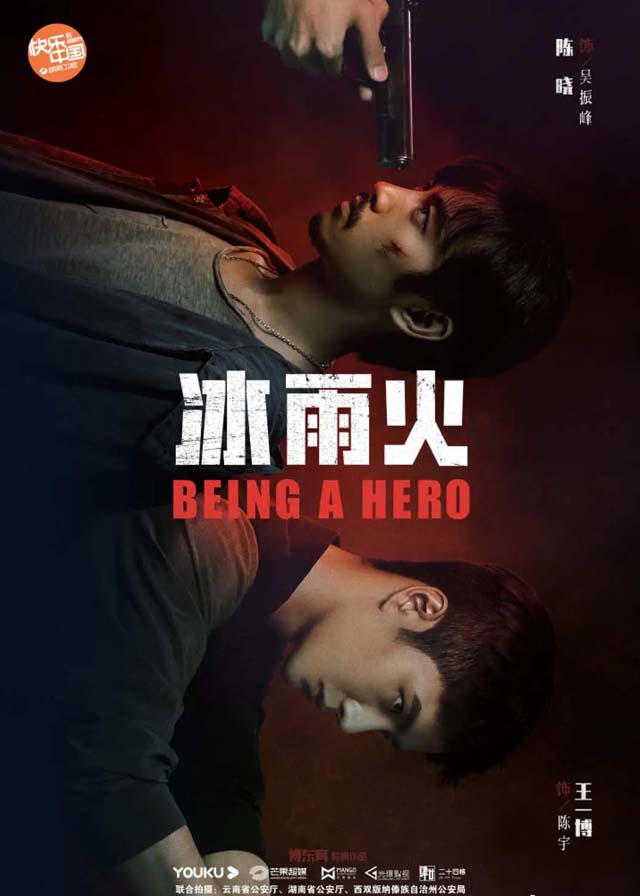 English Title: Being a Hero
Chinese Title: 冰雨火
Genre: Crime: Detective
Episodes: 24
Duration: 45 min.
Broadcast period: –
Director: Fu Dongyu
Writer: Maili Yasi,Zhang Yuanang
Producer: Zhang Linxi
Product Company: Mango Entertainment, Youku, Mango Excellent Media, Guangjing Pictures, Ershisige culture
Released Date: –
CAST
Main Role

Chen Xiao
as Wu Zhenfeng

Wang Yibo
as Chen Yu
Support Role
Wang Jinsong as Lin Dezan
Zhao Zhaoyi as Lan Anran
Liu Yijun as Yang Xingquan
Guo Xiaoting as Yang Ling
Ai Dong as Liu Kaihua
Gong Lei as Hao Dong
Gao Xuyang as Zhou Bowen
Song Hanhuan as A Kun
Wang Xiuzhu as Qiong Jie
Tang Lujing as Yang Yu
Zhao Xuan as Yu Miao
Tu Bing as Wan Mengmeng
Zhang Yuqi as Jiang Lei
Feng Jiayi as Wan Heda
Zhao Xuan as A Hong
Synopsis
Three years ago, Wu Gang was killed by a drug cartel named" K". His son, Wu Zhenfeng, was expelled from the police force for recklessness and indiscipline. Wu Zhenfeng is heartbroken and is prevented from leaving the country by his brother Chen Yu. On the way, they are nearly hijacked. To save Chen Yu, Wu Zhenfeng is taken away by drug dealers. Since then, they have never heard from each other again.
Three years later, Chen Yu becomes anti-drug police. But unexpectedly Wu Zhenfeng returns and is involved in a murder case. After Wu Zhenfeng is purged of suspicion, Chen Yu discovers that he is connected to the drug cartel. To catch all of the drug-traffickers, Chen Yu start a new career in the anti-drug field. At the same time, he finds that Wu Zhenfeng is the lone hero lurking in the cartel.
Chen Yu and Wu Zhenfeng fight side by side to wipe out the cartel under the Ministry of Public Security's deployment. The two brothers continue to work in the public security anti-drug cause, never forgetting their original intentions and remembering their mission.