Please Feel At Ease Mr. Ling – Zhao Lusi, Liu Te
Please Feel At Ease Mr. Ling is a romance urban drama, produced by Youku and YinheKuyu Media, directed by Zhong Qing, starring Zhao Lusi and Liu Te, co-starring Zhou Junwei, Qi Peixin, Li Muchen, Liu Yinjun, Zhang Yan, Zong Yuanyuan, Liu Zhehui, and He Peng.

The drama is adapted from the popular novel "Accidentally Picked Up A President" written by Chunfeng Yidu, about "White Rabbit" Gu Anxin who accidentally picked up the "Big Bad Wolf" Ling Yue who met with an accident to fight for the group's inheritance right, and the two person with very different lives and identities live together and have a happy encounter, opening a high sweet love story in real life.
Details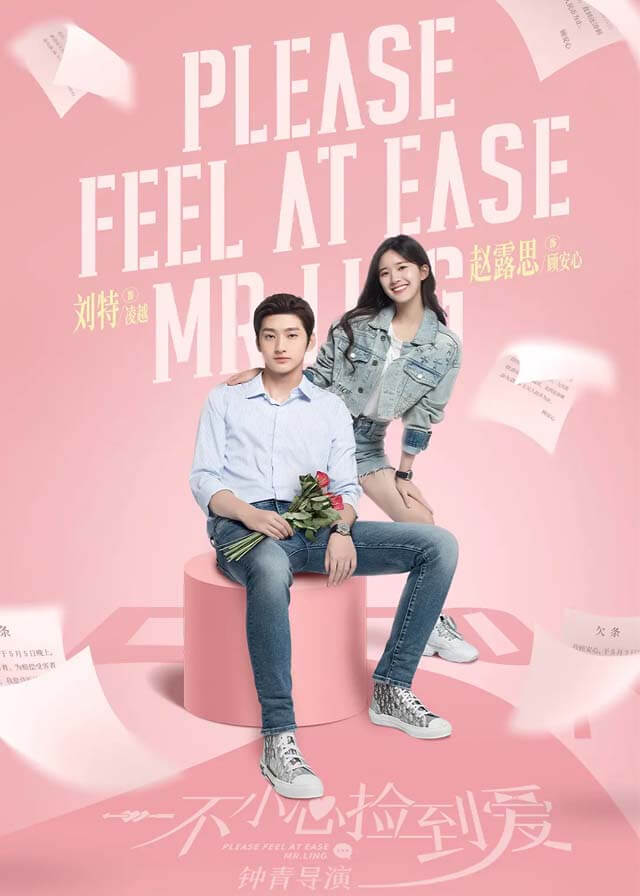 English Title: Please Feel At Ease Mr. Ling
Chinese Title: 一不小心捡到爱
Genre: Urban, Romance, Comedy
Tag: First Love, Rich Man/Poor Woman, Cold man/Warm woman, Rich Male Lead, Male Chases Female First, Height Difference
Episodes: 24
Duration: 45 min.
Director: Zhong Qing
Writer: Dai Qi, Yan Wen
Producer: Zhu Yan
Product Company: Youku, YinheKuyu Media
Released Date: 2021-05-20
Broadcast Website: Viki, YoYo English Channel
Cast
Synopsis
Gu Anxin, a young courier girl, accidentally knocks down Ling Yue, the president of the group who suffered an accident in the inheritance, and the "amnesia" Ling Yue asks that Gu Anxin should be responsible for him.
Gu Anxin is forced to "pick up" Ling Yue home for treatment.
The two people with very different personalities and vastly different identities collide in their cohabitation life, with the "wronged" heroine being "banged up" and the reserved hero being adorable, a lovely and interesting story with a sweet scent unfolding.
Reviews
You May Also Like
Related Posts
Chinese Dramas Like Please Feel At Ease Mr. Ling

Liu Te, Rosy Zhao Lusi Were In A Relationship? His Ex-Girlfriend Was Rocket Girls' stylist

How is Zhao Lusi and Chen Zheyuan's Relationship? "Yuan Xing Bi Lu" CP is Gaining Great Popularity

Does Rosy Zhao Lusi Have a Boyfriend? Her College Boyfriend was Exposed

Terry Liu Te: Shy To Shoot Kiss Scenes With Zhao Lusi, Don't Mind Being Judged On Looks

What's Yang Yang And Zhao Lusi's Relationship?

What's Zhao Lusi, Leo Wu Lei's Relationship? Why Fans Can Not Calm Down

Zhao Lusi, Ryan Ding Yuxi Refused To Be CP, Will They Played In "The Romance Of Tiger And Rose 2"?

Liu Te Photos

Zhao Lusi Photos

Rosy Zhao Lusi was Involved in a Dating Rumor, Studio Issued a Statement

Rosy Zhao Lusi, Liu Yuning Gained Large Popularity For "Hao Yan CP" In "The Long Ballad"

Who Is Jason Gu Jiacheng's Girlfriend?

Liu Te Dramas, Movies, and TV Shows List

Zhao Lusi Dramas, Movies, and TV Shows List

Rosy Zhao Lusi, Xu Kaicheng Interpret The Sweet Relationship Between Teacher And Student In The Ancient Campus

Zhao Lusi, Xu Kaicheng's New Drama Is Hit, But The Douban Rating Is Only 4.3

Terry Liu Te and Ling Meishi Interpret Alternative Rules of Sweet Love, What's Their Relationship?