I Hear You – Riley Wang, Zhao Lusi
I Hear You is a youthful healing romantic web series directed by Xu Heshen, starring Riley Wang Yilun, Zhao Lusi, Dai Zhuoning, Yuan Hao.

The drama is adapted from the popular novel of the same name by Shi Xiaozha, and tells a sweet love story triggered by a wonderful destiny
Details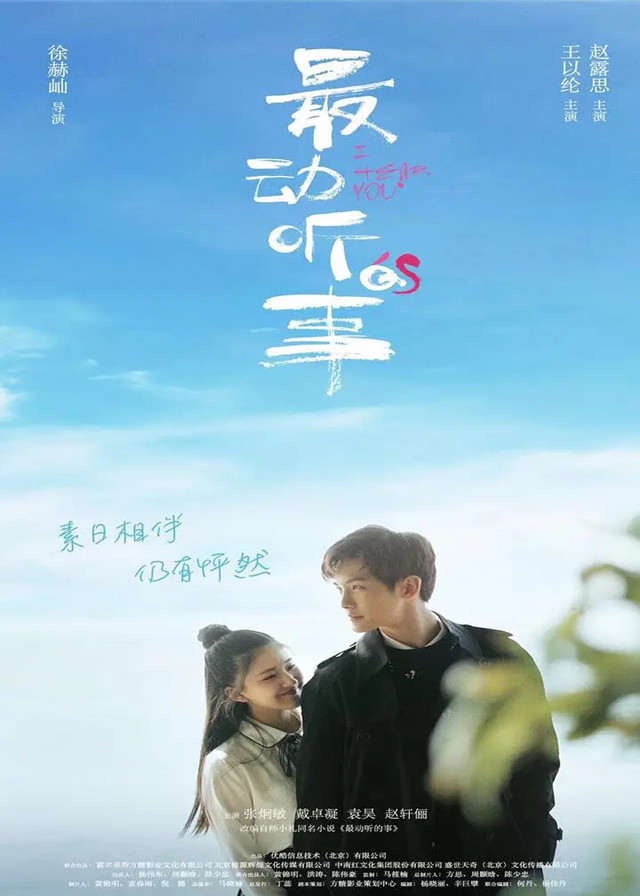 English Title: I Hear You
Chinese Title: 最动听的事
Genre: Youth, Romance
Tag: Contract Relationship, Cold man/Warm woman, Rich Male Lead, Height Difference, Slow Burn Romance, Sismance
Episodes: 24
Duration: 35 min.
Director: Xu Heshen
Writer: Shi Xiaozha
Producer: Zhou Mo, Huang Jinming
Product Company: Huoerguosi Fangtang Entertainment
Released Date: 2019-01-28
Watch On: Youku, Netfilx, youku.tv
Subtitle:
English, Chinese, Thai, Indonesian, Malay, Vietnamese, Spanish, Portuguese
Cast
Synopsis
Bei Erduo is a girl from an ordinary family who loves dubbing. She has always dreamed of studying in Japan to become a professional dubbing artist.
However, her mother wanted her to marry a rich man when she was at her most beautiful age, so she kept arranging blind dates, which made Bei Erduo tired of dealing with them.
In order to pay for her study abroad and to help her best friend Tang Li, Bei Erduo had no choice but to join a reality show for couples.
In the program, she met the world's top violin maker, Ye Shuwei, who comes from a distinguished family.
He is a low-key and mysterious figure in both the composing and violin-making filed.
Because of a failed bet with his nephew Yu Sheng, he was forced to take part in the reality show to relieve Yu Sheng of his precarious situation.
In fact, the real reason that attracted Ye Shuwei to participate in the show was not the bet he made with Yu Sheng. Instead, he was looking for a talent who answered his audition questions correctly.
Because the reality show was suffering from a crisis of integrity, Bei Erduo and Ye Shuwei started a hilarious and funny life of living together.
The pair of happy couple coincidentally fell into this wonderful romantic destiny and finally got together.
Reviews
You May Also Like
Related Posts
Chinese Dramas Like I Hear You

How is Zhao Lusi and Chen Zheyuan's Relationship? "Yuan Xing Bi Lu" CP is Gaining Great Popularity

What's Yang Yang And Zhao Lusi's Relationship?

Does Rosy Zhao Lusi Have a Boyfriend? Her College Boyfriend was Exposed

What's Zhao Lusi, Leo Wu Lei's Relationship? Why Fans Can Not Calm Down

Zhao Lusi, Ryan Ding Yuxi Refused To Be CP, Will They Played In "The Romance Of Tiger And Rose 2"?

Liu Te, Rosy Zhao Lusi Were In A Relationship? His Ex-Girlfriend Was Rocket Girls' stylist

Rosy Zhao Lusi was Involved in a Dating Rumor, Studio Issued a Statement

Zhao Lusi Photos

Rosy Zhao Lusi, Liu Yuning Gained Large Popularity For "Hao Yan CP" In "The Long Ballad"

Terry Liu Te: Shy To Shoot Kiss Scenes With Zhao Lusi, Don't Mind Being Judged On Looks

Rosy Zhao Lusi, Xu Kaicheng Interpret The Sweet Relationship Between Teacher And Student In The Ancient Campus

Zhao Lusi, Xu Kaicheng's New Drama Is Hit, But The Douban Rating Is Only 4.3

Riley Wang Dramas, Movies, and TV Shows List

Zhao Lusi Dramas, Movies, and TV Shows List

Who Is Jason Gu Jiacheng's Girlfriend?