Sweet Teeth – Wu Xuanyi, Bi Wenjun
"Sweet Teeth" is an urban drama directed by Xu Hongyu, starring Wu Xuanyi and Bi Wenjun in the lead roles, Zhai Xiaowen in a special role, and co-starring Zhang Bojia, Liu Te, and Wan Zilin.

The drama is based on the novel of the same title of Mu Fusheng, which tells the love story of Ai Jingchu and Zeng Li.
Details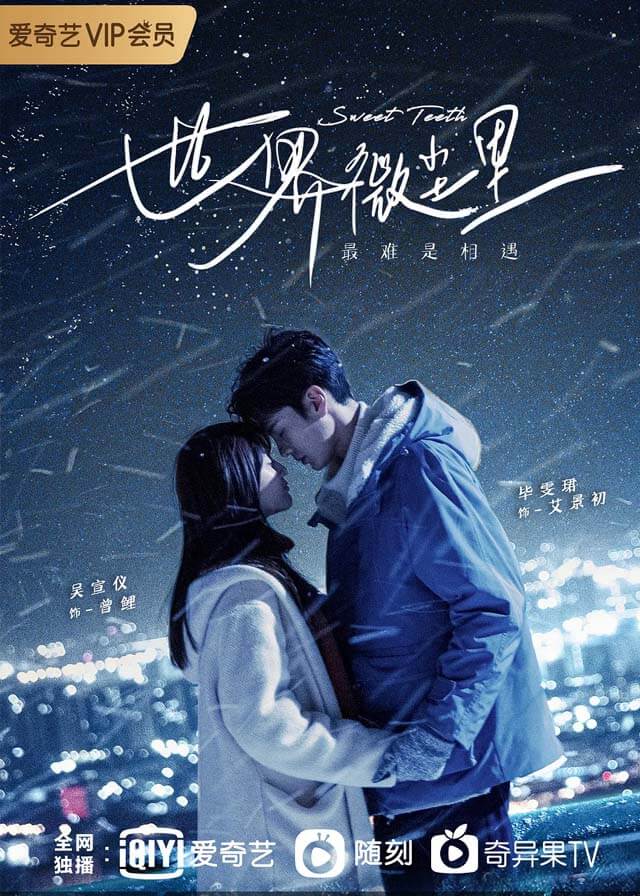 English Title: Sweet Teeth
Chinese Title: 世界微尘里
Genre: Romance, Urban
Episodes: 24
Duration: 45 min.
Director: Xu Hongyu
Writer: Mu Fusheng
Product Company: iQIYI
Broadcasting website: iQIYI
Release date: August 16
Cast

Bi Wenjun
as Zeng Li

Wu Xuanyi
as Ai Jingchu

Zhai Xiaowen
as Liu Yucheng

Zhang Baijia as Wu Ying

Liu Te
as Deng Haoran

Wan Zilin as Ma Yiyi
Synopsis
The 25-year-old librarian Zeng Li meets the deputy chief dentist Ai Jingchu due to orthodontic treatment, they experience snowy nights together, hide-and-seek in welfare house, pirate ship New Year's Eve, etc. From misunderstanding to acquaintance, they slowly walked into the other's heart.
When they are ready to confess to each other, Yu Yi, the best friend of Ai Jingchu, whom Zeng Li has been waiting for ten years to be her "first love", returns to China and starts a fierce pursuit of Zeng Li.
After reading Zeng Li's novel "The Story of Yu and Small Fish", Ai Jingchu misunderstands that the person Zeng Li loves in her heart has always been Yu Yi, so he abandons his plan to confess his love and decides to go on a medical aid mission in Africa.
However, Yu Yi's sudden confession makes Zeng Li more clear in her heart and she returns to Ai Jingchu's side without hesitation, and they finally become a couple.