Ping Pong: The Triumph – Deng Chao, Sun Li, Timmy Xu
Ping Pong: The Triumph (Ping-pong of China) is a sports film starring Deng Chao, Sun Li, Xu Weizhou, Duan Bowen, Cai Yida, Ding Guansen, Sun Xilun, and Alan Aruna.
The film tells the story of Cai Zhenhua, who returns from abroad to take charge of the team between 1992 and 1995, and the five athletes Ding Song, Ma Wenge, Wang Tao, Liu Guoliang, and Kong Linghui who, under Cai's leadership, fight back at the Tianjin World Championships.
Details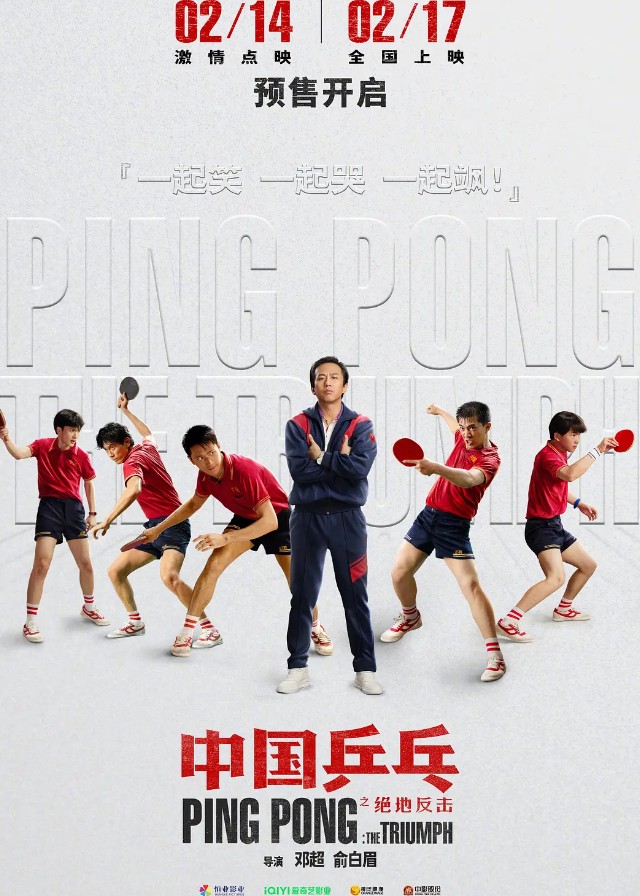 English Title: Ping Pong: The Triumph
Chinese Title: 中国乒乓之绝地反击
Genre: Sport, Drama
Duration: 137 min.
Director: Deng Chao, Yu Baimei
Writer: Yu Baimei, Meng Hui
Producer: Ya Ning, Ma Shuang, Qian Rui, Fu Ruoqing
Product Company: iQIYI, HENGYE PICTURES, ORANGE IMAGE
Released Date: 2023-02-17
Broadcast Website: iQIYI
Cast
Synopsis
In the early 1990s, China's men's table tennis team suffered repeated losses to the powerful Swedish team, failing to win the team championship in three consecutive world championships and hitting rock bottom.
A new coaching team led by Cai Zhenhua was entrusted with the task of completely transforming the Chinese men's table tennis team, with the goal of challenging for the championship again at the 1995 Tianjin World Table Tennis Championships.
At the selection meeting for the new national men's table tennis team coach, Cai Zhenhua made a bold statement: "Two years, not ten years, and not a transition. I believe we can regain the Swaythling Cup in two years."
Not only was the new coach controversial, but the new "Five Tigers" of the national men's table tennis team were also dubbed "the wounded and the blind" (Ma Wenhao and Ding Feng), "the small" (Liu Guoliang and Kong Shuai), and "the old" (Wang Tao).
Under Cai Zhenhua's leadership, this underestimated team was formed and then faced the daunting task of fulfilling the seemingly impossible promise in just two years. However, they managed to turn things around and achieve their goal.
Reviews
You May Also Like
Related Posts
Timmy Xu Weizhou Wife is Zhang Shengying?

Timmy Xu Weizhou Got Married, His Wife Is A Mystery

Does Zhou Yutong Have a Boyfriend? Did She Ever Date Timmy Xu Weizhou

Timmy Xu And Yang Chaoyue Start Their Sweet Love Story

"CHUANG 2021" Mentor Line-Up Was Released

Timmy Xu Dramas, Movies, and TV Shows List

Deng Chao Dramas, Movies, and TV Shows List

Ding Guansen Dramas, Movies, and TV Shows List

Alan Aruna Dramas, Movies, and TV Shows List

Sun Li Dramas, Movies, and TV Shows List

Sun Xilun Dramas, Movies, and TV Shows List

Duan Bowen Dramas, Movies, and TV Shows List

Cai Yida Dramas, Movies, and TV Shows List