Immortality – Luo Yunxi, Arthur Chen
Immortality is a historical fantasy Xian Xia drama, co-produced by Penguin Pictures and Lailai Culture, directed by He Shupei, Zhou Jiawen, and He Honghui, and starring Arthur Chen, Luo Yunxi, Chen Yao, and Zhou Qi.

The drama is adapted from the novel "二哈和他的白猫师尊 / The Husky & His White Cat Master" by  Rou Bao Bu Chi Rou, which tells the story of Chu Wanning, the "Number One Master of the World", with his disciple Mo Ran, who is working hard to protect all beings.
Details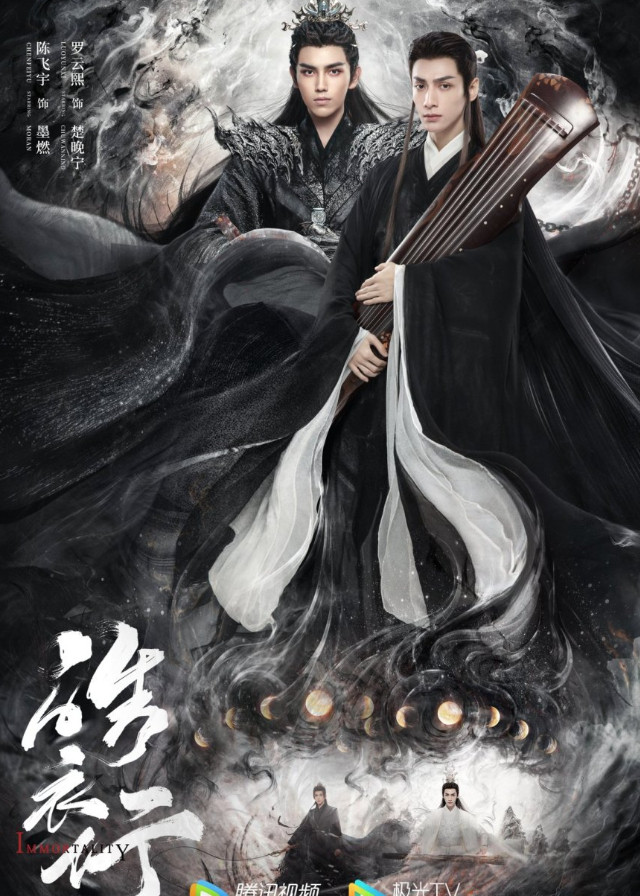 English Title: Immortality
Chinese Title: 皓衣行
Genre: Historical, Fantasy, Immortal
Episodes: 50
Duration: 40 min.
Director: He Shupei, Zhou Jiawen,He Honghui
Producer: Yu Yalian, Liu Beibei, Luo Xuan, Xin Weimin
Product Company: Penguin Pictures, Lailai Culture
Released Date: -
Broadcast Website: WeTV
Cast
Synopsis
The story takes place during the period of a legendary disaster is coming. Chu Wanning is a highly spiritual elder, known as "the no. 1 master in the world". Chu Wanning is upright and noble and has always taken it as his duty to protect the human world. One of his disciples is a young man named Mo Ran.

Mo Ran suffered from hardships when he was young, but he was good-natured and gifted in immortality cultivation. But he often disobeyed his master and always confronted him due to misunderstandings.
Mo Ran got an inexplicable memory by an accident. In memory, Mo Ran's senior sister, Shi Mingjing, died due to Master Chu Wanning's failure to save.
With the memory of resentment against Chu Wanning, Mo Ran made actions to hurt Chu Waning. Although Mo Ran has changed, Chu Wanning still insists on teaching him the right way and doing the right thing
When Mo Ran was trapped in the junction, he discovered a secret. In the process of approaching the truth, Chu Waning also discovered that there is another reason for Mo Ran's rebellion and untamedness.
Although the truth is heartbreaking, the mistake has been made. To save the world, Chu Waning, Mo Ran, and the cultivation community work together to find out the real culprit.
How should Mo Ran complete his self-redemption? How should Chu Wanning face his disciple who had gone astray? What is the shocking secret of his birth? Whether the master and disciple will still fight each other like the other world in their memories? The mistake has been made, but the heart can be changed.
Reviews
You May Also Like
Related Posts
How is Luo Yunxi and Bai Lu's Relationship?

Who is Luo Yunxi 5-year girlfriend, is the net rumor of his love history true?

How is Arthur Chen Feiyu and Zhang Jingyi's Relationship?

Sebrina Chen Yao, Elvis Han Dongjun Relationship Was Exposed?

Luo Yunxi and Dilraba His Favorite Actress on the same stage

Luo Yunxi and Zhang Ruonan Compose Love Symphony, How Their Chemistry Together Is?

Ouyang Nana, Zhai Zilu Relationship was Exposed?

Arthur Chen Photos

Luo Yunxi Photos

Arthur Chen Feiyu's Girlfriend - Cheng Xiao Or Ouyang Nana?

Does Yukee Chen Yuqi Have A Boyfriend?

Luo Yunxi Was Injured In A Filming Accident, Fans Were Heartbroken, The Related Actor Issued An Apology And Denied Wearing A Ring

Chen Yao Dramas, Movies, and TV Shows List

Arthur Chen Dramas, Movies, and TV Shows List

Luo Yunxi Dramas, Movies, and TV Shows List

Luo Yunxi, Cheng Xiao Have Suprise Chemistry. What's Their Relationship?

Is Arthur Chen Ouyang Nana's Boyfriend?

Luo Yunxi looks very handsome in the live video streaming

Arthur Chen Feiyu Is Dating His Fansite Administrator?

Luo Yunxi, Bosco Wong Takes On The Role Of A Daddy, Taking Care Of The Baby With Fun