Tale of the Night – Yin Fang, Zhang Jingyi
Tale of the Night (Chang Sha Ye Sheng Huo) is a film written and directed by Zhang Ji, starring Yin Fang, Zhang Jingyi, Su Yan, Wu Haochen, Bai Yufan, Zhou Siyu, Wu Jun, Luo Gang, with special appearances by Zhang Yixing, Zhou Dongyu, Wang Yuexin.
The film tells the story of the encounter and reconciliation of several young people with different fates in the night of Changsha, from the unique perspective of urban youth.
Details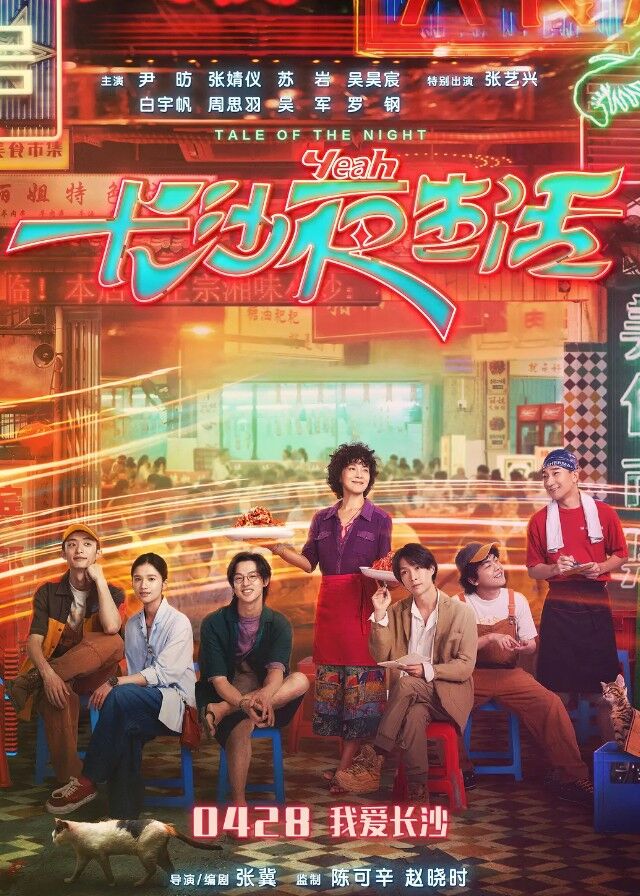 English Title: Tale of the Night
Chinese Title: 长沙夜生活 (群星闪耀的夜晚)
Genre: Romance, Drama
Duration: 106 min.
Director: Zhang Ji
Writer: Zhang Ji
Producer: Tan Hong, Chen Kexin, Zhao Xiaoshi
Released Date: 2023-04-28
Boradcast Website: -
Cast
Synopsis
As night falls, the lights come on, the fireworks fill the sky, and people come and go. In the summer night of Changsha, some are dragging their luggage to depart, some have just arrived full of hope, and some stand at the crossroads of dreams and reality, hesitant. For those who suffer from insomnia, the long night is just beginning...
Jing met He Xixi, who was leaving her hometown the next morning, at a bookstore and they agreed to spend the night tour of the city together.
He Xixi talked about her half-brother, a talk show comedian named He An. His father unexpectedly appeared in the audience during tonight's performance. They had a falling out and parted ways.
Meanwhile, Chen Qingzhi, Liang Baoqi, and Lao Xie were guarding the Ferris wheel, admiring the night view and lamenting the difficulties of working.
As the night grew later, it was also the last time the popular online food stall boss, Sister Li, cooked noodles. She decided to let her apprentice, Xu Ge, take over and continue running the stall.
As the night drew to a close, a group of people sat together in the food stall, eating noodles and experiencing encounters, love, leaving, reconciliation, and reunion. All of these events happened in this city, and everyone found their own reasons to deeply love it.
Reviews
You May Also Like
Related Posts