20 ONCE AGAIN (Miss Granny) – Yang Zishan, Bolin Chen, Lu Han, Grace Guei
20 ONCE AGAIN (Miss Granny) is a fantasy film directed by Chen Zhengdao and starring Yang Zishan, Chen Bolin, Lu Han, and Gui Yalei.
The film tells the story of Shen Mengjun, an old woman in her seventies, who returns to her daily life as a new identity Meng Lijun, after being transformed into a young girl through a youth photo studio.
Details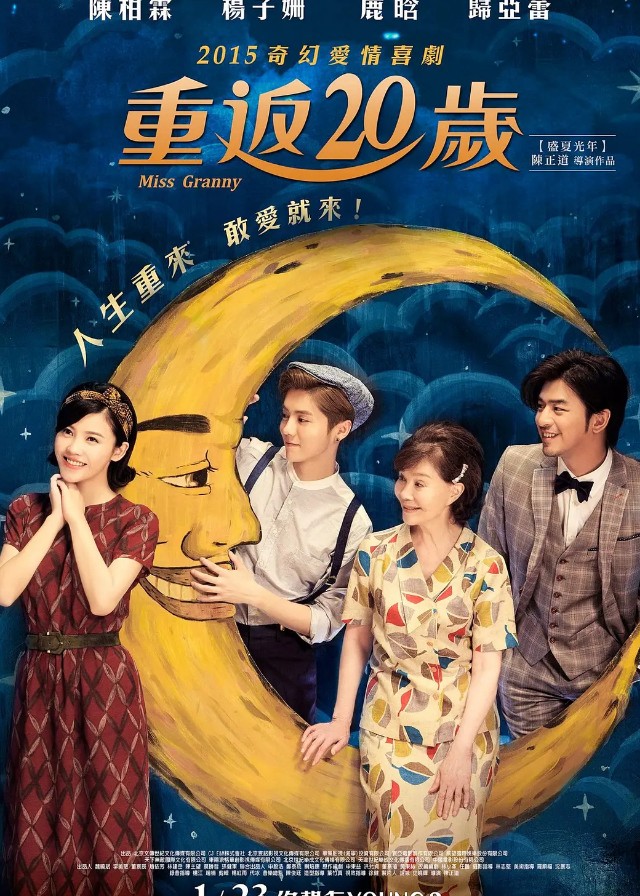 English Title: 20 ONCE AGAIN (Miss Granny)
Chinese Title: 重返20岁
Genre: Fantasy, Comedy, Romance
Duration: 132 min.
Director: Chen Zhengdao
Writer: Lin Xiaoge, Ren Peng
Producer: Hu Cheng, Shi Xiaoye
Released Date: 2015-01-08
Broadcast Website: YouTube
Cast
Synopsis
A 70-year-old grandmother named Shen Mengjun has never lived her dream life. She loves singing but got married and had children at an early age.
She had hoped to grow old with her beloved husband, but he died due to war soon after their wedding. She had only one son left to live for.
After raising her son to become a university professor, she became an annoying, nagging "busybody grandmother" with wrinkles and white hair.
However, the "Youth Photo Studio" gave the 70-year-old grandmother another chance to enjoy her youth, like opening a saved RPG game file and playing it from the age of 20, transforming into a cool 20-year-old girl named Meng Lijun, becoming the lead singer of a band, and being chased by three different men of different ages and types, finding the lost youth.
Reviews
You May Also Like
Related Posts