Sword and Fairy – Xu Kai, Esther Yu
Sword and Fairy is a historical fantasy romantic drama, led by Xu Kai and Esther Yu Shuxin, co-starring Wan Peng, Zhou Lijie, Bai Bingke, and Wang Zirui.
The drama is based on the Chinese single-player game "仙剑奇侠传六 / Xian Jian Qi Xia Zhuan Liu", which tells the story of Yue Jinzhao and Yue Qi, who join forces with their fellow heroes to break the conspiracy one by one and embark on a journey of chivalry and justice.
Details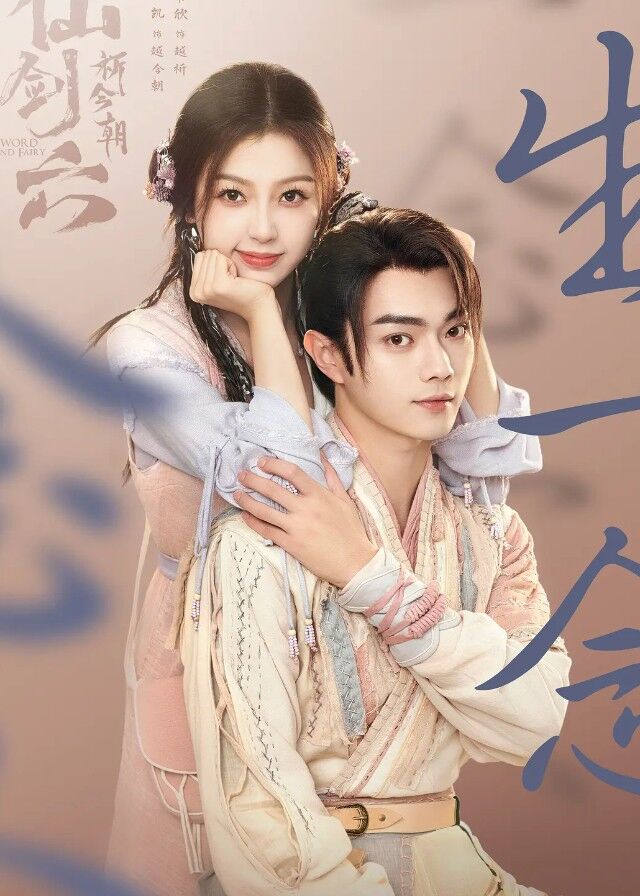 English Title: Sword and Fairy
Chinese Title: 祈今朝, 仙剑奇侠传六
Genre: Historical, Romance, Fantasy, Immortal
Episodes: 36
Duration: 45 min.
Director: Xu Guonan
Product Company: SHANDONG FILM AND TV GROUP
Released Date: –
Watch On: –
Cast
Synopsis
Yue Jinzhao, a young man from a small town, and his sister, Yue Qi, have been wandering in the Jinghu for many years.
By chance, they meet the young master of the Luo family, Luo Zhaoyin, and learn that Yue Qi's mother, Chu Yu, is the head of the dreaded Kunpeng Valley.
The people have been suffering for years because of the "magic medicine – Qi Yuan Zhu" spread in the Kunpeng Valley, which forces Yue Qi, who is determined to reunite with her mother, to face the painful choice between family and righteousness.
This sudden turn of events does not shake her and her brother's desire to help the world.
With the help of her friends, including Ju Shifang, Xian Qing and Ming Xiu, they go deeper into the danger and uncover the secret behind the "Qi Yuan Zhu" step by step.
It turns out that the real Chu Yu was a prisoner in order to protect his young daughter, and now her "double" is just a clan member who is greedy for profit.
In the end, Yue Jinzhao and Yue Qi team up with their fellows to break the conspiracy one by one. They unburden themselves of the past and embark on a new journey to fight for justice once again.
Reviews
You May Also Like
Related Posts
How Is Dylan Wang and Esther Yu's Relationship? Fans Call For A Second Cooperation

Zhang Linghe Breaks Up with Bai Lu? Falls in Love with Esther Yu Shuxin?

How Is Xu Kai And Cheng Xiao's Relationship

Who is Xu Kai's Girlfriend? Dating rumors With Bai Lu is more famous.

Xu Kai is Dating Actress Zhao Qing Now?

Is Esther Yu Shuxin's boyfriend Zhao Zhiwei?

Does Bai Lu Have A Boyfriend? Xu Kai Is The Most Famous Rumored Boyfriend Of Her

Xu Kai Photos

Esther Yu Photos

Is Xu Kai's "Domestic Violence" On His Ex-girlfriend True Or Not?

Why Esther Yu and Zhang Linghe's CP Doesn't Receive As Much Favor?

Esther Yu, Zhang Zhehan's Relationship News Was Exposed, Old Photos Of Seven Years Ago Were Released.

Xu Kai Dramas, Movies, and TV Shows List

Esther Yu Dramas, Movies, and TV Shows List

How Is Xu Kai, Wu Jinyan's Relationship?

Ryan Ding Yuxi, Esther Yu Shuxin Sweet Love Between Writer And Editor In "Moonlight"

The Two Sweet Dramas Starred By Yang Yang, Ding Yuxi, Who Will You Choose?

As A Playboy, Xu Kai courts Li Yitong Crazily In "Court Lady", Funny And Lovely

Yang Mi and Xu Kai's CP Triggered Teasing, Douban Rating 5.8 is High or Low?

Youth With You 3 Announced Esther Yu As The Assistant.