Ancient Love Poetry – Zhou Dongyu, Xu Kai

Ancient Love Poetry is an ancient romance drama produced by Yang Xiaopei, co-directed by Yin Tao and Li Cai, starring Zhou Dongyu and Xu Kai.

The drama is adapted from the immortal novel "Shang Gu" by Ling Xing, which tells the love story of the Shanggu and Bai Jue after several lives and deaths, still deep love.
Details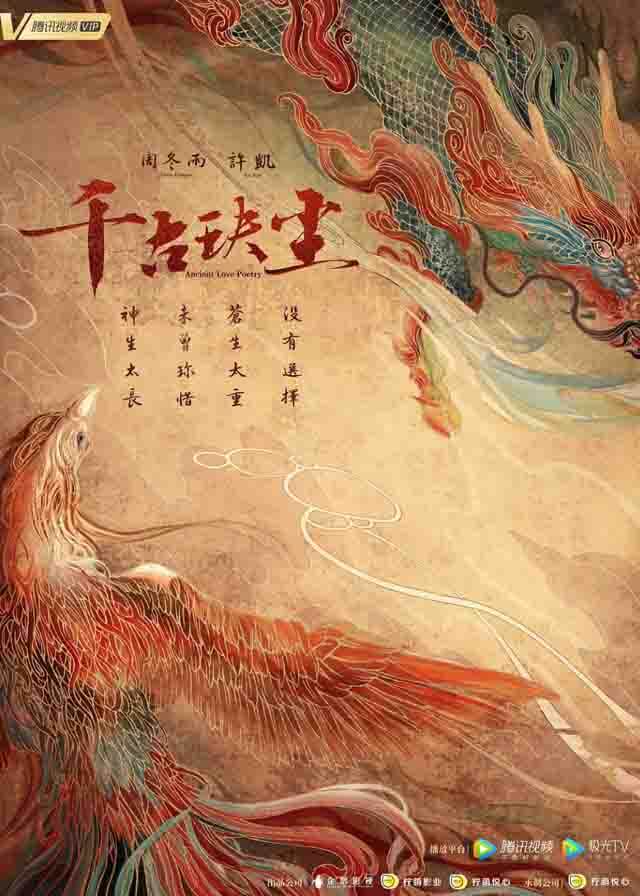 English Title: Ancient Love Poetry
Chinese Title: 千古玦尘
Genre: Ancient, Immortal, Romance
Episodes: 49
Director: Yin Tao, Li Cai
Writer: Rao Jun,Li Zhenru,Ling Xing
Producer: Yang Xiaopei, Qi Shuai
Product Company: Tencent Penguin Pictures, Linmon Pictures
Broadcast Website: WeTV
Release Date: June 17, 2021
Cast

Zhou Dongyu
as Shang Gu / Hou Chi

Xu Kai
as Bai Jue / Qing Mu / Bo Xuan

Zhang Jiani as Wu Huan

Liu Xueyi
as Tian Qi

Li Zefeng as Zhi Yang

Lai Yi as Gu Jun
Synopsis
Shang Gu is the first of the four ancient gods, known as "Hou Chi Shang Shen". She has a supreme position. 60,000 years ago, Shang Gu saves the world but falls into a deep sleep after sacrificing herself.
Bai Jue, one of the four ancient gods, loves Shang Gu deeply, spent 40,000 years waiting and protecting her. With 60,000 years of loneliness, he never told her his love for her. Bai Jue made many sacrifices for her. In the end, Shanggu understood Bai Jue's heart and finally came together.