Dance of the Sky Empire – Xu Kai, Wu Jiayi
Dance of the Sky Empire is a historical youth school drama directed by Zhao Jintao and Wu Wenguang, led by Xu Kai and Wu Jiayi, co-starring Hani Kezi, Zhou Junchao, Li Junchen, and Yu Xintong.
This drama is based on the oriental fantasy novel of the same name by writer Bu Fei Yan. It tells the story of Li Xuan, the young bully of Qingtian City, and Su Youlian, a young girl who has left her hometown to complete her mission in the Tianqi Kingdom. They study together at the Mo Yun Academy, experiencing a love-hate relationship, and finally, passing through challenges with the students of Mo Yun, and finally ushering in a new era of peace.
Details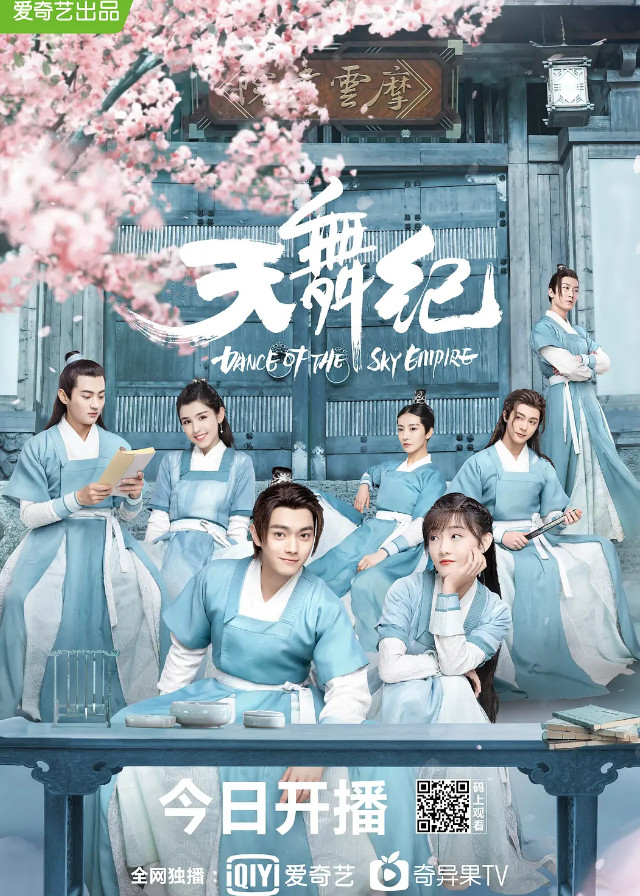 English Title: Dance of the Sky Empire
Chinese Title: 天舞纪
Genre: Historical, Youth, School, Romance, Fantasy
Tag: Male Chases Female First, Love Triangle, Friends to Lovers, Half Demon, Bromance, Dance
Episodes: 28
Duration: 45 min.
Director: Zhao Jintao, Wu Wenguang
Writer: Zhang Haifan, Bu Feiyan, Bi Yong, Liu Qian, Xie Yier, Xue Shan Hu, Wang Ziqi
Producer: Yang Bei, Xue Xin, Zhang Haifan, Yu Fei, Wang Bing
Product Company: iQIYI
Released Date: 2020-07-08
Broadcast Website: iQIYI, Viki
Cast
Synopsis
Ten years ago, when the Kunwu clan fought the Human Clan, the Human Master Zi Ji seal the Kunwu Dragon Emperor Shi Xingyu, Kunwu was defeated and the Kunwu clan was reduced to slavery.
In order to save her clan, Kunwu Saintess Su Youlian decides to disguise her identity and infiltrate Qingtian City to unseal the only hope of the Gods - the sealed Shi Xingyu.
When Su first arrives at the Moyun Academy, she offends Li Xuan, the most villainous young man in Qingtian City, whose fate has already been arranged to become the protector of the human race, the Protector of the State.
The young man and the young girl, with opposing identities, enter the Moyun Academy at the same time....
Reviews
You May Also Like
Related Posts