Court Lady – Li Yitong, Xu Kai
"Court Lady" is an ancient romantic comedy directed by Wang Xiaoming and Bai Yunmo, starring Li Yitong and Xu Kai in the lead roles.

The drama unfolds through the love story of the hero and heroine, in the laughter and interlocking events.
Details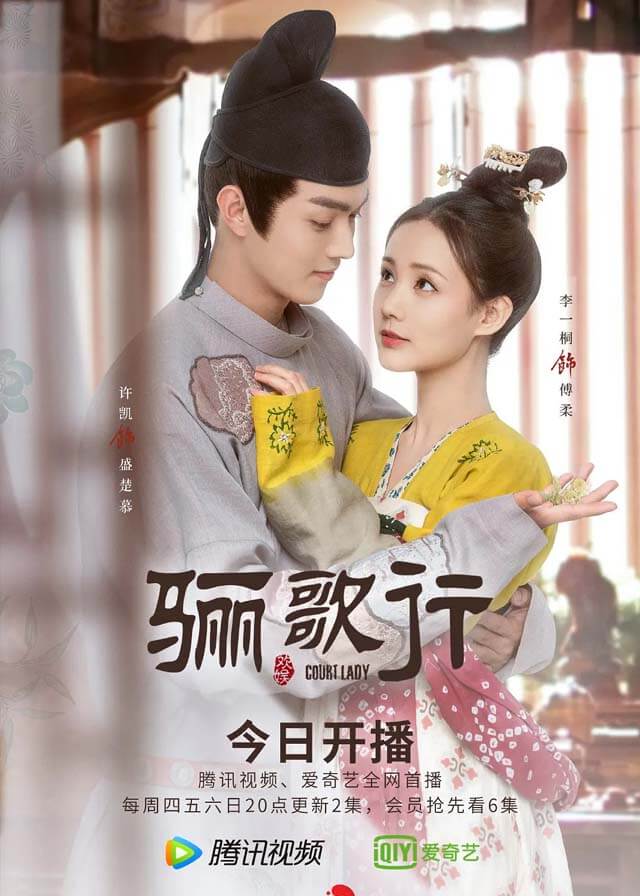 English Title: Court Lady
Chinese Title: 骊歌行
Genre: Historical, Comedy, Romance
Episodes: 55
Duration: 45min
Director: Wang Xiaoming, Bai Yunmo
Writer: Feng Nong
Producer: Yang Le, Fang Fang
Product Company: Huanyu Entertainment Co., Ltd
Broadcasting website: Viki, China Huanyu Ent. Official, OnDemandChina
Release date: April 15, 2021
Cast

Li Yitong
as Fu Rou

Xu Kai
as Cheng Chumo

Wu Jiayi as Princess Xinnan

Tan Jianci
as Ki Ke
Synopsis
In a peaceful and prosperous world, the people live and work in peace and harmony.
The son of General Sheng Xiaojing, Sheng Chumu, is spoiled by his mother since childhood and is a famous playboy in Chang'an City.
On a trip to Guangzhou, Sheng Chumu meets Fu Rou, a young lady from an embroidery shop, and falls in love with her at first sight.
After a few encounters, Fu Rou realizes that Sheng Chumu is really uneducated and unskilled, and is disappointed with him.
Sheng Chumu is determined to change himself for love and learns the art of war and eventually wins Fu Rou's favor.
When they return to Chang'an, Fu Rou becomes a female officer in the palace by accident, and Sheng Chumu is forced to join the army.
They are tested for love, but also in this process of growth, they see the responsibility on their own shoulders, and work together to save the country out of the crisis, and contribute to the prosperity of the country, the people's well-being and happiness!