Suddenly Seventeen – Ni Ni, Wallace Huo
Suddenly Seventeen is a fantasy romantic film directed by Zhang Mo, starring Ni Ni, Wallace Huo, Ma Su and Darren Wang.
The film tells the story of a 28-year-old Liang Xia, who is trapped in a bad relationship life and accidentally returns to the age of 17, and with the help of 17-year-old Liang Xia, she finds herself and her original heart.
Details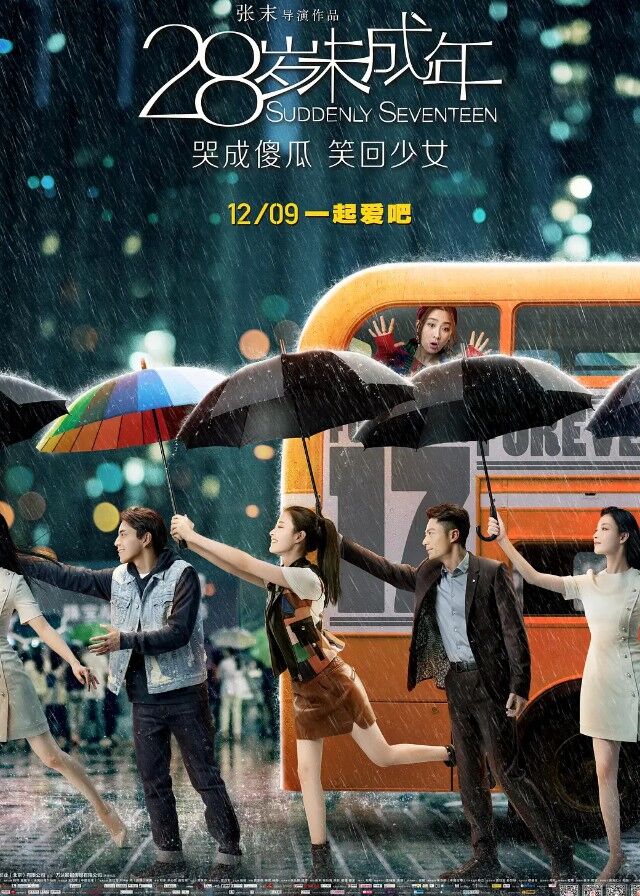 English Title: Suddenly Seventeen
Chinese Title: 28岁未成年
Genre: Fantasy, Comedy, Youth
Duration: 109 min.
Director: Zhang Mo
Writer: Zhang Mo, Zhang Hongyi, Zhang Ying, Zhai Du, Tian Jin
Product Company: Letv
Released Date: 2016-12-09
Broadcast Website: Letv
Cast
Synopsis
28-year-old Liang Xia has been in a relationship with 34-year-old Mao for 10 years. Her daily wish is to marry Mao as soon as possible. However, Mao is currently busy preparing for the second round of financing for his company and has no time to consider Liang Xia's thoughts.
At her best friend Bai Xiaoning's wedding, Liang Xia's attempt to pressure Mao into marriage fails, and he even suggests breaking up.
Liang Xia is heartbroken and, unexpectedly, finds herself mentally returning to the age of 17 while her body remains unchanged. The younger version of Liang Xia, now occupying her adult self, coincidentally meets and falls in love with a spirited young man named Yan Yan.
Meanwhile, Liang Xia's youthful mindset and indifferent attitude towards Mao reignite his interest in her. Faced with two different relationships, what choice will Liang Xia ultimately make?
Reviews
You May Also Like
Related Posts
Why Did Jing Boran, Ni Ni Break Up?

Who Is Jing Boran's Girlfriend? Ni Ni Is The Only Girlfriend He Announced To Public

Who Is Joey Chua's boyfriend? She Ever Had 3 Years of Marriage.

Darren Wang Talu, Joey Chua Announced Their Relationship

Qin Lan and Wei Daxun Were Spotted Dating in Sanya

Darren Wang Talu and Rumored Girlfriend Joey Chua Relationship Were Exposed? They Kissed Several Times On The Street

Ni Ni Photos

Ni Ni Dramas, Movies, and TV Shows List

Darren Wang Dramas, Movies, and TV Shows List

Ma Su Dramas, Movies, and TV Shows List

Wallace Huo Dramas, Movies, and TV Shows List