My Precious – Huang Zitao, Wang Herun
My Precious is a romantic drama directed by Zhou Jiawen, Sha Yuanyuan, and Kong Lida, led by Huang Zitao, and Wang Herun, co-starring Liu Yichang, Shen Yao, Shi An, Ni Hongjie, Li Jiulin, Zhang Mianchen, and Tan Yanyan.
Details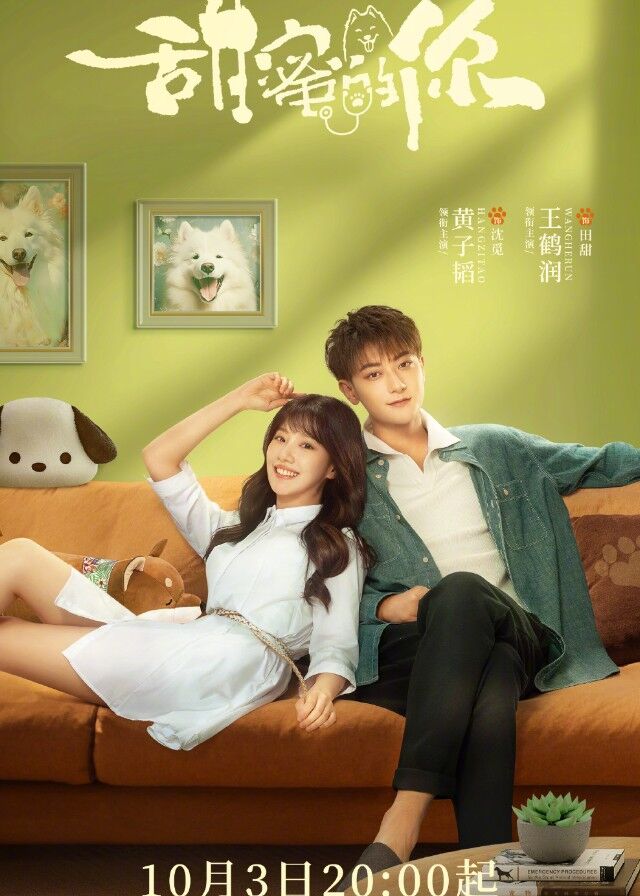 English Title: My Precious
Chinese Title: 甜蜜的你
Other Titles: 宠你, 宠·你
Genre: Urban, Romance, Drama, Medical, Comedy
Tag: Character Development, Nice Male Lead, Calm Female Lead, Opposites Attract, Bankruptcy, Strong Male Lead
Episodes: 40
Duration: 45 min.
Director: Zhou Jiawen, Sha Yuanyuan, Kong Lida
Product Company: MGTV
Released Date: 2023-10-03
Broadcast Website: MGTV, MangoTV Drama, Viki
Cast
Synopsis
Veterinarian Tian Tian, while struggling to manage his own financially distressed Tianlin Animal Hospital due to his father's serious illness, encounters Shen Mi, the CEO of the giant in the veterinary medicine industry, "Lu Chuan You Pin".
The two form a bond through Shen Mi's pet dog, Carlo. They join forces to revive the declining Tianlin Animal Hospital.
Throughout the management process, Shen Mi, Tian Tian, and the staff get to know more pets and their owners through numerous rescue operations for pets, they discover touching stories between animals and people.
Recap
Tian Tian (played by Wang Herun) looked at the pen in her hand, engraved with the character "Mi," and couldn't help but recall the person she met two years ago. Two years ago, Shen Mi (played by Huang Zitao) brought Carlo to the pet hospital for treatment. Even the doctor concluded that Carlo's congenital heart disease could only be managed to the best of their abilities. Watching the continuously alarming electrocardiogram, Shen Mi's heart felt as if it were being squeezed, although the ECG had already shown a flatline. However, Tian Tian didn't give up; she continued to perform CPR on Carlo, continuously encouraging him. In the end, a miracle happened—Carlo woke up! Shen Mi's heart finally let go. When Tian Tian's pen ran out of ink while signing, Shen Mi handed over his own pen to her. In gratitude, Shen Mi didn't take the pen back. Tian Tian's aunt, seeing Tian Tian's appearance, couldn't help but comment on her being obsessed with looks. Tian Tian bluntly stated that he had more than just looks!
On the other side, Shen Mi's company was conducting a charity adoption event. Shen Mi was playing with Carlo inside when Shen Chen suddenly returned. Ignoring Shen Mi's assistant's attempts to stop him, Shen Chen barged directly into Shen Mi's office. The two brothers started teasing each other as soon as they met. Shen Mi questioned Shen Chen about where he had been wandering, and Shen Chen claimed he was on vacation. Shen Mi exposed Shen Chen's lie, stating that only people with jobs go on vacation. Shen Mi just wanted Shen Chen to focus and return to the company as soon as possible, considering Shen Mi's congenital heart disease was like a time bomb. Shen Chen frankly stated that he would take over the company when the time comes, as their father (Shen Mi's uncle) really liked the company. As they spoke, Shen Chen's father's voice came into the office, and Shen Chen immediately hid.
Shen Mi's good uncle questioned where the money came from for this activity as soon as he entered. Shen Mi explained that this adoption event was a paid adoption, and the media coverage would be helpful for the company's promotion. Shen Mi's uncle was momentarily speechless and simply told Shen Mi to go ahead. Just as Shen Mi was leaving, he wanted to shake hands with his uncle, but his uncle avoided it, disgusted by dog hair on Shen Mi's hand. As soon as Shen Mi left, Shen's uncle called someone to make a story out of the paid adoption! All of this was overheard by Shen Chen, who was utterly speechless and helpless about his father's tricks. Surprisingly, Tian Tian returned home early and was kicked out by her younger brother as soon as she entered. It turned out that Tian Tian's father had prepared a surprise for her birthday and even went out to buy mangoes, her favorite. Tian Tian had to follow her brother's instructions not to disappoint their father.
The adoption event officially began, and indeed, there was an unexpected incident. Just after Shen Mi finished speaking, someone questioned him about making money by using stray dogs for paid adoption. Shen Mi argued logically, stating that he had spent a considerable amount of money on their treatment. However, the situation was hard to control, and in the chaos, Shen Mi was hit by a signboard and fell to the ground. People realized that things had escalated when Shen Chen appeared, ignoring his father's obstruction and taking Shen Mi directly to the hospital. They didn't notice that Carlo quietly followed them. On the other side, Tian Tian received a message that her father had fainted and was taken to the hospital. Tian Tian hurriedly rushed to the hospital.
Shen Mi was not seriously injured, just excessively fatigued. Shen Chen, now in a playful mood, covered Shen Mi's head with a blanket and went out to make a phone call. Tian Tian, worried and anxious, arrived at the hospital and, due to a misunderstanding, ended up in Shen Mi's room. Facing Shen Mi, she burst into tears until Shen Mi was awakened, and the misunderstanding was finally cleared. Tian Tian recognized Shen Mi, but Shen Mi didn't recognize Tian Tian. When Tian Tian left, she unexpectedly ran into Shen Chen. Shen Chen caught Tian Tian's interest. When she arrived at her father's ward, her mother and brother said that her father only had a blood sugar problem and asked Tian Tian not to worry. After Tian Tian left, her mother and brother started crying.
Outside the hospital, Tian Tian saw a dog lying on the ground and realized its heartbeat was irregular. She took the dog to Tianlin Pet Hospital. This scene was captured by a passerby. Shen Mi, after confronting his uncle, heard the assistant report that Carlo was missing. Shen Mi, infuriated, watched the video and went crazy, instructing the assistant to investigate. Tian Tian had already taken good care of eight-year-old Carlo and mobilized everyone in a WeChat group to find the dog's owner.
At night, as Tian Tian was celebrating her birthday alone, someone claiming to be the dog's owner arrived. Tian Tian, after glancing at the dog's license, realized that this person was a dog trafficker. Tian Tian recorded the trafficker's words, and just then, Shen Mi arrived. Misunderstanding that Tian Tian was a dog thief, Shen Mi, with Carlo, left. Tian Tian couldn't explain herself as her phone was broken.
Shen Chen was drinking at a bar and called Shen Mi, intending to share the story of meeting a special girl at the hospital. However, Shen Mi was completely out of it, casually responded, and hung up the phone. Shen Chen, carefree as always, made a few casual remarks, not taking it to heart, and happily continued drinking. Shen Mi quickly comforted Carlo after hanging up, scolding him not to wander around. Some people may appear harmless, but in reality, they might be dog thieves. However, Carlo didn't agree and didn't respond to Shen Mi. He turned to leave, but Shen Mi used tasty treats to entice Carlo, and that's when Carlo stopped.
Late at night, a patient arrived at Tianlin Hospital, and the dog was already on the operating table. However, Tian Tian, holding the surgical knife, hesitated and eventually put it down. She left and told the family that someone else would take over the surgery. The family, concerned about the dog's condition, bombarded Tian Tian with questions. Fortunately, another doctor appeared in time, and with Tian Tian's aunt's explanation, the family stopped pressing the issue.
Shen Mi personally cooked Carlo's favorite food, but Carlo remained unresponsive. Shen Mi, puzzled by Carlo's reaction, resorted to coercion and temptation. In the end, Shen Mi decided to eat it himself, but Carlo still showed no reaction! On the other side, back in the office, Tian Tian started packing, constantly replaying the incident in her mind. It turns out that the surgery on Zai Zai made Tian Tian unable to pick up a surgical knife again. Tian Tian's aunt knew everything and consoled Tian Tian, asking if she wanted to talk to her father before he ran away again. Although Tian Tian's aunt and father told her that she had done her best regarding Zai Zai, Tian Tian still couldn't forgive herself, bluntly stating that a chief physician who couldn't pick up a surgical knife was just a decoration!
Shen Mi was still at odds with Carlo. Later, when Shen Mi received a call from his assistant and checked the hot search on Weibo, he realized he had misunderstood the girl. Carlo seemed to understand something and reacted in a way that pleased Shen Mi. Shen Mi decided to apologize, but he couldn't go empty-handed and it was too late. He then instructed his assistant to buy a new phone. Carlo was very satisfied with Shen Mi's actions and readily complied.
Tian Tian's aunt took Tian Tian to the hospital, and Tian Tian learned that her father's condition was not just low blood sugar; he had a stroke. Her mother only pretended it was low blood sugar to avoid pressuring Tian Tian. Tian Tian's mother knew about Tian Tian's plan to resign on her birthday and, despite her mother and aunt reassuring her, Tian Tian was in great pain and shed tears. Tianlin Pet Hospital was operating as usual, but an unwelcome group arrived—they were investors demanding money. Tian Tian stood up, but the investors only recognized Tian Tian's father and pointed out that Tian Tian couldn't perform surgery. In the end, they gave Tian Tian only seven days!
During the board meeting, Shen Mi's uncle openly challenged Shen Mi regarding the trial hospital idea. Shen Mi argued logically, and then Manager Zhao barged in to report Shen Mi. Shen Mi, hearing his accusations, smiled bitterly. Lawyer Han, with Zhao's self-criticism, directly embarrassed Zhao in the board meeting. Zhao only did it because he couldn't swallow the resignation matter. Shen Mi's uncle still spoke up for Zhao, and Shen Mi seemed to see something, immediately leaving.
Lawyer Han prepared healthy food for Shen Mi and suggested he visit his grandfather. When the assistant came with the new phone, Shen Mi left. Shen Mi thought that he hadn't apologized to anyone for a long time, and feeling a bit nervous, he saw Tian Tian's car and immediately became tense. Tian Tian, hearing Carlo's voice, quickly hid. When she heard that Shen Mi was there to treat Carlo, Tian Tian reluctantly let him in, maintaining a tough attitude. After Carlo ate, Tian Tian asked Shen Mi to leave, returned the pen, and was still angry. Shen Mi's gift was left ungiven. Upon leaving, Shen Mi ordered an investigation into Tianlin Pet Hospital.
Tian Tian was troubled by the hospital matter, and her loan application documents couldn't pass the review.
On the other side, Shen Mi unexpectedly received news that his grandfather wanted him to become the CEO!
Shen Mi's grandfather happily livestreamed and introduced the fresh fruits and vegetables he grew to his fans. The fans responded well, even requesting Shen Mi's grandfather to hang the vegetables on a small yellow cart. At this moment, Shen Chen came out to stir things up, bluntly saying that if anyone wanted to eat, they had to become Shen Mi's grandfather's daughter-in-law and leave their contact information below. Shen Mi's grandfather promptly stopped Shen Chen, but the fans still left. Shen Mi's grandfather had no way to deal with his mischievous grandson. While they were talking, Shen Mi returned, and Shen Mi and Shen Chen, using a secret code, went upstairs to play chess.
Shen Mi lost the first round, boosting Shen Chen's confidence. Shen Chen boldly claimed that Shen Mi was only slightly better at managing the company, but he excelled in other aspects. Shen Mi didn't want to bother with Shen Chen. At this time, Shen Mi received a report about the situation at Tianlin Pet Hospital. Upon hearing that the hospital was being oppressed by investors due to Tian Tian's father having a stroke, Shen Mi was stunned and felt complicated. Shen Chen inquired about the phone call's content, and Shen Mi briefly explained. The two decided to play another round, and if Shen Mi lost, he would buy Shen Chen a motorcycle, and Shen Chen wouldn't bother Shen Mi anymore. If Shen Chen lost, he would have to follow Shen Mi's orders.
On the other side, Shen Mi's uncle and grandfather discussed the matter of Shen Mi becoming the CEO. Grandfather knew that Shen Mi's uncle had thoughts about Shen Mi being the CEO and was aware of his schemes. Shen Mi's uncle didn't deny it but pointed out that he had started from the grassroots, unlike Shen Mi. Grandfather fell silent. Shen Chen lost and tried to act cute. Shen Mi insisted that Shen Chen find a formal job within a month, not using family money. Then, they began dinner. At the dinner table, Shen Mi's uncle suggested that Grandfather let Shen Mi work at the grassroots level for a year to revive an animal hospital. Grandfather agreed, and Shen Mi accepted. Shen Mi had thoughts about the hospital.
Customers caused trouble at Tianlin Hospital, and Tian Tian was almost engulfed by the crowd. Fortunately, Shen Mi appeared in time and refunded the customers one by one. Tian Tian was grateful for Shen Mi's actions and wanted to return the money. Shen Mi insisted on considering it as Tian Tian's gratitude for saving Carlo. Tian Tian brought out the phone Shen Mi had bought for her and said if he wanted to improve the hospital's management, he should call her. Tian Tian's aunt, looking at Shen Mi's business card, let her imagination run wild, suggesting that Shen Mi might be interested in Tian Tian. Tian Tian didn't have a good impression of Shen Mi but acknowledged her aunt's reasoning, realizing that Tianlin really needed help!
Shen Mi was working, and Mengnan wanted to have dinner with him. Shen Chen, passing by, jokingly said that Mengnan liked Shen Mi. The atmosphere became awkward, and Shen Mi received a call from Tian Tian. Shen Chen and Mengnan left one after another, with Shen Chen comforting Mengnan and saying that his brother was immune to the opposite sex. However, Mengnan was still sad. Shen Mi's aunt carefully did makeup for Tian Tian, even bringing out battle clothes and boots, jokingly suggesting that Tian Tian should take down Shen Mi.
Tian Tian didn't expect any of her aunt's ideas to work. Shen Mi was surprised by Tian Tian's appearance and then stated that he didn't drink. Seeing Shen Mi working on something, Tian Tian was relieved that her aunt's guess was correct, only to find out that Shen Mi was cooking for Carlo! However, Carlo preferred the food Tian Tian brought, leaving Shen Mi feeling a bit defeated. Shen Mi continued working, and Tian Tian had to deal with her gossiping aunt. Later, Shen Mi handed Tian Tian the prepared proposal. Upon hearing that Shen Mi wanted to take away 70% of Tianlin's shares, Tian Tian became angry, stating that she wouldn't bow for this small amount of rice. She then left.
Tianlin's employees gradually left, and the bank repeatedly rejected Tian Tian's applications. Feeling helpless, her aunt suggested restarting negotiations with Shen Mi, agreeing to all his demands. After all, giving Tianlin to that Mr. Hu meant losing everything! Tian Tian came to her father's bedside, feeling guilty about Tianlin. Her father told her about the time when she helped him treat a little horse, encouraging her. Tian Tian regained confidence and was determined to save Tianlin.
Carlo, faced with a pile of delicious food, remained unmoved. Shen Mi was worried about Tian Tian's arrival, who brought Carlo's favorite food. Carlo suddenly grabbed the bag from Tian Tian, and Shen Mi wanted Carlo to return it. Tian Tian said it was for Carlo, and unexpectedly, the three of them—Shen Mi, Tian Tian, and Carlo—ended up in a scuffle and accidentally fell to the ground. Tian Tian ended up lying on top of Shen Mi, and the situation became very awkward!
Tian Tian and Shen Mi lay on the ground, facing each other in an awkward silence. Just then, Mengnan entered with some people, prompting both to quickly compose themselves. Mengnan, surprised by the scene, introduced herself and brought along a cardiologist named Li Hongnian for Shen Mi. Although Shen Mi was reluctant due to his uncle's mention of it before, Mengnan had indeed arranged for the visit. Shen Mi explained that the lady, Dr. Tian, was his private physician, and the earlier actions were part of a cardiac examination. Dr. Li, recognizing the situation, tactfully left, and Mengnan suggested bringing Dr. Tian back to see Grandfather.
As soon as Mengnan left, Dr. Tian exploded, insisting that she was a veterinarian and not a human doctor. However, Shen Mi had to take Dr. Tian to see Grandfather about his heart condition; otherwise, Mengnan might find another private physician. Dr. Tian disagreed, and Shen Mi kept compromising on matters related to Tianlin. Dr. Tian remained firm, claiming she couldn't handle Shen Mi's heart issues. Finally, Shen Mi proposed a dominance clause: if they disagreed on Tianlin matters, he would withdraw without withdrawing his investment. Dr. Tian, hearing this, immediately changed her tone and allowed Shen Mi to call her "Dr. Xiaotian."
At Grandfather's house, Dr. Tian felt visibly uncomfortable. Mengnan, acting like a host, served tea to Dr. Tian and assisted Grandfather. Before Grandfather could say much, Mengnan raised several questions about Dr. Tian. Luckily, with Shen Mi's help, they managed to pass through the situation, though Dr. Tian's answers during CPR raised suspicions in Grandfather's mind. Outside, Shen Mi questioned Dr. Tian about treating him like a dog. Dr. Tian, feeling helpless, reminded Shen Mi not to forget their agreement.
Upon returning home, Shen Mi, holding the prescribed medicine, remembered some childhood scenes. Out of anger, he flushed the medicine down the toilet, and tears flowed uncontrollably. Meanwhile, Mengnan inquired about Dr. Tian's background with her father, and her mind dwelled on the scenes between Shen Mi and Dr. Tian in the office. Unable to control her thoughts, Mengnan speculated negatively.
Shen Mi visited Tianlin with a revised proposal, but Dr. Tian carefully examined the plan. Shen Mi, frustrated, suggested Dr. Tian consult a professional legal team. Suddenly, an emergency patient arrived—an elderly scavenger who had been hit by a car and had a dog that was also harmed. The old man sought help from Tianlin, and Dr. Tian promptly arranged surgery for the dog. Mengnan took care of the old man, and Shen Mi observed the situation. After the surgery, Dr. Tian comforted the old man, showing respect by only charging a modest fee. When Dr. Tian returned to the office, Shen Mi was waiting. After reviewing the free clinic records, Shen Mi stated that Dr. Tian was doing charity work, potentially creating dependency among pet owners. Dr. Tian disagreed, leading to another disagreement, and she suggested Shen Mi get a professional team to review the proposal.
Mengnan overheard Shen Mi's uncle and the R&D department discussing Dr. Gu's situation and advised Shen Mi to meet Dr. Gu before his uncle did. However, Mengnan, without informing Shen Mi, took Dr. Gu away. On the way to the R&D department, Mengnan realized Dr. Gu had claustrophobia but managed to keep him calm. When they reached Shen Mi's uncle, Mengnan tried to retain Dr. Gu, but he insisted on focusing on R&D, pledging to handle internal matters three days later when he returned to work.
The elderly scavenger, eating his usual steamed bun, suddenly felt unwell and collapsed. His dog followed the ambulance to the hospital's entrance.
Tian Tian has yet to sign the contract, causing her aunt to become anxious. She straightforwardly expresses that if Tian Tian doesn't sign soon, Tianlin will be in trouble. Tian Tian is aware of the situation, but their differences in perspective, especially regarding the free clinic, highlight their contrasting beliefs. Tian Tian envisions Tianlin as a warm family, while Shen Mi aims to turn it into a profit-making machine. The aunt even brings up the analogy of a married couple, suggesting that they can divorce if things don't work out. Tian Tian's extensive arguments are abruptly silenced.
The elderly scavenger, Uncle Zhou, remains in the hospital, and his dog, Tiger, anxiously waits outside, recalling the time when Uncle Zhou saved him from mischievous kids. Tiger, emotionally attached, waits through the day and night. The wound from the surgery that Tian Tian performed on Tiger starts bleeding due to excessive running around, but onlookers can only watch without helping.
Meanwhile, Tian Tian notices that Uncle Zhou hasn't brought Tiger for a follow-up, mistakenly thinking he doesn't want to trouble Tianlin further. She is slightly worried about Tiger's condition. Tian Tian prepares food for Carlo and goes to find her brother, only to discover him playing games. Despite constant troubles, investment negotiations, declining customers, her brother is engrossed in gaming. Tian Tian takes away his phone, instructing him to deliver the food to Carlo. Although Shen Mi is not a good person, Carlo is innocent. Tian Tian receives a call from an old classmate; their senior, Dr. Gu, has returned to China, and they plan to meet. Initially hesitant, Tian Tian agrees at her aunt's insistence.
At the gathering, before Dr. Gu arrives, former classmates express concern about Tian Tian's situation. The once troublesome girl brags about her wealthy husband and intentionally brings up Tianlin to disgust Tian Tian. Classmates offer help if Tian Tian faces difficulties, but she mentions potential investors with a minor issue to resolve. When pushed, she reluctantly reveals Shen Mi's name. Dr. Gu arrives, shifting the conversation away, leaving Tian Tian troubled. Drunk, Tian Tian later reflects on Shen Mi's actions and deletes him from WeChat. Shen Mi, angered upon realizing the deletion, calls Tian Tian, but his calls are blocked. Shen Mi contacts the aunt, who reveals Tian Tian's address, asking him to pick her up.
Shen Mi arrives just as others are leaving, finding Tian Tian heavily intoxicated. Upon seeing him, Tian Tian launches into a tirade. Shen Mi, unimpressed, carries Tian Tian to the car, leading others to assume they are a couple. In the car, Tian Tian falls asleep, and, unable to locate her address, Shen Mi resorts to facial recognition on her phone. Tian Tian wakes up the next morning, questions her aunt about the situation, and apologizes to Shen Mi during breakfast. They learn that Uncle Zhou has been hospitalized.
Worried, they rush to the hospital, finding Uncle Zhou's relatives uncontactable. Uncle Zhou is placed in a corridor bed. Shen Mi pays for his medical expenses and arranges for a bed. Tian Tian is moved by Shen Mi's actions. After leaving the hospital, they discover Tiger waiting, and Tian Tian realizes Tiger has collapsed. Back at Tianlin, Tian Tian diagnoses Tiger, determining the need for a splenectomy. With Dr. Chen absent, Tian Tian struggles to pick up the surgical knife. Fortunately, Dr. Chen arrives in time. Tian Tian, emotionally distraught, returns to her office, where Shen Mi, who witnessed everything, remains unaware of the reasons. Tian Tian, in tears, remains silent, and Shen Mi stands outside the door, clueless.
Shen Mi silently stands outside Tian Tian's office, accompanying her. After crying for an unknown duration, Tian Tian finally opens up about the relationship between herself and Zai Zai. The emotional bond between Tian Tian and Zai Zai runs deep. Even the food she prepares for Carlo today is a result of many attempts to cater to Zai Zai's preferences. However, despite her efforts, Tian Tian couldn't save Zai Zai, creating a lasting scar in her heart. She can no longer bring herself to pick up the surgical knife. Hearing this, Shen Mi empathizes without interrupting Tian Tian.
Dr. Chen finishes the surgery and comes out. Tian Tian immediately opens the door and inquires about Tiger's condition. Dr. Chen regrets to inform her that Tiger's spleen bled extensively, and there was nothing more they could do. This news, perhaps connecting to Zai Zai's situation, intensifies Tian Tian's anguish. Shen Mi finally speaks up after Dr. Chen leaves, expressing that Tian Tian has done her best for both Tiger and Zai Zai. He mentions the incident with Carlo, emphasizing that, to the animals saved by Tian Tian, she is a hero. Shen Mi extends his hand to lift Tian Tian, and she accepts. He keeps holding her hand, urging her to reconsider their cooperation. Tian Tian, shocked, as she is a hospital director who can't hold a surgical knife, finds Shen Mi's trust a significant encouragement. Finally, the collaboration between them is achieved!
During work hours, Han Mengnan deliberately waits at the front desk. Seeing Dr. Gu Mingze enter the company, she starts walking inside. As expected, Dr. Gu stops her, and a chance encounter unfolds. While in the elevator, Han Mengnan cautiously inquires about Dr. Gu's well-being, subtly mentioning his earlier invitation for dinner. Dr. Gu happily accepts. On the other hand, Shen Mi, at home taking care of Carlo, promises not to go out today and stay with Carlo. However, Han Mengnan calls Shen Mi, asking if he has time in the evening. Recalling Tian Tian's difficulty in talking to Uncle Zhou about Tiger, they agree to visit the hospital together. Shen Mi declines Han Mengnan's invitation, who suggests moving the meeting to the afternoon and reminds Shen Mi of the significance of the day – their anniversary. Shen Mi, unaware, agrees reluctantly.
Shen Mi arrives at the agreed place, recalling memories of himself and another young boy. Upon arrival, he realizes that Han Mengnan has also invited Dr. Gu. Shen Mi once again asserts his reluctance to be involved in the R&D department. However, on this particular day, he refrains from saying anything unpleasant to Han Mengnan. Dr. Gu arrives, mentioning a brief encounter with Shen Mi, leaving Shen Mi no choice but to leave. Han Mengnan and Dr. Gu are left alone.
Shen Mi and Tian Tian visit the hospital to see Uncle Zhou. Upon learning about Tiger's situation, Uncle Zhou is deeply saddened, and Tian Tian is also in tears. Shen Mi can only comfort her quietly. Back home, Shen Mi tells Carlo about Tiger. The departure of Tiger deeply saddens Shen Mi, triggering memories of the two young boys who saved Carlo's mother and took care of Carlo later on. He can't help but sigh, imagining how upset Tian Tian must be if she were still alive. Tian Tian takes care of her father, and they discuss the events of the day. Her father gives full approval of Tian Tian's work, hoping she can fully embrace her responsibilities. Tian Tian then sends a WeChat message to Shen Mi, confirming the time for the official signing. Shen Mi, delighted, responds to Grandpa's inquiry. However, Shen Mi's uncle is hesitant to lend money to Shen Mi, indicating that the investment in Tianlin must come from Shen Mi's personal savings. Shen Mi realizes this is a battle he must win!
The next day, Shen Mi arrives at Tianlin for the signing ceremony. The aunt arranges for a photo to commemorate the occasion, adding a ceremonial touch. Afterwards, Tian Tian guides Shen Mi around the hospital, and witnessing the unique and dedicated staff, Shen Mi has a lot on his mind. During the meeting, employees are engrossed in their own activities, and when Tian Tian, the director, speaks, nobody listens. Shen Mi observes everything but remains silent during his turn to speak. On the other side, Han Mengnan and Dr. Gu have supper, where Dr. Gu once again emphasizes his reluctance to get involved in the internal disputes of the company, hoping Han Mengnan will stop.
In the evening, Shen Mi and Tian Tian have a meal together. Shen Mi reveals that his silence during the meeting was to establish Tian Tian's authority and make it clear whose words the employees should heed. He expresses his views on Tianlin's management, suggesting that some of the current employees, those that Tian Tian is proud of, may need to be let go.
Originally, Tian Tian was happily enjoying supper while listening to Shen Mi discussing hospital matters. However, when Tian Tian heard that Shen Mi planned to dismiss everyone from Tianlin, she instantly exploded. Tian Tian couldn't understand what was wrong with them, and the idea of firing everyone was unacceptable to her! Tian Tian directly snatched the sausage skewer from Shen Mi's mouth, leading to a heated argument. Seeing that Tian Tian wasn't receptive, Shen Mi revealed the company's plan to introduce targeted drugs to trial hospitals, selecting Tianlin as one of them. While Tian Tian thought it was a good thing, Shen Mi argued that Tianlin currently didn't meet the standards. If it were to be a trial hospital, Tianlin needed to be more specialized and commercialized. Shen Mi pointed out the shortcomings of Tianlin's employees, stating that the previous family-style management, relying on Director Tian's personal charm, was unsustainable. Tian Tian insisted that this was a type of human touch that Shen Mi didn't understand, and Tianlin wouldn't actively dismiss any employee. After saying this, she left, leaving Shen Mi frustrated.
The next day, Shen Mi, accompanied by Carlo, visited Tianlin. Upon entering, Yu Yue, who had previously successfully entered Tianlin with a fake resume, greeted Shen Mi. However, Shen Mi ignored her and walked inside. He encountered Tian Tian, and the two had an awkward encounter, with Yu Yue observing their relationship. Shen Mi and Tian Tian squeezed into Tian Tian's office to work. Unable to stand the sound of Shen Mi typing, Tian Tian insisted on giving him a separate office on the second floor. However, after seeing the cash flow statement for Tianlin that Shen Mi handed over, Tian Tian fell silent. Later, Tianlin had an emergency, and Yu Yue quickly went to gossip and inquire about Shen Mi and Tian Tian's relationship. Shen Mi and Tian Tian worked in Tian Tian's office. When Tian Tian couldn't stand the sound of Shen Mi typing, she suggested giving him a separate office on the second floor. However, after seeing Tianlin's cash flow statement provided by Shen Mi, Tian Tian kept quiet. Afterward, Tianlin went to handle the emergency, and Yu Yue tried to support but seemed absent-minded, focusing on Shen Mi's whereabouts. Shen Mi noticed this, and later, Tian Tian received a call from Grandma Wang, requiring her to conduct an external consultation. So, Tian Tian left the emergency case of the dog to Wen Jing and Yu Yue.
While waiting for a car after leaving, Shen Mi appeared in time and decided to drive Tian Tian to the external consultation. Tian Tian was in a hurry, and in the end, she got into Shen Mi's car. Seeing the two of them in a car from a distance, Tian Peilan instantly felt relieved, as long as the two of them were doing well, she was happy. After arriving at the destination, after basic treatment for the little cat, which required an hour of infusion, the cat's owner went to boil water for them. Tian Tian was about to refuse, but Shen Mi suddenly said he was very thirsty. Finally, they got some time alone. Shen Mi took the initiative to suggest discussing their relationship. Shen Mi believed that a good working relationship must be built on mutual trust. So, Shen Mi proposed that they ask each other a question. The result was that they started arguing as soon as they opened their mouths, shifting from the issue of cooperation to their personal feelings. In the end, the in-depth conversation between the two, who had never been in a relationship, ended in failure.
The two drove back to the hospital, and even before entering, they heard a commotion. It turned out that the dog from the previous emergency case had been injected with the wrong medication, and the family was causing a scene. Shen Mi took immediate action, signing a confidentiality agreement, and calming down the family. Shen Mi then started investigating the cause, and Yu Yue initially tried to shift the blame to Wen Jing. Everyone believed in Wen Jing's character, but in the end, they found Yu Yue's lipstick on the medicine bottle. This matter was finally clarified, and this time, Tian Tian did not stop Shen Mi from dismissing Yu Yue. The mutual trust among everyone in this matter helped Shen Mi understand the human touch that Tian Tian mentioned. So, Shen Mi decided to compromise. As long as Tian Tian could achieve the profit target within three months, they wouldn't be dismissed. Tian Tian agreed.
As usual, Tian Peilan chatted with customers about gossip, but Shen Mi quietly appeared behind her. Later, he held a meeting to announce new assessment rules. This time, Shen Mi confiscated Tian Peilan's gossip notebook. Everyone questioned Shen Mi about what he would assess himself on, and Shen Mi boldly stated that he would achieve at least half of the turnover! After the meeting, Shen Mi privately showed Tian Tian the new business plan he had made. In Shen Mi's view, Tianlin had weaknesses and strengths. One of its strengths was the stray animals they adopted. Shen Mi suggested initiating a charity donation, allowing compassionate people to release their kindness. Soon, a promotional video was filmed, and traffic increased. Tianlin was gradually moving in a positive direction.
Tian Tian, Tian Peilan, Tian Yuxian, and Chen Yifan went out to eat together. Although everyone enjoyed their meal, Tian Tian had lost her appetite. Soon, they began to criticize the new performance evaluation proposed by Shen Mi. Dr. Chen expressed surprise at being asked for such requirements after so many years, and Tian Yuxian lamented that he could only play games during mealtime. Tian Peilan was saddened by the loss of her gossip notebook. Tian Tian listened quietly to everyone's complaints and later stated that it was a good thing for Tianlin, as increased revenue was necessary. She believed that sacrifices were needed for a revolution. Hearing this, the others, unbothered by the prospect of Tian Tian being dismissed, continued eating noodles.
Tian Tian examined the medical records and was surprised to find that customer traffic had multiplied several times compared to before. However, Shen Mi poured cold water on her excitement, revealing that the publicity on the charity website was orchestrated by him. Other pet shops, seeing Tianlin's reputation rise, began to imitate, and Tianlin was now facing a potential customer diversion. Tian Tian hoped Shen Mi would provide the next step in the plan, but he claimed it was up to her as the director. Feeling a sudden sense of responsibility, Tian Tian straightened her back.
After work, Shen Mi came out of the office and was surprised to see Tian Tian and others gearing up to distribute flyers. Despite Shen Mi's visible disdain, Tian Tian was not discouraged. This was the best plan she could think of as the director. Before leaving, Tian Tian added that everyone was doing this after working hours, so it wouldn't affect performance. The group dispersed to distribute flyers, with Tian Tian showing the most enthusiasm. Even when everyone else was leaving, Tian Tian insisted on continuing for a while. As it grew dark, with Tian Tian's feet in high heels finally giving in, Shen Mi unexpectedly appeared. Not only did he bring band-aids for Tian Tian, but he also joined in distributing flyers, quickly attracting attention. When they returned to Tianlin, they found an abandoned teddy bear named Xiao Q at the doorstep.
The next day, they conducted a checkup on Xiao Q, and when Tian Yuxian was supposed to groom it, he sneaked off to the restroom to play games. Xiao Q took the opportunity to escape, meeting Carlo outside. Xiao Q, agile and swift, carried snacks from the store one by one outside, unnoticed by everyone. When they realized, Xiao Q had disappeared. Tian Yuxian was about to go out to find it when they discovered Xiao Q had returned on its own. That night, while Shen Mi worked at home, Han Mengnan visited unexpectedly. Seeing Shen Mi's indifferent attitude, she couldn't help but sigh that Shen Mi had changed. Han Mengnan deliberately mentioned seeing Tian Tian and Shen Mi together, but Shen Mi didn't elaborate. Han Mengnan sensibly left.
Dr. Chen came out to eat snacks and was surprised to find that the newly bought snacks were almost gone. Thinking it was Tian Peilan who ate them, they only discovered, after checking the surveillance, that Xiao Q was the culprit. To understand what happened, they gave snacks to Xiao Q again. The group chased Xiao Q outside but lost it. After hearing that Xiao Q had a stomach problem, Tian Peilan suddenly decided to go back to check her notebook. Based on her records, Tian Peilan deduced a few things. While everyone was on a stakeout, Tian Tian took the opportunity to rectify her aunt's reputation in front of Shen Mi. Finally, near the trash bin, they found Xiao Q and its owner, a little girl who immediately apologized. Later, the little girl brought everyone to her home, where they learned about the difficult family situation, with a closed-minded aunt. The home was not suitable for Xiao Q, so the little girl decided to entrust Xiao Q to Tianlin. To encourage the girl, Shen Mi also gave a stern message for her to study hard and take Xiao Q back in the future.
After the incident with Xiao Q, Shen Mi finally underwent a change and returned the gossip notebook to Tian Peilan. What Shen Mi didn't know was that Shen Chen had quietly arrived near Tianlin. Meanwhile, Tian Tian and Tian Peilan were worrying about the shortage of hospital doctors when Shen Chen suddenly appeared, saying he had come to apply!
Tian Tian had read Shen Chen's resume and found it impressive. Not only did Shen Chen have multiple identities and studied pet medicine abroad, but the only drawback was his lack of experience working in a hospital. While they were in the middle of the interview, they were interrupted by a commotion outside. Tian Tian paused the interview and went out to investigate. It turned out a customer insisted on having vocal cord polyp removal surgery for their dog. Chen Yifan explained that Tian Lin couldn't perform such a surgery, and the customer considered going elsewhere. Tian Tian added that the polyp was close to a major artery, posing a risk to the dog. She emphasized that no reputable hospital would perform such a procedure on pets. The dog's owner, on the verge of a breakdown, complained about the nuisance caused by the dog barking at night. Unbeknownst to them, the dog had quietly left. After a while, Shen Chen emerged with the dog, offering various solutions to the customer. Tian Tian quietly listened, and the customer's mood improved, leaving satisfied.
Tian Tian turned to Shen Chen, welcoming him to the Tian Lin family. At that moment, Shen Mi returned with Carlo. Carlo entered the hospital first, and upon seeing him, Shen Chen instinctively called out its name, sensing Tian Tian's surprise. Shen Chen quickly explained, and then Shen Mi appeared. The two brothers seemed unfamiliar with each other, and Tian Tian introduced them while Shen Mi felt something strange about Shen Chen's presence. Tian Tian returned to the office to handle Shen Chen's onboarding, while Shen Mi took Shen Chen aside for a talk, ostensibly for "employee training." In reality, Shen Mi immediately asked Shen Chen to resign and return to the company for another position. Shen Chen refused to listen, citing his reasons for Tian Tian and recalling the incident when Shen Mi hung up on him. Finally, Shen Chen used Tian Tian's veterinary profession to threaten Shen Mi, who had no choice but to stay silent.
Shen Chen, for the first time, returned home and shared the news of finding a job with his family. His father complained about the stress at work and hoped he would return to help. Shen Chen openly expressed that his father intervened too much in the company's R&D department. He then mentioned that he planned to buy gifts for his parents with his salary.
On Valentine's Day, Wen Jing noticed the conversation at the front desk and inquired about Tian Peilan's relationship. She also asked about Tian Peilan's plans for the evening. Tian Peilan took the opportunity to show off, while Chen Yifan teased her. Wen Jing, accustomed to their banter, didn't take it to heart. Shen Chen handed a coffee to Tian Tian and, in passing, asked about the relationship between Tian Tian and Shen Mi. After hearing that they were only investors and partners, Shen Chen left satisfied. Shen Chen also built a relationship with Tian Yuxian, playing games with him.
In the evening, Tian Peilan happily went for a blind date, but unexpectedly, a group of dogs needed to be walked, and with Tian Yuxian's cooperation, this task fell on Tian Tian and Shen Chen. Dr. Gu waited a long time for Meng Nan's reply but was saddened to find that she had discarded the flowers he gave her. Tian Peilan couldn't find a cab for her blind date, and the date was ruined. Fortunately, Chen Yifan appeared in time, preventing it from being too lonely. Meng Nan and Dr. Gu coincidentally entered the same convenience store, each buying their own food. When they noticed each other, they sat quietly, eating together in silence.
Tian Tian and Shen Chen walked the dogs together in the park. Tian Tian figured out that the whole dog-walking situation was a set-up by Tian Yuxian and Shen Chen. Suddenly, fireworks lit up the sky, and Tian Tian liked them. Shen Chen intended to pretend that he had arranged the fireworks, but to his embarrassment, they spelled out "Lulu's name." Shen Chen awkwardly walked away. Later, Tian Yuxian, who had been walking Carlo, joined them in the park. When he walked by Tian Tian, he remained silent and left without a word. Back at Tian Lin, Tian Tian asked Shen Mi about the reason, and he only wanted to retrieve his pen. He then presented a custom-made pen to Tian Tian with the word "Sweet" engraved on it. Tian Tian instantly lost her anger and felt touched.
Tian Peilan and Tian Tian gossiped about Shen Chen. At that moment, Tian Tian received a call. It turned out to be a response to her earlier idea of a sterilization project for stray animals. Tian Tian was thrilled and asked Tian Peilan not to tell Shen Mi for now.
Tian Tian was overjoyed when she heard that Han Lu Charity was interested in collaborating with Tian Lin. After setting a time and place for dinner, Tian Tian began preparing for the meeting. When Shen Chen arrived at work, everyone greeted him and wished him well. Upon seeing Tian Yuxian, Shen Chen learned that Tian Peilan and the others had been gossiping. Shen Chen felt embarrassed and continued to inquire about Tian Yuxian regarding Tian Tian's preferences. Learning that Tian Tian loved mangoes, Shen Chen immediately set off to buy mango smoothies. As Shen Chen left, everyone speculated that he was preparing for the date.
Shen Mi heard the rumors and instinctively went to Tian Tian's office. Indeed, Tian Tian was putting on makeup. Without changing his expression, Shen Mi suggested postponing the dinner because Grandpa wanted them to return home. Tian Tian, focused on the collaboration with Han Lu Charity, rejected Shen Mi, who thought Tian Tian was going on a date with Shen Chen. That made him uneasy, but he didn't say much.
In the evening, Tian Tian went on the date happily, and Shen Mi went home alone to visit Grandpa. Grandpa mentioned criticizing "Doctor Tian" next time, and Shen Mi indirectly defended Tian Tian. The representative from Han Lu Charity praised Tian Lin after reading the introduction, making Tian Tian very happy, thinking the collaboration was about to be finalized. On the other hand, when Shen Chen brought back the mango smoothies, Tian Peilan accidentally revealed the dinner plans with Han Lu, causing excitement among the group. It turned out that Han Lu Charity was an organization that used charity as a cover to deceive people both financially and romantically. Shen Chen, alarmed, led everyone to Cuiyun Restaurant.
On Tian Tian's side, while discussing the proposal, it accidentally fell to the ground. When Tian Tian bent down to pick it up, the person secretly put something in her juice. Unaware, she drank it and soon felt unwell. As she headed to the restroom, things took a wrong turn. Shen Chen appeared and swiftly knocked down the villain, helping Tian Tian. When Shen Mi arrived and saw Tian Tian's condition, he misunderstood the situation, scolding and hitting Shen Chen without giving him a chance to explain. Fortunately, Tian Peilan and Chen Yifan arrived in time to resolve the misunderstanding. They accompanied Tian Tian to the hospital.
Luckily, Shen Chen's timely arrival prevented any serious harm to Tian Tian. After a heated discussion, they decided to let Shen Mi stay at the hospital to watch over Tian Tian for the night. After Tian Peilan and Chen Yifan left, Tian Tian vomited on Shen Mi's clothes. Shen Chen asked Shen Mi to leave the room, and this time he questioned Shen Mi about his feelings for Tian Tian. Shen Mi admitted he liked her, and after a brief pause, Shen Chen said he would still pursue her. When a commotion came from the ward, they rushed in to find Tian Tian falling off the bed. The brothers helped her up, and as Shen Chen left, Shen Mi teased him about being the first person Tian Tian would see when she woke up.
The next day, Shen Mi took Tian Tian back to Tian Lin. The atmosphere was awkward, and it turned out Tian Tian's leg had been on Shen Mi while sleeping, causing him to feel sore all over. Tian Tian felt embarrassed and washed Shen Mi's clothes. As they couldn't be water-washed, she covered the stain with Tian Lin's stickers. Tian Tian thanked Shen Chen, who then asked her to be his girlfriend, but she declined. In the end, Shen Chen hugged Tian Tian and let go. Shen Mi returned to the company for a meeting, and his uncle brought up the issue of trademarks on Shen Mi's clothes. Shen Mi boldly defended himself and insisted that Tian Lin should participate in the veterinary medicine summit. Tian Tian was delighted to learn she was going to the summit too.
After finishing surgery, Chen Yifan returned home to find it flooded. His takeout was delivered, but a stray cat ate it before he could. Annoyed, he gave the delivery person a bad review. Despite the delivery person's sadness, he took the pitiful cat home. Han Uncle visited Tian Lin to ask Shen Mi not to attend the veterinary medicine summit. Tian Tian, with Carlo, came out to find Shen Mi, and they all ended up in the park where the delivery person was drawing for passersby and the cat.
Original Soundtrack
Reviews
Jade Emerald

"My Precious" adopts the common "happy enemies" setting, bringing great sweetness

From a narrative perspective, "My Precious" adopts the common "happy enemies" setting, where the male and female protagonists experience friction due to misunderstandings, gradually developing feelings for each other as they spend more time together. This classic storytelling mode makes it easier for the audience to immerse themselves in the plot.

The drama gained attention upon its release, thanks to the high popularity of actors such as Huang Zitao and Wang Herun.

Wang Herun, who plays the female lead Tian Tian in the series, has captured the enthusiastic attention of many netizens with her lively, adorable, and positively energetic image.

It's worth mentioning that recently, Wang Herun has just gained significant recognition for her powerful portrayal of the character Li Qiao in the hit drama "Mysterious Lotus Casebook."

Wang Herun's versatility in portraying various roles and her strong acting skills are notable. Her departure from previous character setups brings a pleasant surprise to the audience.

In summary, I feel that "My Precious" is likely a very sunny, cheerful, pure, and kind-hearted drama, bringing the audience a sweet and love-filled story.
You May Also Like
Related Posts