Legally Romance – Huang Zitao, Song Zu Er
Legally Romance is an Urban fantasy romantic drama directed by Xue Ling, led by Huang Zitao and Song Zu'er, co-starring Jin Ze, Zhong Lili, Li Baihui, and Yan An.
The drama is adapted from Ye Feiran's novel of the title, which tells the growth story of Qian Wei, an employee of Lu Xu. She returned at the age of 18 by chance when her career was blocked at the age of 28 and met her boss again. She crossed from the workplace to the campus, and then returned to the workplace, finally making great progress along the way and harvesting double success in her career and love.
Details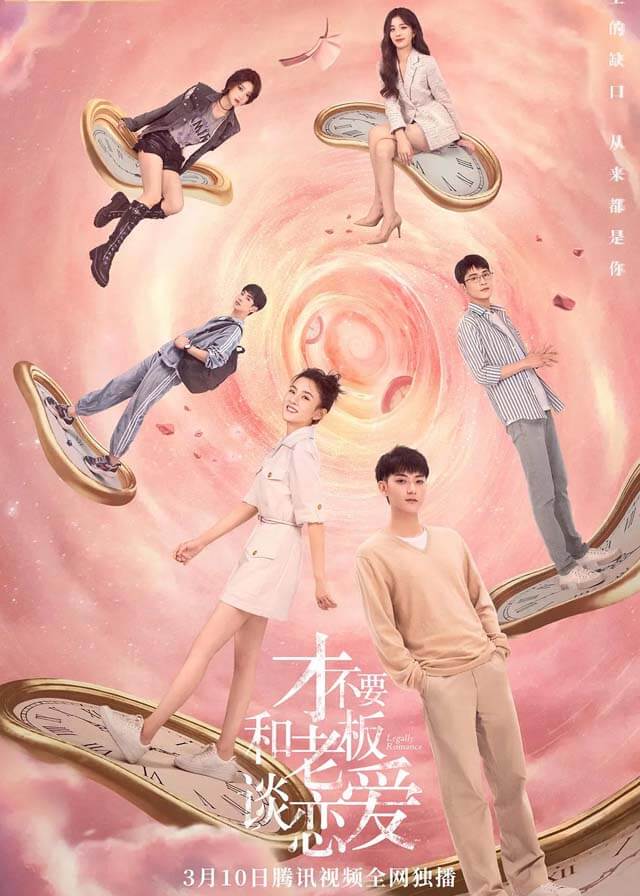 English Title: Legally Romance
Chinese Title: 才不要和老板谈恋爱
Genre: Urban, Romance, Fantasy
Tag: Time Travel, Boss-Employee Relationship, Slow Burn Romance, Enemies to Lovers, Bickering Couple, Second Chance
Episodes: 33
Duration: 45 min.
Director: Xue Ling
Writer: Jia Binbin, Ma Yuxin
Producer: Zhang Meng
Product Company: Shanghai Youhug Media Co., Ltd.
Released Date: 2022-03-10
Broadcast Website: WeTV, Viki, YOUHUG MEDIA
Cast
Synopsis
Qian Wei is a 28-year-old paralegal whose boss, Lu Xun, was her classmate.
Qian Wei believed that Lu Xun's indifference and oppression to her was because she offended him when she was in school.
So she complained and thought of ways to please Lu Xun so that she can get out of her difficult situation in the workplace.
But during an accident that causes a coma, Qian Wei dreamed of her 19-year-old days and realized that Lu Xun's attitude towards her may be another way of caring.
When she woke up, Qian Wei tried to get closer to Lu Xun's inner world and discovered his upright and warm side. She also felt the care Lu Xun had always given to her.
Qian Wei reflected on her attitude towards life, no longer trying to impute her plight to others, and regained her original heart as a lawyer.
In the process of building a legal aid platform with Lu Xun and helping her clients, Qian Wei overcame the knot and became mature. They also resolved their misunderstandings, grew together, and slowly got together.
After all the trials and tribulations, Qian Wei and Lu Xun reaped the benefits of their careers and love, they finally became a couple.
Reviews
You May Also Like
Related Posts