The Brightest Star in the Sky – Huang Zitao, Janice Wu
The Brightest Star in the Sky is a youth inspirational musical drama, directed by Liu Yizhi, led by Huang Zitao and Wu Qian, co-starring Niu Junfeng, Cao Xiyue, and Huang Zheng, with Qin Lan, Wang Jinsong, and Zhang Jincheng in special roles.

The drama takes the ecology of the idol produce industry as the background and tells the story of three young people with different personalities who come together to chase their respective musical dreams and eventually break through the limits to be reborn by fire.
Details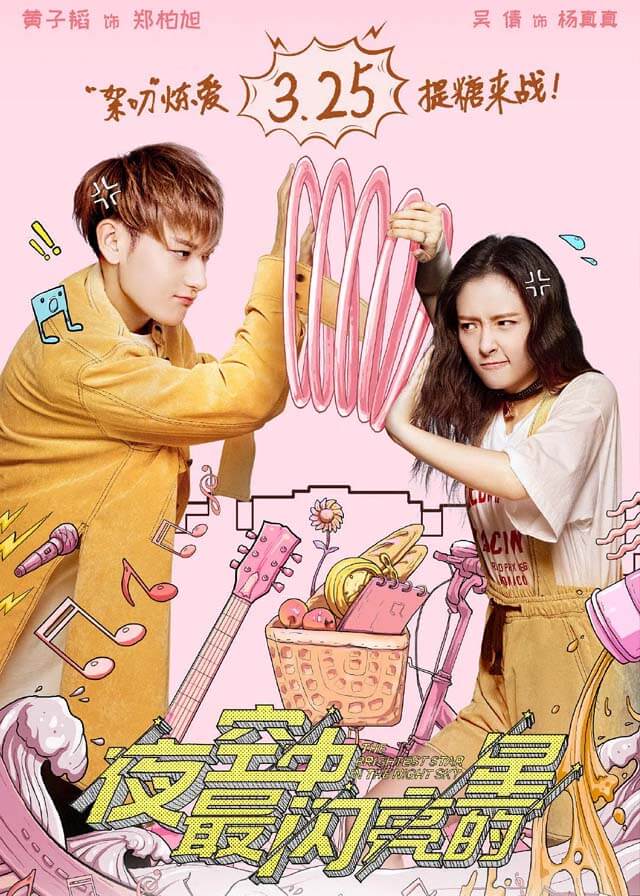 English Title: The Brightest Star in the Sky
Chinese Title: 夜空中最闪亮的星
Genre: Youth, Romance
Tag: Entertainment Industry, Love/Hate Relationship, Famous Lead/Common Lead, Boss-Employee Relationship, Opposites Attract, First Love
Episodes: 44
Duration: 45 min.
Director: Liu Yizhi
Writer: Wang Yanta, Zuo Weijia, Liu Ran
Producer: Teng Zhenzi
Product Company: L.TAO Entertainment
Released Date: 2019-03-25
Watch On: Viki, AsianCrush, Huace
Subtitle:
English, Chinese, Thai, Czech, French, German, Hungarian, Italian, Polish, Romanian, Slovak, Spanish
Cast
Synopsis
Xingkong Entertainment is one of the top entertainment companies in China. The owners, Chen Tianhao and Du Wanqing, were once a loving couple who fell into a marital crisis because of their different business philosophies towards the company.
Yang Zhenzhen, who loves music, joins Xingkong Entertainment and becomes the assistant of the popular singer Zheng Baixu. Zheng Baixu is an idol singer with an arrogant and uncontrollable personality.
Yang Zhenzhen gradually gets to know Zheng Baixu as she gets along with him, and helping him to correct his shortcoming and develop his strengths, eventually becoming a singer with great ability. Yang Zhenzhen has also transformed from a rookie to a mature agent.
Du Wanqing sets out to train newcomer Yu Zirui, whose innate musical talent puts tremendous pressure on Zheng Baixu, but also serves as motivation for Zheng Baixu to keep moving forward.
The young people who love music encourage each other, pushing the limits and looking for their own direction in life. After experiencing many difficulties and challenges, they all eventually receive career and emotional rewards.
Reviews
You May Also Like
Related Posts