MBA Partners – Yao Chen, Tiffany Tang, Hao Lei
MBA Partners is a romantic film directed by Korean director Tae-yoo Jang, starring Yao Chen, Tang Yan, Hao Lei, Li Chen, and Wang Yibo, with a special appearance by Aaron Kwok.
The film tells the inspiring story of three women of different ages, Lu Zhenxi, a girl from a small town, Wen Qing, a strong woman, and Gu Qiaoyin, a material girl, about their youth, dreams, and entrepreneurship.
Details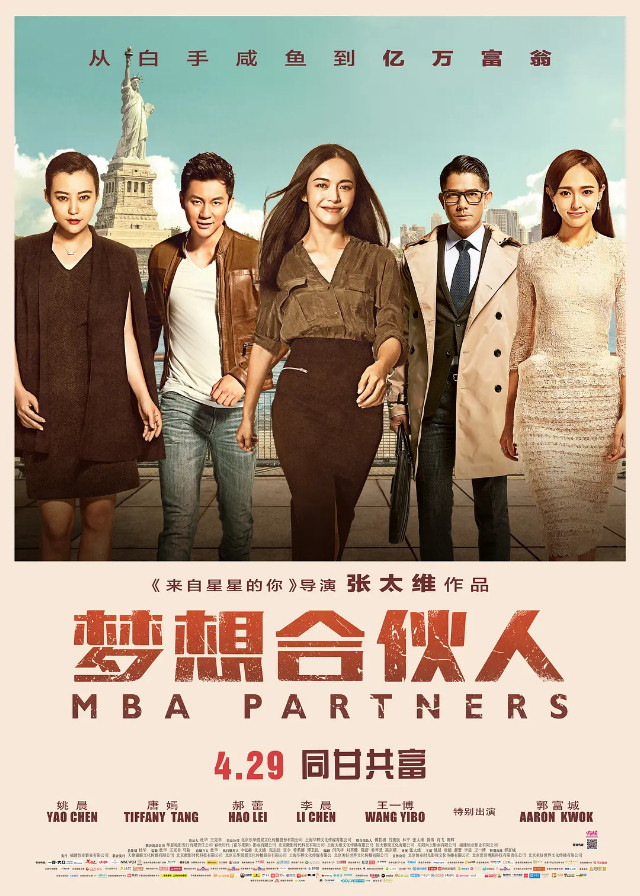 English Title: MBA Partners
Chinese Title: 梦想合伙人
Genre: Romance, Drama
Duration: 101 min.
Director: Tae-yoo Jang
Writer: Yan Fengxiang
Producer: Du Hua
Product Company: YUE HUA ENTERTAINMENT
Released Date: 2016-04-29
Broadcast Website: 腾讯视频
Cast
Synopsis
Lu Zhenxi, who is an international student in the United States, was deported back to China for selling fake bags.
The businesswoman Wen Qing's marriage suffers from a betray.
Gu Qiaoyin only wants to marry a rich man due to her poor family.
The three of them, who have bonded over their studies at the Yellow River Business School, go from being "rivals" to best friends and become partners in their quest for wealth, love, and status with the support of their business mentor Meng Xiaojun and Lu Zhenxi's childhood friend Juncheng.
They achieve great success in a short time.
But it doesn't last long when the company runs into serious problems in a highly competitive market and falls into trouble, while their relationship also breaks down.
In the face of adversity, Lu Zhenxi takes a firm step forward for her dream and her partners while enduring a severe test.
Reviews
You May Also Like
Related Posts