Martial Universe: Season 1 – Yang Yang, Crystal Zhang, Wu Chun, Wang Likun
Martial Universe: Season 1 is a historical fantasy wuxia drama directed by Zhang Li, led by Yang Yang, Crystal Zhang Tian'ai, Wu Chun, and Wang Likun, co-starring Ashton Chen, Liu Yan, Suo Xiaokun, Dong Qing, Yang Haoyu, Feng Junxi, Gong Lei.

The drama is adapted from the web novel of the same name by Tianchan Tudou, which tells the story of Lin Dong, an unpopular boy in a small town, who goes through countless hardships and dangers, overcoming evil and wicked people step by step, eventually transforming and growing into a great hero who saves the world and gains love and friendship.
Details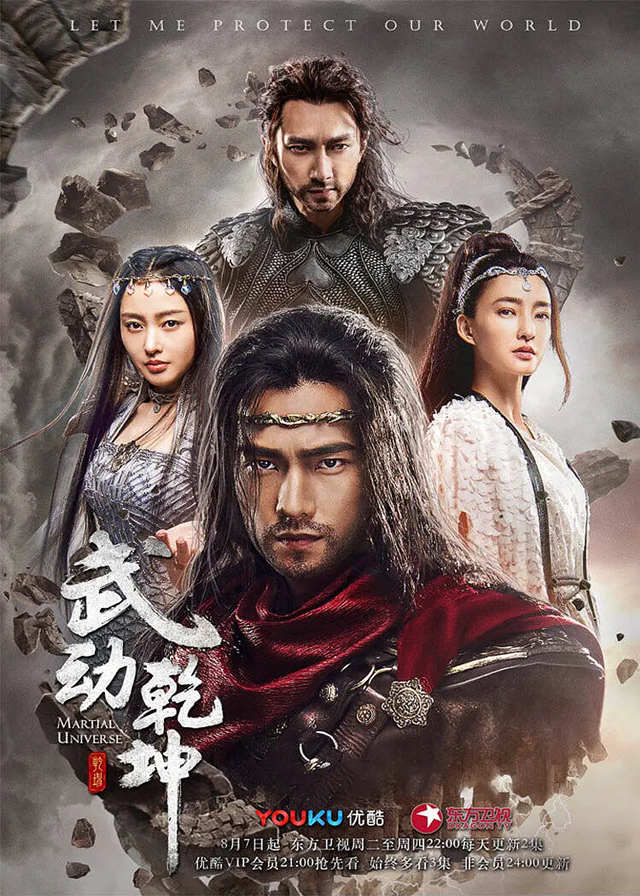 English Title: Martial Universe: Season 1
Chinese Title: 武动乾坤之英雄出少年
Genre: Historical, Fantasy, Wuxia
Tag: Xianxia, Martial Arts, Smart Female Lead, Poor Male Lead, Competition, Bromance
Episodes: 40
Duration: 45 min.
Director: Zhang Li, Han Xiaojun
Writer: Li Jingling, Jiang Lai
Producer: Jiang Minhao
Product Company: BLUE MEDIA, YOUKKU
Released Date: 2018-08-07
Watch On: MZTV Exclusive, Viki
Cast
Synopsis
Lin Dong, a young man who dreams of bringing glory to his family, coincidentally obtains a mysterious "stone talisman" left by the ancient supreme talisman ancestor.
From then on, many martial arts sects, powerful and famous clans, and the three super sects of the Zhongshan Kingdom appeared beside Lin Dong. Even his once unreachable enemy, Lin Langtian, also began to "care" about Lin Dong inexplicably.
After enduring many tribulations, such as clan competitions, wars between vassal states and heirs, Lin Dong relied on his hard work and unparalleled opportunities to train superb martial arts skills. He was secretly liked by the cool beauty, Ling Qingzhu, and Ying Huanhuan respectively.
However, the remnants of the demons that once endangered the land reappeared. Lin Langtian, Lin Dong's arch-enemy, eventually worked together with the remnants of the demons.
Lin Dong had to unite his two righteous brothers and the righteous martial artists beside him to fight against the demons relying on the supreme martial arts handed down by the ancestors of the talisman. Finally, Lin Dong guarded this beautiful continent!
Reviews
You May Also Like
Related Posts
Chinese Dramas Like Martial Universe: Season 1

Yang Yang is Dating Wang Churan? The Media Revealed Their Relationship

What's Yang Yang And Zhao Lusi's Relationship?

Yang Yang's 5 rumored Girlfriend, Vicotria Song Was His Girlfriend?

Yang Yang, Dilraba: Is It Possible For them To Be In A Relationship In Reality?

Is Xu Kaicheng Dating Gulnazar? Cheated on Crystal Zhang Tian'ai?

What's Allen Deng Lun and Li Qin's Relationship? The Wedding Has Been In Preparation?

Yang Yang Was Involved In The Rumor Of Dating His Fan.

Yang Yang Photos

Wang Likun Broke Up With Kenny Lin Gengxin, involved in the marriage rumor?

Xiao Zhan Ranked 1st, Wang Yibo 2rd - The Most Popular Chinese Actor in Thailand

Who Is Crystal Zhang Tian'ai's Boyfriend? Is Xu Kaicheng?

Yang Yang, Dilraba: The Wedding Scene Of "Jing Tu CP" Was Exposed In Advance.

Wu Chun Dramas, Movies, and TV Shows List

Wang Likun Dramas, Movies, and TV Shows List

Crystal Zhang Dramas, Movies, and TV Shows List

Yang Yang Dramas, Movies, and TV Shows List

Who Is Claudia Wang Likun's Boyfriend? Did She get married?

Xu Kaicheng Apologies to Crystal Zhang Tian'ai and Gulnazar

The Two Sweet Dramas Starred By Yang Yang, Ding Yuxi, Who Will You Choose?