Detective Chinatown 2 – Wang Baoqiang, Liu Haoran
Detective Chinatown 2 is an action-suspense film directed by Chen Sicheng, starring Wang Baoqiang, Liu Haoran, Xiao Yang, Liu Chengyu, Shang Yuxian, Wang Xun, Yuan Hua, Tsumabuki Satoshi, and Michael Pitt.
The film follows Tang Ren as he tricks Qin Feng into going to New York for a huge prize in a world-famous detective competition to find the murderer of the grandson of the godfather of New York's Chinatown, Uncle Seven. The two men team up again to solve the case and risk their lives to "mess up" New York
.
Details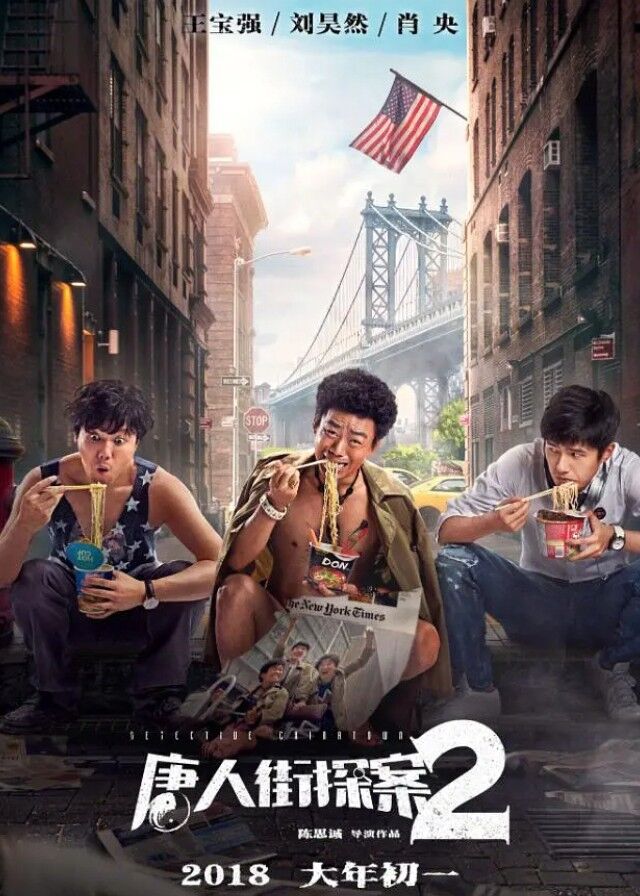 Cast
Synopsis
Qin Feng received an invitation from Tang Ren to attend his wedding with A Xiang in New York. Tang Ren, who exuded an extravagant aura, greeted Qin Feng with great ostentation. Little did Qin Feng know that the "wedding" was actually a world-renowned detective competition in which Tang Ren participated for a huge prize. The competition's objective was to find the killer of Uncle Seven, the godfather of New York's Chinatown, and his grandson. Feeling deceived, Qin Feng was furious and wanted to leave, but he became intrigued by a message delivered by Chen Ying, a Chinese detective in New York.
The death of Uncle Seven's grandson was mysterious, turning the search for the culprit into a high-stakes manhunt. The "great detectives" showcased their respective talents, leading to chaotic and frenzied investigations. Meanwhile, another similar case occurred, with remarkably similar modus operandi. The suspected killer, who had been initially identified, suddenly had an alibi, casting doubt on Qin Feng's own deductions. A third case unfolded, marking the beginning of a series of linked incidents. Qin Feng and Tang Ren once again geared up, shaking off various entanglements, causing havoc in New York, and coming close to uncovering the truth.
In the fourth case, the culprit slipped through their fingers, and a cunning plot was about to be revealed. The true culprit faced justice, with a chilling motive that sent shivers down their spines. Behind the seemingly perfect resolution of the case lay another thought-provoking mystery.
Reviews
You May Also Like
Related Posts