Cry Me a Sad River – Zhao Yingbo, Ren Min
Cry Me a Sad River is a youthful school film based on Guo Jingming's novel of the same name, directed by Luo Luo, starring Zhao Yingbo, Ren Min, Xin Yunlai, Zhang Ruonan and Zhu Danni.
The film tells the story of Qi Ming and Yi Yao, a pair of young people who grow up together in a Shanghai alley, who become entangled in a love affair on and off campus, and become involved in school bullying amidst repeated gossip that ends in tragedy.
Details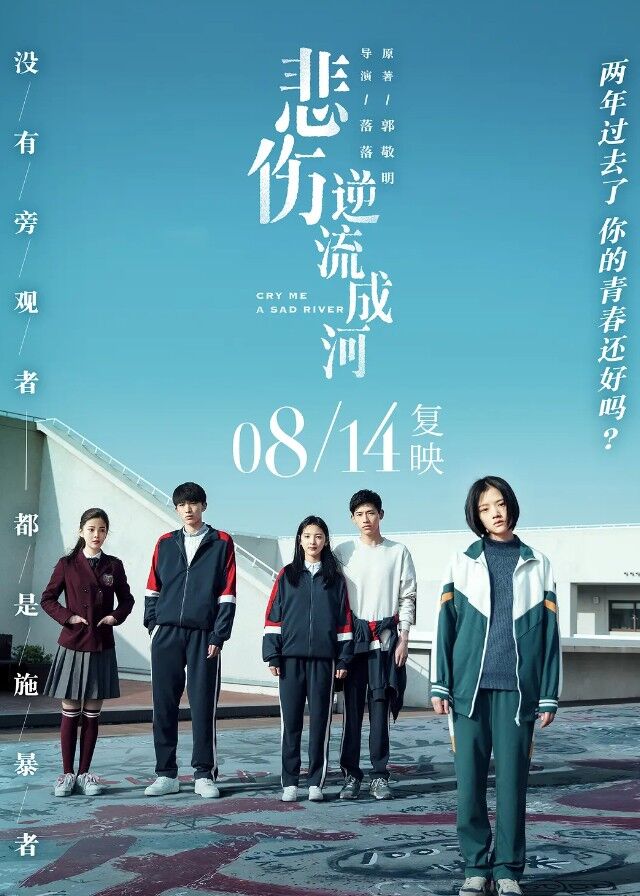 English Title: Cry Me a Sad River
Chinese Title: 悲伤逆流成河
Genre: Youth, School, Romance, Life
Duration: 105 min.
Director: Luo Luo
Writer: Guo Jingming, Luo Luo
Producer: Sun Yonghuan
Released Date: 2018-09-21
Broadcast Website: 爱奇艺
Cast
Synopsis
Multiple cases of campus bullying shattered the beautiful youth campus life that the five protagonists were supposed to have. Qi Ming is handsome and admired by everyone as an excellent student, while Yi Yao is referred to as a "loser" by everyone. The two grew up together and had a good relationship. However, everything changed dramatically after the transfer student Tang Xiaomi appeared. Rumors became a destructive weapon, and Yi Yao faced constant harassment and challenges. Yi Yao's life plunged into darkness, subjected to various forms of brutal bullying. Gu Senxi taught Yi Yao to fight back against campus violence, and his presence gave Yi Yao a glimmer of hope. But due to a twist of fate, Gu Senxi's accident pushed her back into darkness once again. When the victim becomes the perpetrator, when the bystander becomes an enabler, in this farce called "jokes," there are no onlookers, only the perpetrators.
Reviews
You May Also Like
Related Posts