Private Shushan Gakuen – Wang Yibo, Yukee Chen, Riley Wang
Private Shushan Gakuen is an urban fantasy drama directed by Huang Junwen and Song Ping, starring Wang Yibo, Yukee Chen, Riley Wang, Zhai Yishu, Chen Haomin, Ma Dezhong, Pei Zitian, Chai Wei, and Miao Qiaowei.

The drama tells the story of a group of 17-year-old teenagers fighting against evil.
Details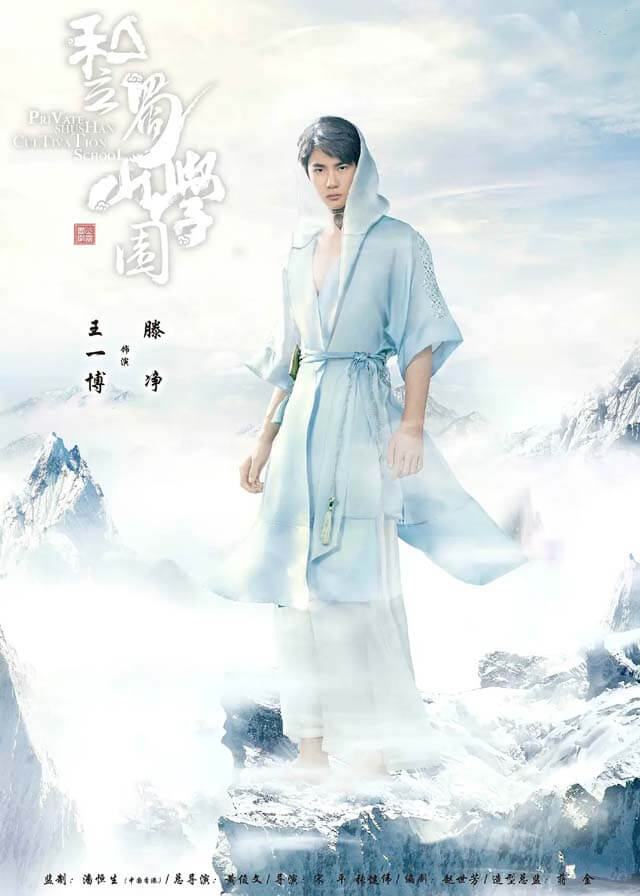 Cast
Synopsis
Teng Jing is an orphan who has been living in Shushan since he was a child. He was raised by the principal of the Private Shushan Gakuen, Lan Ting Yu, and the director, Zhong Shun.
He became the senior of the elite class of the senior section of the academy, with excellent grades, which he loved by his teachers and classmates.
When Qiu Qi, a transfer student, comes to the school because his family has disappeared, Teng Jing and Qiu Qi become roommates under the arrangement of director Zhong Shun.
Teng Jing's peaceful life ends from then on, they are incompatible from their personalities to their tastes, leading to conflict, but they eventually become good friends.
Nangong Ling who loves Teng Jing, suddenly avoids seeing each other and announces that she wants to transfer to another school.
Teng Jing was devastated and depressed, Qiu Qi found his change, and try to find out the truth of Nangong Ling's decision with Teng Jing.
Eventually, with their joint efforts, they untie Nangong Ling's knot, and they express their love for each other and get back together. After a series of twists and turns, Teng Jing helps Qiu Qi to find his family.
Because of these experiences, Teng Jing has been trained and grown, and he has learned the true meaning of growth, and finally said goodbye to his childish self.
Reviews
You May Also Like
Related Posts
Is Xiao Zhan and Wang Yibo's Relationship Getting Worse?

Wang Yibo's 70 Quotes

Wang Yibo is Once Again Rumored to be in Love, The Girl is Emily Qi Meihe

Wang Yibo's Ideal Type - How To Be Yibo's Girlfriend

Who is Emily Qi Meihe? Is Wang Yibo Chaseing After Her?

How is Wang Yibo, Cheng Xiao's Relationship, Will They Be In Love?

Wang Yibo Xiao Zhan's Controversial Interactions - Another Infighting Between "Bojun Yixiao"?

Wang Yibo Photos

Does Joseph Zeng Shunxi Have A Girlfriend? Dating Yukee Chen?

Xiao Zhan Ranked 1st, Wang Yibo 2rd - The Most Popular Chinese Actor in Thailand

Does Yukee Chen Yuqi Have A Boyfriend?

Xiao Zhan And Wang Yibo Become Competitor, "Douluo Continent" and The Legend of Fei" May Be Aired at The Same Period

Riley Wang Dramas, Movies, and TV Shows List

Yukee Chen Dramas, Movies, and TV Shows List

Wang Yibo Dramas, Movies, and TV Shows List

Wang Yibo's web drama "My Strange Friend" was aired, it's really laughable

Wang Yibo Agency Denied The Relationship With Li Zixuan

Studio Denied Li Zixuan's Dating Rumors, The Boy Is Not Wang Yibo

Zanilia Zhao Liying And Wang Yibo's Second Coopertion Rumor Led To Fan's Boycott

Wang Yibo's "Legend Of Fei" Was Aired, Xie Yun is so charming that even CCTV comes to support!