Operation Red Sea – Zhang Yi, Huang Jingyu
Operation Red Sea is an action film directed by Lin Chaoxian, starring Zhang Yi, Huang Jingyu, Hai Qing, Du Jiang, and Jiang Luxia.
The film tells the story of an 8-member team from the Chinese Navy's "Dragon Strike Force" who are tasked with carrying out an evacuation mission.
The team splits into two groups to conduct the rescue operation but unfortunately falls into an ambush, resulting in casualties. At the same time, they successfully foil a shocking conspiracy led by the rebellious armed leader.
Details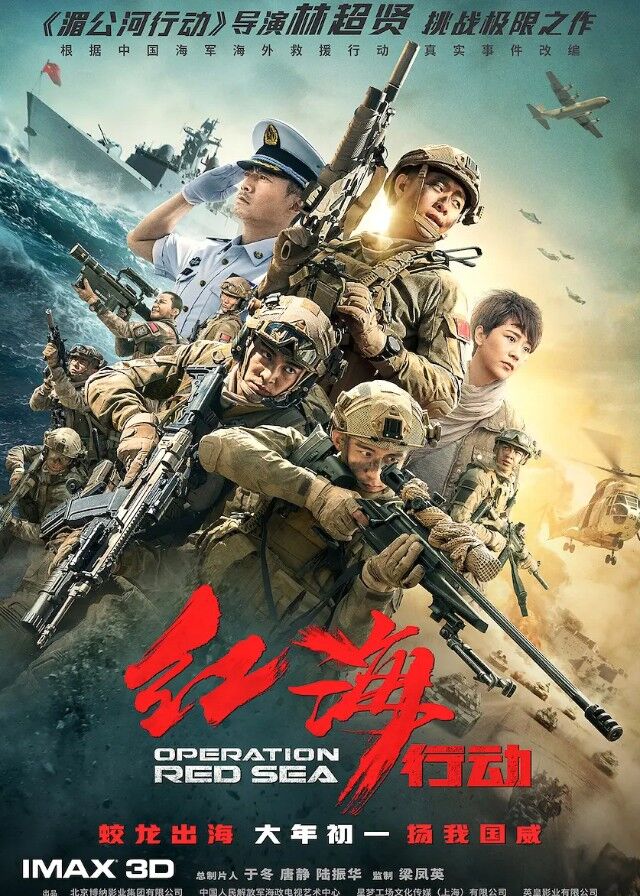 English Title: Operation Red Sea
Chinese Title: 红海行动
Genre: Military, Action, War, Thriller
Duration: 138 min.
Director: Lin Chaoxian
Writer: Feng Ji, Chen Zhuzhu, Lin Mingjie
Producer: Yu Dong, Lu Zhenhua, Tang Jing
Product Company: BONA
Released Date: 2018-02-16
Broadcast Website: YouTube
Cast
Synopsis
A coup d'état occurs in the Middle Eastern country of Ivia Republic, leading to escalating armed conflicts. The naval escort vessel Linyi, which has just completed a hostage rescue mission in Somalia, is tasked with carrying out an evacuation mission in Ivia.
Captain Gao Yun dispatches Yang Rui and his Dragon Strike Force team to land in the war zone and safely evacuate overseas Chinese.
However, the terrorist organization led by Zaka forces the evacuation team into a firefight zone, inevitably leading to a fierce battle. Meanwhile, a French-Chinese journalist named Xia Nan is investigating the fact that Dr. William Pearson is smuggling nuclear materials in Ivia.
Zaka, on the other hand, launches a raid on the company where Dr. Pearson is located, intending to seize the nuclear materials. In the midst of the chaos, a Chinese employee working for Dr. Pearson's company becomes a hostage.
To rescue the hostage, the eight members of the Dragon Strike Force must infiltrate a gathering point with 150 terrorists, forging a monument of the unwavering determination of Chinese soldiers with their faith and blood!
Reviews
You May Also Like
Related Posts