Novoland: Pearl Eclipse – Yang Mi, William Chan
Novoland: Pearl Eclipse is an oriental legendary romance drama directed by Jin Sha, starring Yang Mi and William Chan.

Based on the novel "Novoland: Pearl Eclipse " by Xiao Ruse, the drama tells the story of Emperor Xu, the powerful minister Fang Zhu, and the mysterious woman Hai Shi, who are determined to protect the peace under the complicated power struggle in the court and harem of the Great Zheng Dynasty on the novoland.
Details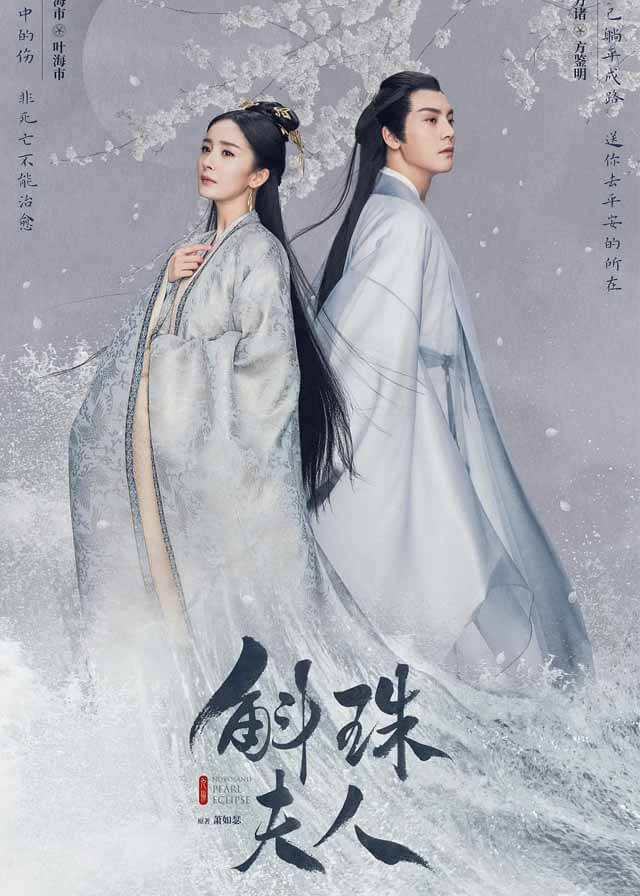 English Title: Novoland: Pearl Eclipse
Chinese Title: 九州·斛珠夫人
Genre: Historical, Fantasy, Romance, Immortal
Tag: Xianxia, Novoland, Strong Female Lead, Master/Disciple Relationship, Older Man/Younger Woman, Power Struggle
Episodes: 48
Duration: 45 min.
Director: Jin Sha, Yu Bo
Writer: Zhang Linnan, Cheng Chuan, Liu Ran
Producer: Gao Chen, Li Eryun, Huang Xing, Liu Zhimin, Du Qing
Product Company: Jaywalk Studio, TENCENT PENGUIN PICTURES
Released Date: 2021-11-10
Broadcast Website: WeTV, TencentVideo
Cast
Synopsis
In the vast world of novoland, heavy pearl taxes of the Zheng Dynasty's squeezed the people. Fishermen are forced to kill their children to get the special pearls, the tears of a magic girl.
A young girl from the coastal fishing village, Hai Shi, suffers from the death of her parents and the slaughter of her village. In the situation, she turns to Fang Zhu, the most powerful official of the Great Zheng, who is passing through the area. From then on, Hai Shi disguises herself as a man and becomes Fang Zhu's disciple.
At this time, the internal and external problems of the dynasty continue, the temperamental young emperor Chu Zhongxu, lost all interest in life because of the internal turmoil. Fang Zhu struggles to support the peace of the country. Emperor Chu acts as a foolish emperor but secretly watches everything in silence.
Hai Shi was ordered to become Di Xu's escort, but this attracted emperor Xu's attention to her. They experience mutual misunderstanding to gradually understanding each other. Di Xu realizes Hai Shi is a woman and develops feelings for her. But Hai Shi trusts and relies on Fang Zhu in unspeakable feelings.
With the rebellion of the imperial dynasty, Hai Shi bravely takes up the responsibility of guarding the peace of the Zheng Dynasty, and finally confront the feelings of Di Xu and Fang Zhu.
Reviews
You May Also Like
Related Posts
Chinese Dramas Like Novoland: Pearl Eclipse

How Is Yang Mi And William Chan's Relationship?

Who is William Chan Girlfriend? Two Relationships Were Famous To Many People

Hawick Lau Admits Dating Li Xiaofeng, Who is Yang Mi's Best Friend in the Drama Dramatically

Ouyang Nana, Zhai Zilu Relationship was Exposed?

The Rumors That Yang Mi And Wei Daxun Got Married Were Denied By Yang Mi Studio

Qin Lan and Wei Daxun Were Spotted Dating in Sanya

Is Wei Daxun Yang Mi's Boyfriend After Divorced With Ex-husband Hawick Lau

Yang Mi Photos

William Chan's Relationship Was Exposed? Dating Bruna Marth,A Brazilian Model?

Yang Mi Is Dating Daniel Zhou Keyu? Is It Too Outrageous?

William Chan, He Sui Were Exposed To Be In A Relationship

William Chan, Gulnazar Ever Had A Relationship?

William Chan Dramas, Movies, and TV Shows List

Yang Mi Dramas, Movies, and TV Shows List

Yang Mi and Xu Kai's CP Triggered Teasing, Douban Rating 5.8 is High or Low?

8 Most Anticipated C-Drama in 2021