Love Actually – Tong Dawei, Joe Chen, Wang Yibo
Love Actually is an urban romantic comedy directed by Chen Mingzhang and Wu Qiang, led by Tong Dawei, Joe Chen Qiao'en, and Wang Yibo, co-starring Lin Peng, Zhu Gang Ri Ao, Lai Jing, Zhu Yuxin, and Xie Shuai.
The drama tells the story of self-actualization and the pursuit of love among Ding Renjian, An Qinghuan, and Zhai Zhiwei, who have different life situations in the background of the big era.
Details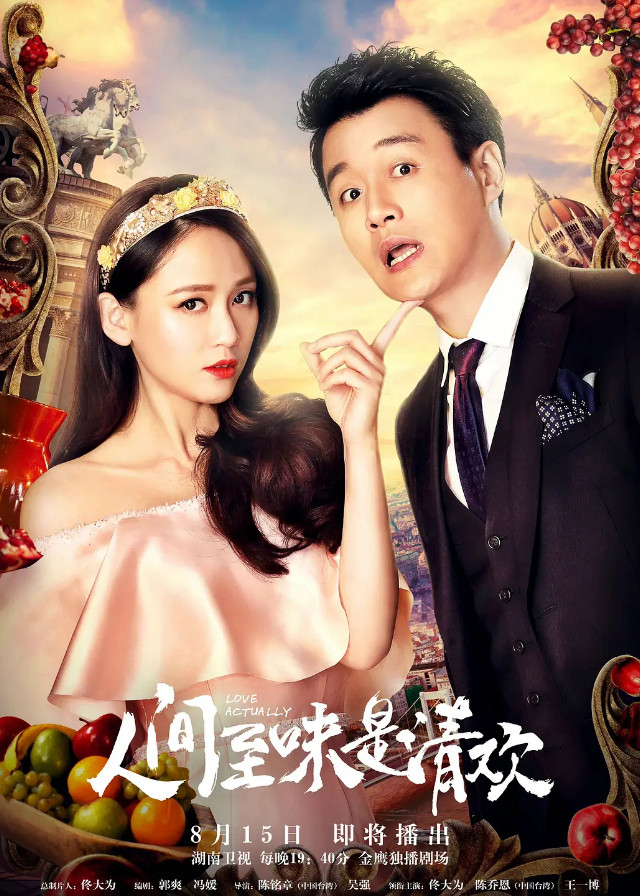 English Title: Love Actually
Chinese Title: 人间至味是清欢
Genre: Urban, Romance, Business, Life
Tag: Boss-Employee Relationship, Love Triangle, Family Relationship, Time Skip, Workplace Romance, Genius Male Lead
Episodes: 42
Duration: 45 min.
Director: Chen Mingzhang, Wu Qiang
Writer: Guo Shuang, Feng Yuan, Ni Jun
Producer: Wu Zhaoxu, Zhao Zhigang, Yu Mingxiao, Bai Chenghao, Guo Zhenyu
Product Company: Yuanyi Media, Shangxiang Entertainment
Released Date: 2017-08-15
Watch On: MangoTV Monsoon, Viki
Cast
Synopsis
In order to satisfy his wife Lin Yue's wish to live alone and leave his parents, Ding Fang, a post-70s uncle, leads his colleagues to ask for a salary increase, only to be fired by the boss and forced to work for the post-90s Zhai Zhiwei.
When Lin Yue learns of this, and with the "help" of her "best friend" Tang Xiaogang, Lin Yue divorces Ding and chooses Tang Xiaogang.
Ding Renjian is at a low point in his life.
Zhai Zhiwei's company is closed down because of Tang Xiaogang, and his father passed away, which leads to Zhai's downfall.
After Ding Renjian loses his job again, he moves into An Qinghuan's house, a post-80s white-collar worker. Then, he and An Qinghuan help Zhai Zhiwei to get out of the "darkness".
Finally, they get together as they wish, and Zhai Zhiwei grows up to be a mature and responsible man.
Reviews
You May Also Like
Related Posts
Chinese Dramas Like Love Actually

Is Xiao Zhan and Wang Yibo's Relationship Getting Worse?

Wang Yibo is Once Again Rumored to be in Love, The Girl is Emily Qi Meihe

Wang Yibo's Ideal Type - How To Be Yibo's Girlfriend

Who is Emily Qi Meihe? Is Wang Yibo Chaseing After Her?

How is Wang Yibo, Cheng Xiao's Relationship, Will They Be In Love?

Wang Yibo Xiao Zhan's Controversial Interactions - Another Infighting Between "Bojun Yixiao"?

Wang Yibo's 70 Quotes

Wang Yibo Photos

Xiao Zhan Ranked 1st, Wang Yibo 2rd - The Most Popular Chinese Actor in Thailand

Xiao Zhan And Wang Yibo Become Competitor, "Douluo Continent" and The Legend of Fei" May Be Aired at The Same Period

Wang Yibo's web drama "My Strange Friend" was aired, it's really laughable

Wang Yibo Agency Denied The Relationship With Li Zixuan

Tong Dawei Dramas, Movies, and TV Shows List

Joe Chen Dramas, Movies, and TV Shows List

Wang Yibo Dramas, Movies, and TV Shows List

Zanilia Zhao Liying And Wang Yibo's Second Coopertion Rumor Led To Fan's Boycott

Studio Denied Li Zixuan's Dating Rumors, The Boy Is Not Wang Yibo

Joe Chen Got Married, Husband Is Boyfriend Alan, Agent Denied Pregnancy.

Wang Yibo's new drama "Luoyang" was announced, Huang Xuan is the leading role