Cruel Romance – Huang Xiaoming, Joe Chen
Cruel Romance is a romance drama during the period of the Republic of China, directed by Lin Helong and starring Huang Xiaoming, Joe Chen Qiao'en, Kimi Qiao Renliang, Lv Jiarong, Xie Wenxuan, Tse Kwan Ho, and Qi Ji.

The drama is adapted from Nian Yi's novel "风雪夜归人", which tells the love story of Zuo Zhen, a lord of the chaotic world, and Rong Jinxiu, a strong and kind-hearted woman, in the prosperous Shanghai.
Details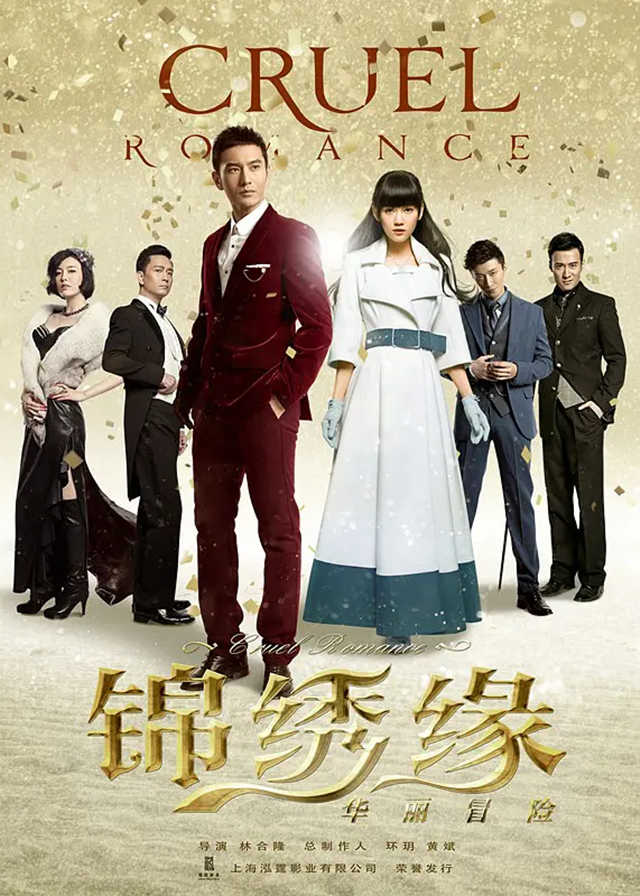 English Title: Cruel Romance
Chinese Title: 锦绣缘华丽冒险, 锦绣浮生, 锦绣缘
Genre: Romance
Episodes: 40
Duration: 45 min.
Director: Lin Helong
Writer: Yuan Shuai
Producer: Huan Yue, Huang Bin
Product Company: ASIAN PALM FILM, HUANGXIAOMING STUDIO
Broadcasting Website: iQIYI, TENCENT VIDEO, Sohu TV, YOUKU, TUDOU, MGTV, BILIBILI, PPTV, LETV, CN Drama
Released Date: March 3, 2015
Cast

Huang Xiaoming as Zuo Zhen

Joe Chen as Rong Jinxiu

Qiao Renliang as Xiang Yingdong

Lv Jiarong as Yin Mingzhu

Tse Kwan Ho as Xiang Hanchuan

Qi Ji as Qiantian Longyi

Cai Juntao as Tang Hai

Yang Le
as Shi Hao

Cui Xinqin as Rong Xinru

Li Jianyi as Rong Qingyuan
Synopsis
In the 1930s, Rong Jinxiu, a young lady from a medical family, suffers a tragic family ruined to save her teacher Chen Sheng.
With a gold pocket watch left by Chen Sheng, Jinxiu traveled to Shanghai to find her enemy.
On the steamer to Shanghai, Jinxiu covered for Zuo Zhen, a famous figure in the Shanghai Chamber of Commerce, and they pretended to be a couple to escape the murder.
After Zuo Zhen accidentally took away her pocket watch, Jin Xiu entered the Bailemen Ballroom in search of Zuo Zhen and met her half-sister Ming Zhu by chance.
By then, Ming Zhu was a popular dancer and the lover of industrial tycoon Xiang Hanchuan.
Jinxiu was mistakenly injured in the chaos and sent to the Shizilin Hotel by Zuo Zhen, but she woke up thinking she was saved by Xiang Yingdong (Qiao Renliang), the brother of Xiang Hanchuan and fallen in love with him.
The Japanese businessman who killed Jinxiu's family, Qiantian Longyi, was also traced to Shanghai.
In order to control the whole Shanghai economy, Qiantian Longyi tried to control Ming Zhu, not only to let her get around between the Xiang brothers but also to give trouble to Jinxiu.
After all the hardships, Ming Zhu finally realized the importance of family love and died with Qiantian Longyi, while Jinxiu and Zuo Zhen finally became a couple.