Big Brother – Donnie Yen, Joe Chen
Big Brother is an action comedy film directed by Kan Jiawei, starring Donnie Yen, Joe Chen, Luo Mingjie, Li Jingyun and Yu Kang.
The film tells the story of a retired special forces soldier who returns to his alma mater to teach, battling problematic students and helping them to correct their mistakes in the process.
Details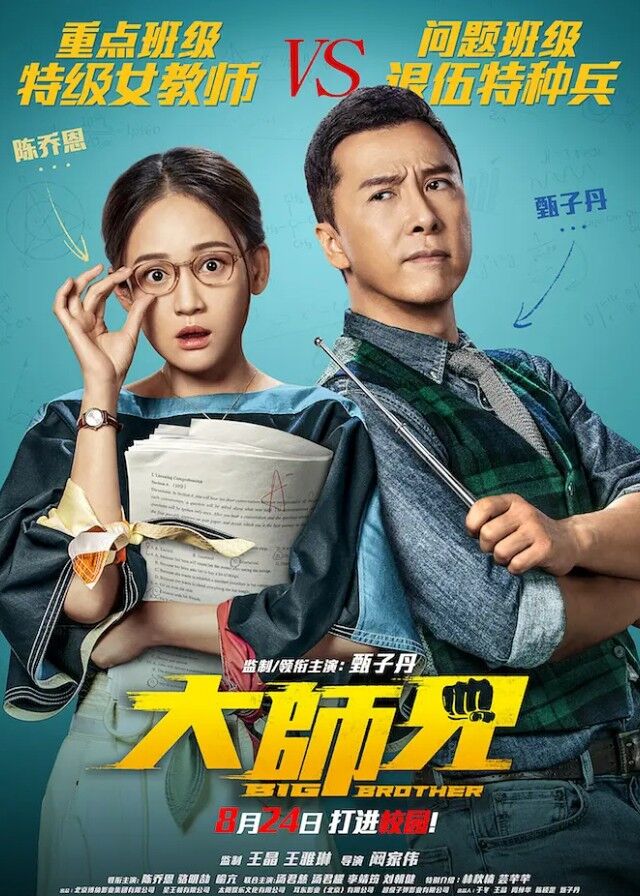 Cast
Synopsis
Chen Xia, a newly appointed teacher, immediately faces a crisis at the school, as well as a group of poorly behaved problem students. These students include Li Weicong, who is aggressive and ruthless; Xiang Zufa, of Indian and Pakistani descent; Wang Denan, known for his masculine appearance; Qicheng, who lacks concentration; and Qixian, who only knows how to play video games. Chen Xia employs unconventional teaching methods to address each student's issues and ultimately wins over the entire class.
Just as everything seems to be going well, a serious incident occurs within the class, and Chen Xia becomes the subject of a public trial. Her teaching qualifications are also at risk of being revoked by the education bureau. While the teachers and students strive for their future and the betterment of the school, they are unaware that unscrupulous businessmen have set their sights on the school's land, and a conspiracy is quietly brewing. As a seasoned warrior, Chen Xia is forced to once again set aside her identity as a teacher and join forces with the students to launch a battle to protect the school.
Reviews
You May Also Like
Related Posts