The Longest Promise – Xiao Zhan, Ren Min
The Longest Promise is a historical fantasy romantic drama directed by Jiang Jiajun, led by Xiao Zhan and Ren Min,  co-starring Alen Fang Yilun, Wang Churan, Wang Ziqi.

The drama is based on Cang Yue's novel, which tells the story of the emotional entanglement between Shi Ying, the aloof prince of Kongsang, and Zhu Yan, the righteous princess of the Chi Zu. The fate of the Kongsang dynasty changes as their destiny goes.
Details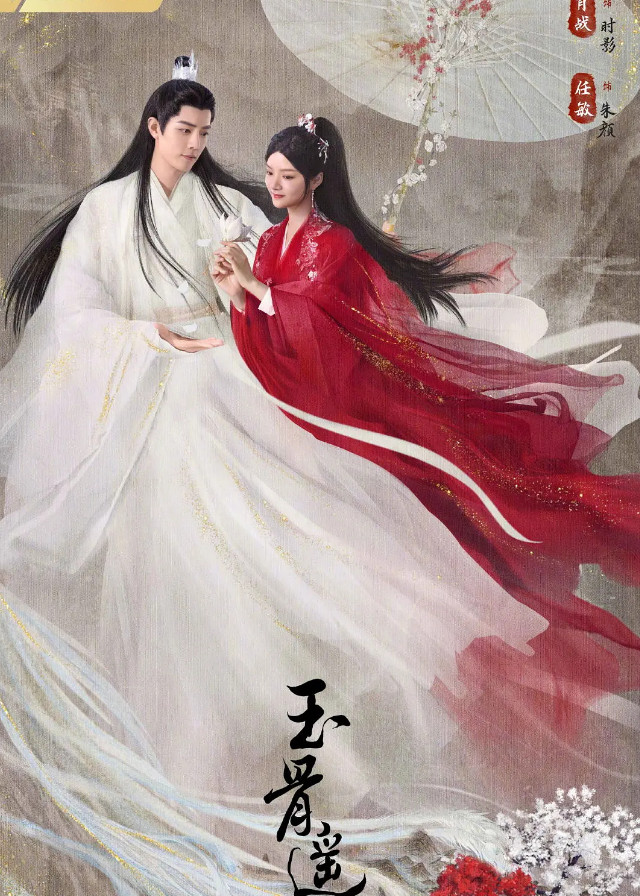 English Title: The Longest Promise
Chinese Title: 玉骨遥
Genre: Historical, Romance, Fantasy, Immortal
Episodes: 40
Duration: 45 min.
Director: Jiang Jiajun
Writer: Wu Yingying
Producer: Li Eryun
Released Date: –
Boradcast Website: WeTV
Cast
Synopsis
The aloof prince Kongsang, Shi Ying, and the righteous princess of the Chi Zu, Zhu Yan, had predestination in their life.
By mistake, they become masters and apprentices for three years.
Shi Ying fell in love with Zhu Yan from the first moment he saw her. When Zhu Yan was thirteen years old, Shi Ying sent Zhu Yan off Jiuyi Mountain and gave her the Jade Bone, the bride price of successive Emperors of Khongsang.
When the evil raised, Kongsang is in danger. Shi Ying mistakenly thought that Zhi Yuan who grew up with Zhu Yan was the sea emperor, so he sealed Zhi Yuan.
This led to a battle between Shi Ying and Zhu Yan, Shi Ying was killed by Zhu Yan voluntarily. Zhu Yan stabbed the Jade Bone to Shi Ying.
A saying turned out to be a prophecy.
However, the fate has changed as early as the day it was spied on…
You May Also Like
Related Posts
Is Xiao Zhan and Wang Yibo's Relationship Getting Worse?

Fans Worry Xiao Zhan And Ren Min Will Fall In Love Because Of "The Longest Promise"

Ren Min Dramas, Movies, and TV Shows List

Xiao Zhan Dramas, Movies, and TV Shows List

Xiao Zhan Photos

Xiao Zhan Party Denied Rumors of Dating, Getting Married And Having A Baby Secretly.

What A Pity Of Xiao Zhan And His Girlfriend In College

How Is the Relationship Between Xiao Zhan, Yang Zi?

Did X NINE Disband? Xiao Zhan, Xia Zhiguang are going their own way.

Wang Yibo Xiao Zhan's Controversial Interactions - Another Infighting Between "Bojun Yixiao"?

What's Xiao Zhan and Li Qin Relationship?

Xiao Zhan's Ideal Type Is Disclosed. Do You Meet?

Xiao Zhan Ranked 1st, Wang Yibo 2rd - The Most Popular Chinese Actor in Thailand

Xiao Zhan Won The Most Handsome Man of 2020

Xiao Zhan, Wu Xuanyi Staged Mutual Dislike On The Press Conference Of The "Douluo Continent"

Xiao Zhan And Wang Yibo Become Competitor, "Douluo Continent" and The Legend of Fei" May Be Aired at The Same Period

Will Xiao Zhan, Crystal Liu Yifei Collaborate On A New Drama?

Xiao Zhan Helped Yang Zi With Her Dress On Weibo Night, "The Oath Of Love" CP Is So Sweet.

Xiao Zhan Won "The Most Handsome Actor In The World 2021"!

Xiao Zhan's 3 TBA dramas occupied the expectation list 1, 2, 8 places.