Super Star Academy – Xiao Zhan, Wang Yuwen
Super Star Academy is a youth school fantasy drama directed by Huang Yuanda, starring Xiao Zhan, Wang Yuwen, Bai Shu, Wu Jiacheng, Peng Chuyue, Xu Xiaolu, Jason Gu Jiacheng, Guo Zifan, Hong Chen, Zhao Lei, and Chen Zexi.

The drama tells the story of Cheng Zhi'er, who was ostracized since childhood and enrolled in the "Super Star Academy" in an overhead parallel world where constellation ability is the highest standard, while her own constellation superpowers begin to awaken and she develops a wonderful relationship with the heir of this constellation, Fang Tianze.
Details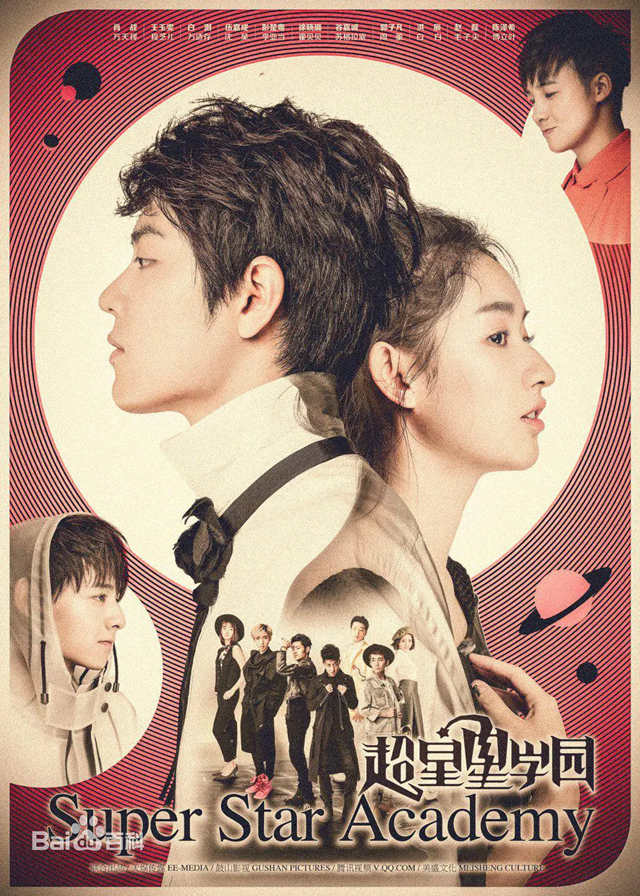 English Title: Super Star Academy
Chinese Title: 超星星学园
Genre: Youth, School, Fantasy
Tag: High School, Student, Special Power, Horoscope, Astrology, Idol Actor
Episodes: 30
Duration: 22 min.
Director: Huang Yuanda
Writer: Huo Beibei, Zheng Zong Hao Yu Tou, Yin Jiaoshou
Producer: Zhang Junbo
Product Company: TIANYU MEDIA, TencentVideo
Released Date: 2016-09-29
Broadcast Website: TencentVideo, WeTV
Cast
Synopsis
The Fang clan, which rules the twelve constellations, is the most powerful family in the world today.
The Leo Wan Shicun, who should have inherited the throne, was framed by Mrs. Fang.
She sent assassins to get rid of Wan Shicun, and vigorously support her son Fang Tianze to take the throne.
Many years have passed, and the Super Star Academy welcomes a transfer student, Cheng Zhi'er, who is ostracized by her classmates because she offended Libra's president, Li Yadang when she first arrived.
Not only that, she and Fang Tianz, Huo Beibei are also caught in a complicated triangle relationship.
Fortunately, Cheng Zhi'er meets Wan Shicun on campus, who is unaware of her identity and offers her a favor, even participating in the "Super Star" competition for her.
On the field, Wan Shicun and Fang Tianze meet, and this fateful encounter makes the "wheel" of history turn again…
Reviews
You May Also Like
Related Posts
Chinese Dramas Like Super Star Academy

What is Wang Yuwen and Wang Ziqi's Relationship?

Is Xiao Zhan and Wang Yibo's Relationship Getting Worse?

Who Is Uvin Wang Yuwen's Boyfriend? Relationship With Eric Yang Le Was Spotted

What A Pity Of Xiao Zhan And His Girlfriend In College

Wang Ziqi, Uvin Wang Yuwen Make A Contractual Marriage Surprisingly

Fans Worry Xiao Zhan And Ren Min Will Fall In Love Because Of "The Longest Promise"

Wang Yibo Xiao Zhan's Controversial Interactions - Another Infighting Between "Bojun Yixiao"?

Xiao Zhan Photos

Wang Yuwen Photos

Xiao Zhan's Ideal Type Is Disclosed. Do You Meet?

How Is the Relationship Between Xiao Zhan, Yang Zi?

What's Xiao Zhan and Li Qin Relationship?

Xiao Zhan Dramas, Movies, and TV Shows List

Wang Yuwen Dramas, Movies, and TV Shows List

Did X NINE Disband? Xiao Zhan, Xia Zhiguang are going their own way.

Xiao Zhan Ranked 1st, Wang Yibo 2rd - The Most Popular Chinese Actor in Thailand

Xiao Zhan Party Denied Rumors of Dating, Getting Married And Having A Baby Secretly.

Xiao Zhan, Yang Zi: "The Oath of Love" Will Be Delayed-Release? HunanTV Confirmed It

Xiao Zhan Won The Most Handsome Man of 2020