Oh! My Emperor Season 1 – Gu Jiacheng, Zhao Lusi
Oh! My Emperor Season 1 is a historical fantasy drama directed by Gao Bo, starring Jason Gu Jiacheng, Wu Jiacheng, Xiao Zhan, Zhao Lusi, Peng Chuyue, Chen Zexi, Yan Xujia, Xie Lintong, and Song Nanxi, with a special appearance by Wang Yu.

The drama tells a fantasy story about a young girl from the 21st century, Luo Feifei, who accidentally arrives in a mysterious country, Huangdao Kingdom, where people are judged by their astrological ability and develops a fated relationship with various star masters.
The series is divided into two seasons, with the first and second seasons being broadcast on April 25, 2018, and May 23, 2018, respectively.
Details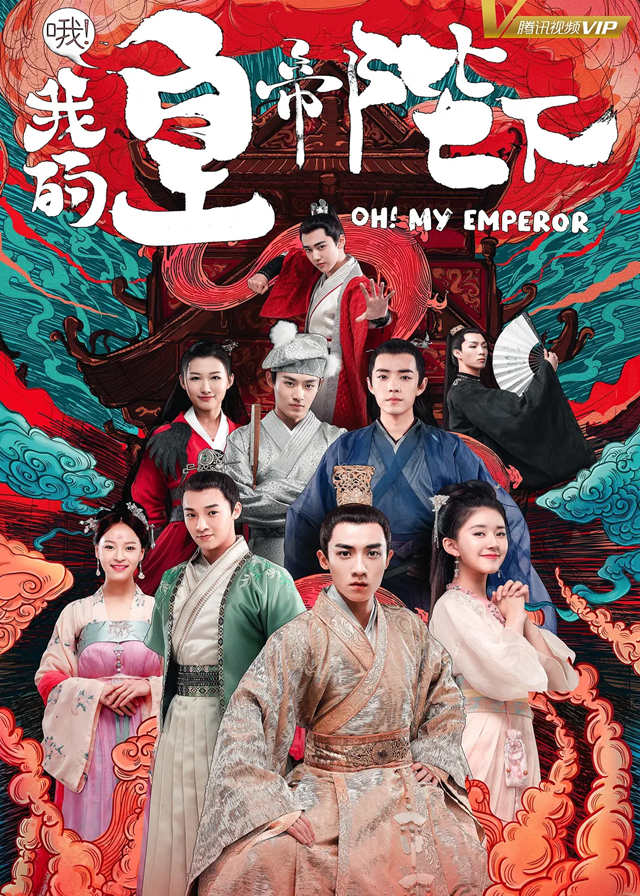 English Title: Oh! My Emperor Season 1
Chinese Title: 哦!我的皇帝陛下 第一季
Genre: Historical, Romance, Fantasy, Comedy
Tag: Idol Actor, Time Travel, Reverse-Harem, Royalty, Sismance, Supernatural
Episodes: 21
Duration: 45 min.
Director: Gao Bo
Writer: Yu Haixia, Yin Hang
Product Company: TENCENT PENGUIN PICTURES, WAJIJIWA
Released Date: 2018-04-25
Broadcast Website: YoYo Television Series Exclusive, YoYo English Channel, Viki, WeTV
Cast
Synopsis
Season 1
Luo Fei Fei, a young girl from the 21st century, accidentally travels to a mysterious and long-standing country, the Huangdao Kingdom.
In the Kingdom, the ruler will be rotated every thousand years, and the current ruler is the Capricorn Star-Lord, Beitang Yi.
The Beitang family, which has both Pisces Star-Lord, Beitang Tang, and Aquarius Star-Lord, Beitang Moran, is naturally in the limelight for a while.
With the arrival of Luo Feifei, the original balance and the peace in appearance are completely broken. Luo Feifei became the most miserable time-travel heroine in history and the inexplicable villain boss.
The smart Luo Feifei and the twelve different personalities of the star lord have many funny stories in their frequent interaction. She also has a love-hate relationship with the emperor.
She is not afraid to challenge, boldly said: I want this emperor.
Season 2
The Huangdao Kingdom and Shefu Constellation have always been at odds with each other.
As the identity of Luo Fei Fei as the master of the Shefu Constellation was revealed, all kinds of attacks were aimed at her.
To protect Luo Feifei, the three Masters from Beitang put in all their efforts, they gradually discovered that there was a mystery about the rebellion of Shefu constellation a thousand years ago. There was a big conspiracy behind everything.
In order to save Luo Feifei, Beitang Moran announced the wedding news, despite the opposition of Empress Dowager.
The relationship among Luo Feifei, Beitang Yi, and Beitang Moran continued to escalate and was magnified to the national level.
In order to clear the name of Luo Feifei and the Shefu constellation clan, Beitang Yi confronted the whole world, and Shefu Constellation was finally vindicated, and Luo Feifei returned to the throne as the 13th star lord of the Huangdao Kingdom.
The King of Huangdao also finally ushered in his own love, all the good things were coming, but they did not know that a "bloody storm" was quietly staged in the dark…
Reviews
You May Also Like
Related Posts
Chinese Dramas Like Oh! My Emperor Season 1

How is Zhao Lusi and Chen Zheyuan's Relationship? "Yuan Xing Bi Lu" CP is Gaining Great Popularity

Does Rosy Zhao Lusi Have a Boyfriend? Her College Boyfriend was Exposed

What's Yang Yang And Zhao Lusi's Relationship?

Who Is Jason Gu Jiacheng's Girlfriend?

Liu Te, Rosy Zhao Lusi Were In A Relationship? His Ex-Girlfriend Was Rocket Girls' stylist

Zhao Lusi, Ryan Ding Yuxi Refused To Be CP, Will They Played In "The Romance Of Tiger And Rose 2"?

What's Zhao Lusi, Leo Wu Lei's Relationship? Why Fans Can Not Calm Down

Zhao Lusi Photos

Rosy Zhao Lusi was Involved in a Dating Rumor, Studio Issued a Statement

Rosy Zhao Lusi, Liu Yuning Gained Large Popularity For "Hao Yan CP" In "The Long Ballad"

Terry Liu Te: Shy To Shoot Kiss Scenes With Zhao Lusi, Don't Mind Being Judged On Looks

Rosy Zhao Lusi, Xu Kaicheng Interpret The Sweet Relationship Between Teacher And Student In The Ancient Campus

Gu Jiacheng Dramas, Movies, and TV Shows List

Zhao Lusi Dramas, Movies, and TV Shows List

Zhao Lusi, Xu Kaicheng's New Drama Is Hit, But The Douban Rating Is Only 4.3