The Destiny of White Snake – Yang Zi, Ren Jialun
The Destiny of White Snake is a historical mystery drama directed by Yin Tao and Liu Guohui, starring Yang Zi, Ren Jialun, Mao Zijun, and Li Man.

The drama is adapted from the folk myth story "Bai She Zhuan", which tells the love story of Bai Yaoyao, a small white snake, and Xu Xuan, the master of the Yaoshi Palace, crossing over a thousand years.
Details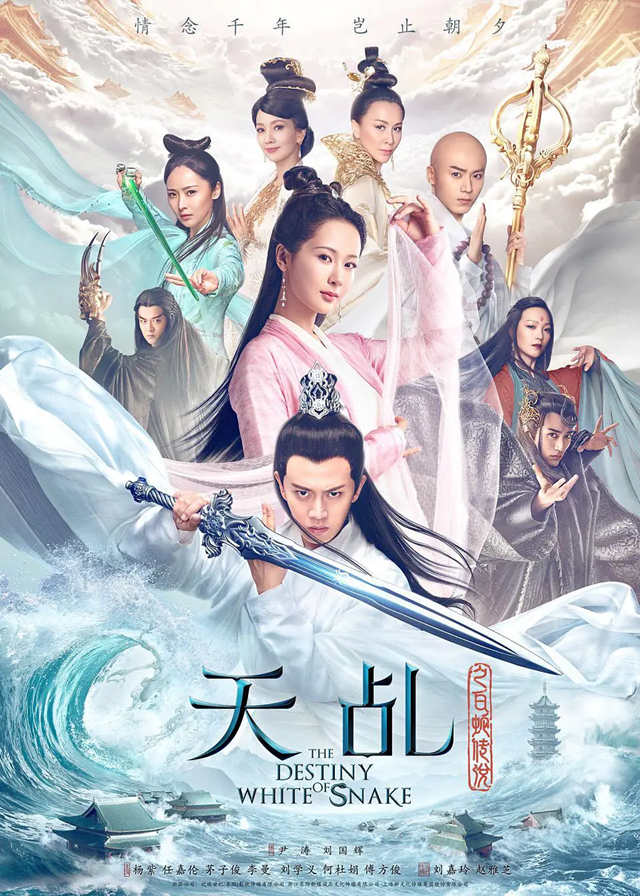 English Title: The Destiny of White Snake
Chinese Title: 天乩之白蛇传说
Genre: Fantasy, Myth, Romance
Episodes: 61
Duration: 45 min.
Director: Yin Tao, Liu Guohui
Writer: Li Dinghua, Liu Ya, Li Zhenru
Producer: Zhong Conghai
Product Company: iQIYI, H&R CENTURY PICTURES, Wanda Media Co. Ltd, IM-OWER INNOVATION MEDIA POWER
Broadcasting Website: iQIYI, Viki, AsianCrush, 熱點劇場Hotspot!
Released Date: July 9, 2018
Cast

Yang Zi
as Bai Yaoyao

Ren Jialun
as Xu Xuan

Mao Zijun as Ling Chu/Qi Xiao/Fa Hai

Li Man as Xiao Qing

Carina Lau as Xi Wangmu

Angie Chiu as Lishan Shengmu

Liu Xueyi
as Zhan Huang/Tian Di

He Dujuan as Ling Ling

Fu Fangjun as Tao Tie

Zhu Xiaoyu as Qing Di
Synopsis
The master of Yaoshi Palace, Xu Xuan, and his junior sister, Leng Ling saved lives with their medical skills. They met Bai Yaoyao at the Peach Blossom Festival. After many twists and turns, Xu Xuan and Bai Yaoyao finally became a couple.
However, Bai Yaoyao stole immortal herbs to save Xu Xuan, violating the rules of heaven. Xu Xuan recovered from his illness, remembering the past, he went to save Yaoyao by himself.
Junior sister Leng Ling envied Bai Yaoyao and led the dragon to appear in the world, causing trouble.
In order to redeem herself, Bai Yaoyao was suppressed by Qi Xiao under the Leifeng Tower, Xu Xuan was so grief-stricken that he retired from the world, studying Dharma.
Xiao Qing followed the advice of Bai Yaoyao, back to train in the mountain.
Twenty years later, Bai Yaoyao was set free, Qi Xiao become a Buddhist monk.