My People, My Homeland – Ge You, Huang Bo
My People, My Homeland is directed by Ning Hao as General Director, with Ning Hao, Xu Zheng, Chen Sicheng, Yan Fei and Peng Damo, Deng Chao, and Yu Baimei directing the five stories respectively.
Ning Hao directed the unit "Bei Jing Hao Ren / 北京好人", starring Ge You and Liu Mintao.
The unit "天上掉下个UFO/ Tian Shang Diao Xia Ge UFO" directed by Chen Sicheng, starring Huang Bo, Wang Baoqiang, and Liu Haoran.
"最后一课/The Last Lesson" unit directed by Xu Zheng, starring Fan Wei, Zhang Yi, and Han Haolin.
The unit "Hui Xiang Zhi Lu / 回乡之路" directed by Deng Chao and Yu Baimei, starring Deng Chao and Yan Ni.
The unit "Shen Bi Ma Liang / 神笔马亮", directed by Yan Fei and Peng Damo is a comedy unit starring Shen Teng and Ma Li.
The film tells five hometown stories that take place in the five major regions of China's East, West, North, South, and Central.
Details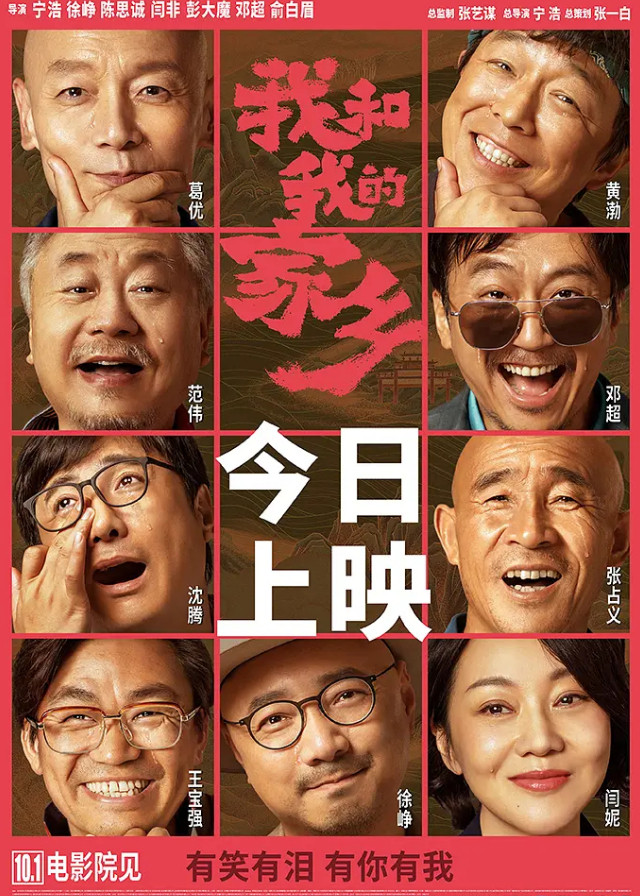 English Title: My People, My Homeland
Chinese Title: 我和我的家乡
Genre: Comedy, Drama
Duration: 153 min.
Director: Ning Hao, Xu Zheng, Chen Sicheng, Yan Fei, Peng Damo, Deng Chao, Yu Baimei
Producer: Zhang Miao, Zhang Yu, Zhang Heng, Liu Ruifang, Qian Zhongyuan
Product Company: China Film Co.,Ltd., Beijing JingxiCulture &Tourism Co., Ltd.
Released Date: 2020-10-01
Watch On: MGTV, AsianCrush
Cast
Synopsis
The Good People of Beijing
Zhang Beijing's uncle is a "northern drifter" and has been working in Beijing for a long time. He usually does not have much contact with Zhang Beijing.
The sudden visit brought Zhang Beijing the bad news that he had a thyroid tumor and could not afford to treat it, so he came to Zhang Beijing to borrow money.
When Zhang Beijing has managed to save up some money to buy a car, his uncle's sudden visit puts him to the test of his family relationship.
A UFO falls from the sky
On a mid-autumn night, a mysterious UFO was spotted in the village of Afu in Qiannan, Guizhou, only 15 kilometers from the "Five-hundred-meter Aperture Spherical radio Telescope(FAST)", which instantly rocked the whole village, and the breaking news even alerted reporters from Beijing.
Reporters Lao Tang and Xiao Qin from the program "Zai Jin Ke Xue" went deep into the village to investigate. Dong Kexue, a scientist, also joined the UFO investigation team back to his hometown.
The village chief, Wang Shouzheng, and the businessman, Wang Chuqi, welcome the trio warmly, but in the course of the investigation, they seem to have their own intentions.
The Last lesson
The village of Wangxi was thrown into a frenzy when an international call comes in.
All the villagers worked together to recreate a lesson from 1992 with reference to old photos, even simulating the pouring rain of that year.
All the villagers of Wangxi Village took action, and the villagers went to great lengths to help Lao Fan solve the problem of recovering his memories.
The road back to the homeland
In Shaanxi's Mao Wusu Desert, a desert that was once devoid of grass, is now lush and green.
The "sandy apples" dealer Qiao Shulin helped look for buyers for his hometown but was disliked by the e-commerce Yan Feiyan.
They were forced to go back to their hometown together to attend their alma mater for a school celebration, with constant twists and turns and friction along the way.
Magical Pen Ma Liang
Born in a mountain village in the northeast, Ma Liang lamented that "many villages are old and the young people are gone" and hoped he could do something for his hometown.
So he gave up going to a major art school and returned to his hometown, where he did a lot of good work.
In order to keep Qiu Xia from discovering what had happened, so he worked with all the villagers to prevent it from being discovered by Qiu Xia.
Reviews
Related Posts