Love is Sweet – Luo Yunxi, Bai Lu
Love is Sweet is a youthful and inspirational drama directed by Yu Zhongzhong and Wu Jianxin, starring Luo Yunxi and Bai Lu and co-starring Gao Hanyu, Wang Yilun, Zhao Yuanyuan, An Weiling, and Guan Zijing, with Xiao Yan in a special appearance.

The drama is based on the novel of the same title by Qi Zi, which tells the story of Jiang Jun, who suffers from severe tear allergy and met his childhood friend Yuan Shuai in the workplace after many years, but found that Yuan Shuai was against him everywhere.

However, after experiencing some ups and downs, they cleared up past grudge slowly and got to know and fell in love with each other.
Details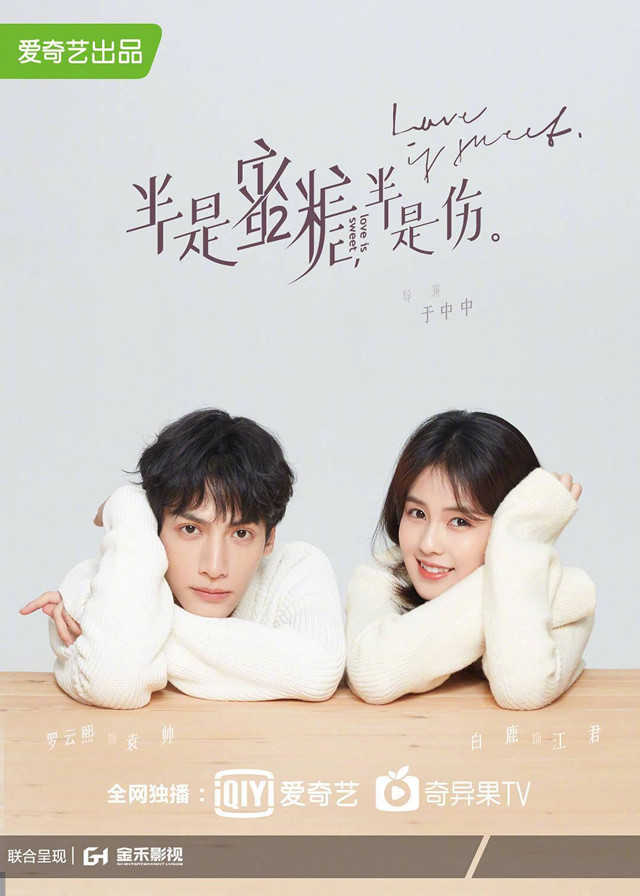 English Title: Love Is Sweet
Chinese Title: 半是蜜糖半是伤/Ban Shi Mi Tang Ban Shi Shang
Genre: Youth, Inspirational, Romance
Episodes: 36
Duration: 45 min.
Director: Yu Zhongzhong, Wu Jianxin
Writer: Wang Wentong, Liu Jinfei, Liu Shiba, Ding Yanqing, Zhang Lingxi, Feng Jiaxin, Lian Zheng, Xu Li
General producer: Yang Bei, Wang Jingjing
Producer: Hao Guangyun, Dong Xiuyuan
Product Company: iQIYI, GH ENTERTAINMENT&MEDIA
Broadcasting Website: iQIYI
Released Date: September 27, 2020
Cast

Luo Yunxi
as Yuan Shuani

Bai Lu
as Jiang Jun

Xiao Yan as Xu Li

Gao Hanyu as Du Lei

Riley Wang as Li Xiaochuan

Zhao Yuanyuan as Qiao Na

Ariel Ann as Du Ling

Guan Zijing as Su Chang
Synopsis
Jiang Jun, a girl with a severe allergy to tears, has a double master's degree in economics and psychology.
The privileged and spoiled environment given by her parents has created her spontaneous and idealistic personality.
After graduation, she worked in a charity organization, pursuing her dream life.
Unexpectedly, her father's unexpected death put her at a crossroads in her life, and Jiang Jun finally decided to join MH, a top investment firm, to fulfill her father's last wish.
In MH, Jiang Jun accidentally met her childhood friend Yuan Shuai, but she found that her childhood protector, the gentle brother Yuan Shuai, was against her at every turn.
In the wolfish culture of the investment banking company, some people were secretly setting up traps for her, and some people regarded her as a pawn and a thorn in their side. But Jiang Jun judged the complex variables of people and projects with her kind and delicate nature, outstanding emotional intelligence and genius-like imagination.
In the center of the storm, she began her journey, and after experiencing a lot of ups and downs, she finally harvested her career and love.