Lie to Love – Luo Yunxi, Cheng Xiao
Lie to Love is an urban romantic drama directed by Chen Chang, led by Luo Yunxi and Cheng Xiao, co-starring Ji Xiaobing, Tian Yitong, Gao Han, Li JiaJie, and Guan Zijing.

This drama is based on the novel of the same title by Mu Fusheng. The story is about a young girl, Su Xieyi, who falls in love with the inheritor of the Ouman Group, Li Zeliang, by coincidence.
Details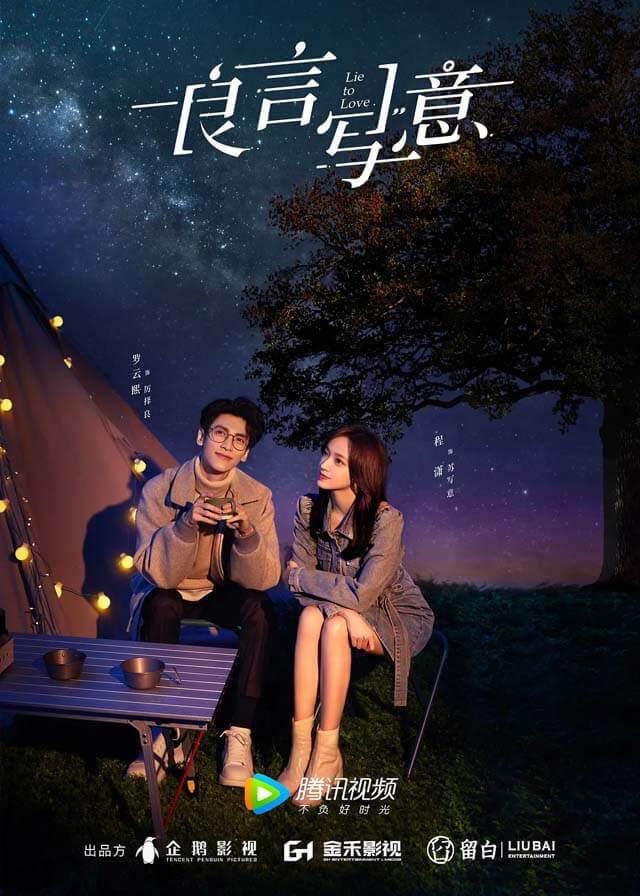 English Title: Lie to Love
Chinese Title: 良言写意
Genre: Urban, Romance, Suspense
Tag: Investigation, Revenge, Smart Male Lead, Jealous Female Lead, Nice Male Lead, Age Gap
Episodes: 32
Duration: 45 min.
Director: Chen Chang
Writer: Hu Xiaoshuai, Yan Nei
Producer: Fang Fang, Wang Jingjing
Product Company: GH Entertainment & Media, Tencent Penguin Picture
Released Date: 2021-11-30
Broadcast Website: WeTV, TencentVideo
Cast
Synopsis
A sudden change of fortune left Su Zhiyi's family in ruins, but the originator pointed to her beloved lover, Li Zeliang. In order to investigate the truth of all the events, Su Xieyi wanders around her former lover, Li Zeliang, under the guise of amnesia.
In this romantic and dangerous game, Su Xueyi approach to accomplish step by step and eventually, brings Li Zeliang's career to a low point. However, as the truth about the incident was uncovered little by little, Su Xueyi realized that she had been wrong about Li Zeliang.
She came to her senses and tried to salvage the relationship through her own way, while Li Zeliang responded with a seal inscribed with their names.
In order to guard and pass on this hard-earned love, they work together for public welfare, becoming each other's reliance.
Reviews
You May Also Like
Related Posts
Chinese Dramas Like Lie to Love

How is Luo Yunxi and Bai Lu's Relationship?

How Is Xu Kai And Cheng Xiao's Relationship

Luo Yunxi, Cheng Xiao Have Suprise Chemistry. What's Their Relationship?

Who is Luo Yunxi 5-year girlfriend, is the net rumor of his love history true?

Does Cheng Xiao Have A Boyfriend? What's Her Ideal Type?

"Lie To Love" is about to shoot? Luo Yunxi will play the leading actor, Cheng Xiao will be the leading actress?

How is Wang Yibo, Cheng Xiao's Relationship, Will They Be In Love?

Cheng Xiao Photos

Luo Yunxi Photos

Luo Yunxi and Dilraba His Favorite Actress on the same stage

Luo Yunxi and Zhang Ruonan Compose Love Symphony, How Their Chemistry Together Is?

Arthur Chen Feiyu's Girlfriend - Cheng Xiao Or Ouyang Nana?

Cheng Xiao Dramas, Movies, and TV Shows List

Luo Yunxi Dramas, Movies, and TV Shows List

Does Yukee Chen Yuqi Have A Boyfriend?

Luo Yunxi Was Injured In A Filming Accident, Fans Were Heartbroken, The Related Actor Issued An Apology And Denied Wearing A Ring

Luo Yunxi looks very handsome in the live video streaming

Luo Yunxi, Bosco Wong Takes On The Role Of A Daddy, Taking Care Of The Baby With Fun

Victoria Song Qian, Luo Yunxi: Dangerous Relationship in "Broker"