Love is Panacea – Luo Yunxi, Zhang Ruonan
Love is Panacea is an urban romantic drama directed by Mou Xiaojie, led by Luo Yunxi and Zhang Ruonan, co-starring Wang Yiting, Qian Didi, Li Jiahao, and Zhao Mengshu.
The drama is based on the novel "治愈者 / Zhi Yu Zhe" by Ning Meng Yu Yan, which tells the story of Gu Yunzheng, a neurosurgeon who meets Su Wei'an, a medical girl suffering from a rare disease, on an aid mission in Africa. They develop a mutual affection for each other when working together. They cure each other as they fight against Huntington's chorea.
Details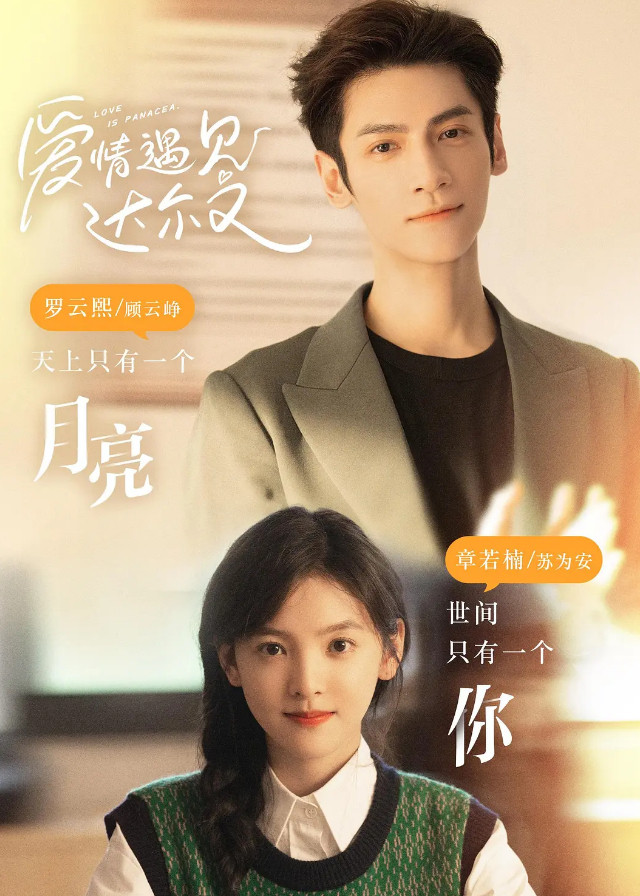 Cast
Synopsis
Su Wei'an, a medical student carrying a rare gene for Huntington's disease, meets Gu Yunzheng, a Chinese neurosurgeon working in Africa.
They go from disliking each other to overcoming obstacles and becoming close partners in their lives and research careers.
With the encouragement and support of Gu Yunzheng, Su Wei'an takes courage and faces up to the limited time she has to live. She works together with Gu Yunzheng to research and combat Huntington's chorea.
Su Wei'an donates her body to scientific research after her death due to an experimental accident, and Gu Yunzheng is fully committed to raising their children to join the medical field so that the medical research career for the benefit of mankind can be passed on from generation to generation.
You May Also Like
Related Posts
How is Luo Yunxi and Bai Lu's Relationship?

Who is Luo Yunxi 5-year girlfriend, is the net rumor of his love history true?

Zhang Ruonan Dramas, Movies, and TV Shows List

Luo Yunxi Dramas, Movies, and TV Shows List

Luo Yunxi Photos

Luo Yunxi and Dilraba His Favorite Actress on the same stage

Luo Yunxi Was Injured In A Filming Accident, Fans Were Heartbroken, The Related Actor Issued An Apology And Denied Wearing A Ring

Luo Yunxi, Cheng Xiao Have Suprise Chemistry. What's Their Relationship?

Luo Yunxi looks very handsome in the live video streaming

Does Yukee Chen Yuqi Have A Boyfriend?

Hu Yitian, Zhang Ruonan Were Spotted Dating On Chinese Valentine's Day

Victoria Song Qian, Luo Yunxi: Dangerous Relationship in "Broker"

"Lie To Love" is about to shoot? Luo Yunxi will play the leading actor, Cheng Xiao will be the leading actress?

Luo Yunxi, Bosco Wong Takes On The Role Of A Daddy, Taking Care Of The Baby With Fun

Luo Yunxi's Mr. Moxi Season 3 aired on December 24, 2020