How Long Will I Love U – Lei Jiayin, Tong Liya
How Long Will I Love U is a fantasy romantic comedy film directed by Su Lun, produced by Xu Zheng, and led by Lei Jiayin and Tong Liya.
The film tells the story of Gu Xiaojiao, a disillusioned young girl from the year 2018, and Lu Ming, a disillusioned young man from the year 1999, who accidentally live in the same room due to an overlap in time and space, resulting in a series of hilarious, bitter and sweet love stories.
Details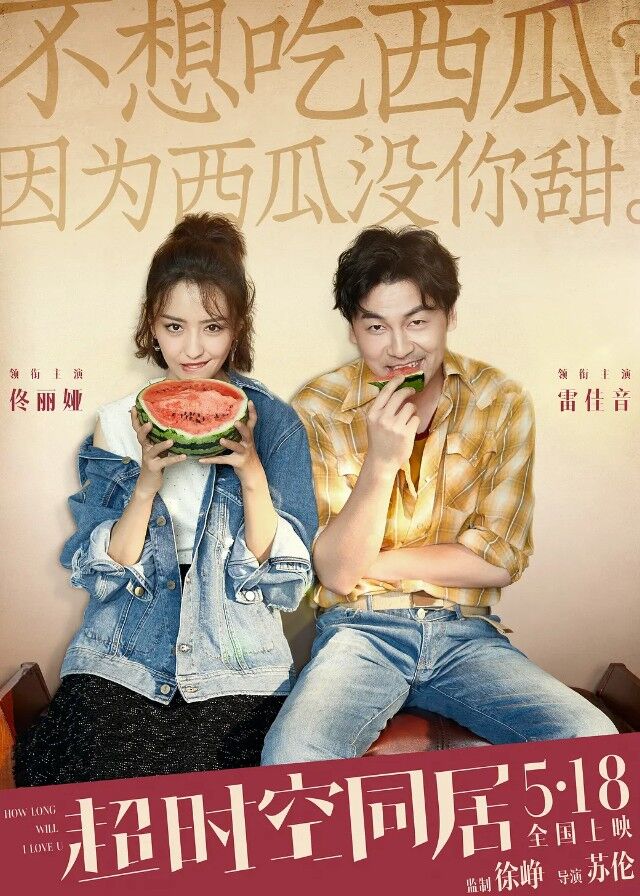 English Title: How Long Will I Love U
Chinese Title: 超时空同居
Genre: Fantasy, Romance, Comedy
Duration: 101 min.
Director: Su Lun
Writer: Su Lun
Producer: Liu Liu, Xu Zheng, Liu Ruifang
Released Date: 2018-05-18
Broadcast Website: YouTube, Prime Video, tubi
Cast
Synopsis
Gu Xiaojiao, a single woman in her late twenties living in the year 2018, dreams of marrying a wealthy man who can afford the luxurious mansion she desired since childhood. However, she repeatedly faces setbacks and can only live in a rundown residential building. Meanwhile, in the year 1999, Lu Ming holds a grand blueprint he designed but struggles to find investors, and his career is on the verge of a major crisis.
A strange moment arrives when these two disillusioned individuals find themselves witnessing an astonishing scene upon returning home. After the same door closes, it unexpectedly becomes a convergence point of two different time periods, leading to the encounter of two people from different eras.
In order to save their respective futures, they join forces and embark on a series of measures to fantasize about becoming overnight millionaires, triggering a chain reaction of hilarious and unpredictable events. Unbeknownst to them, the overlapping of these two timelines is manipulated by external forces. Each step they take will lead to unforeseen consequences. What's even more fatal is that despite initially considering each other merely as business partners for making money, they ignite sparks of love along the way.
Reviews
You May Also Like
Related Posts