The Lost Tomb – Li Yifeng, Tiffany Tang, Yang Yang
The Lost Tomb is a web series produced by H&R CENTURY PICTURES., adapted from the novel of the same name by Nanpai Sanshu, co-directed by Zheng Baorui and Luo Yongchang, starring Li Yifeng, Tiffany Tang Yan, Yang Yang, Liu Tianzuo, Ken Chang, and Wei Wei.

The drama mainly revolves around the story of the main character Wu Xie and his team going to the Qixing Lord Lu's Palace to fight against the hostile forces to protect the national treasures.
Details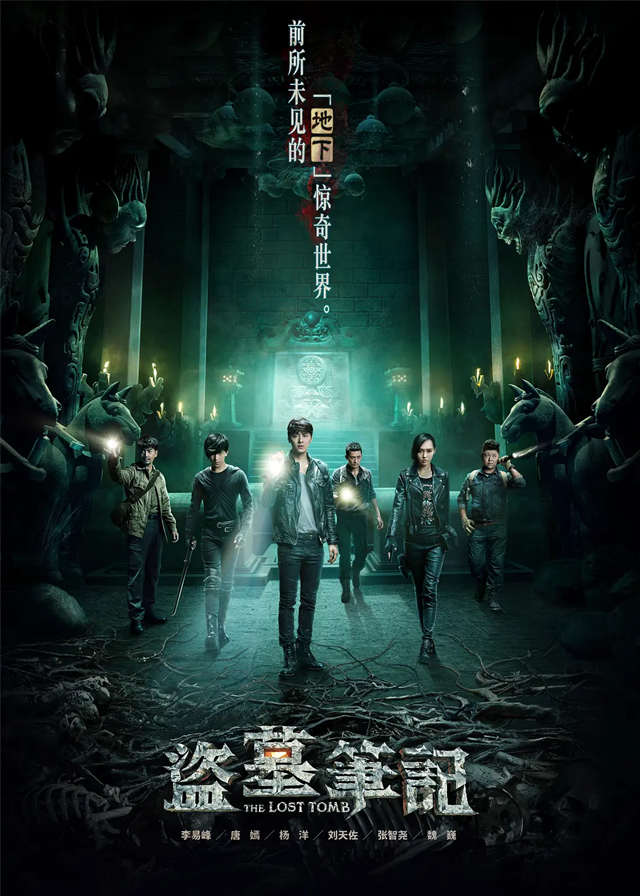 English Title: The Lost Tomb
Chinese Title: 盗墓笔记
Genre: Suspense, Action, Adventure
Tag: Tomb Raiding, Bromance, Nice Male Lead, Smart Male Lead, Investigation, Zombies
Episodes: 12
Duration: 45 min.
Director: Zheng Baorui, Luo Yongchang
Writer: Bai Yicong
Producer: Jiang Lei, Zhao Wenzhu, Tiantian, Dai Jingting
Product Company: H&R CENTURY PICTURES
Released Date: 2015-06-12
Watch On: AsianCrush, 歡瑞官方影視專區
Cast
Synopsis
Wu Xie Came from "The Mystic Nine". His parents, who were archaeologists, were killed by a foreign tomb raiding gang during an operation to protect the national cultural relics.
His family sent him to study in Germany to protect Wu Xie, thus Wu Xie has a deep interest in "archaeology".
In the process of protecting the treasure, he accidentally obtained a silk book of the Warring States period, which recorded the secrets of the tomb.
In order to reveal the secrets of the silk book before the unknown forces, to protect the tomb of cultural relics from infringement, Wu Xie followed his third uncle Wu Sansheng, Pan Zi, and the mysterious guy Zhang Qiling to the tomb of Lord Lusang according to the guidance of the silk book to explore the secrets of the Palace.
In the tomb, Wu Xie befriended Wang Pangzi who came to explore the mystery and saved the unidentified A Ning.
After a series of thrilling and unbelievable events, they discovered more unsolved mysteries.
Wu Xie and his group fought with unknown forces while embarking on a new adventure.
Reviews
You May Also Like
Related Posts
Chinese Dramas Like The Lost Tomb

Yang Yang is Dating Wang Churan? The Media Revealed Their Relationship

What's Yang Yang And Zhao Lusi's Relationship?

Yang Yang's 5 rumored Girlfriend, Vicotria Song Was His Girlfriend?

Yang Yang, Dilraba: Is It Possible For them To Be In A Relationship In Reality?

Who Is Crystal Liu Yifei's Boyfriend? Only Song Seung Heon

What's Allen Deng Lun and Li Qin's Relationship? The Wedding Has Been In Preparation?

Li Yifeng, Gina Jin Chen Are Suspected To Be In Love, Secret Dating Covered By William Chan, Zhu Yilong?

Yang Yang Photos

Yang Yang Was Involved In The Rumor Of Dating His Fan.

Xiao Zhan Ranked 1st, Wang Yibo 2rd - The Most Popular Chinese Actor in Thailand

Yang Yang, Dilraba: The Wedding Scene Of "Jing Tu CP" Was Exposed In Advance.

The Two Sweet Dramas Starred By Yang Yang, Ding Yuxi, Who Will You Choose?

Tiffany Tang Dramas, Movies, and TV Shows List

Li Yifeng Dramas, Movies, and TV Shows List

Yang Yang Dramas, Movies, and TV Shows List

Who Is Evan Li Yifeng's Girlfriend? Lee Da Hae Is The Only Girlfriend Li Yifeng Has Admitted To

Li Yifeng Denied Relationship Rumors With Fang Anna.

Evan Li Yifeng Was Involved in Soliciting Prostitute Controversy

8 Most Anticipated C-Drama in 2021