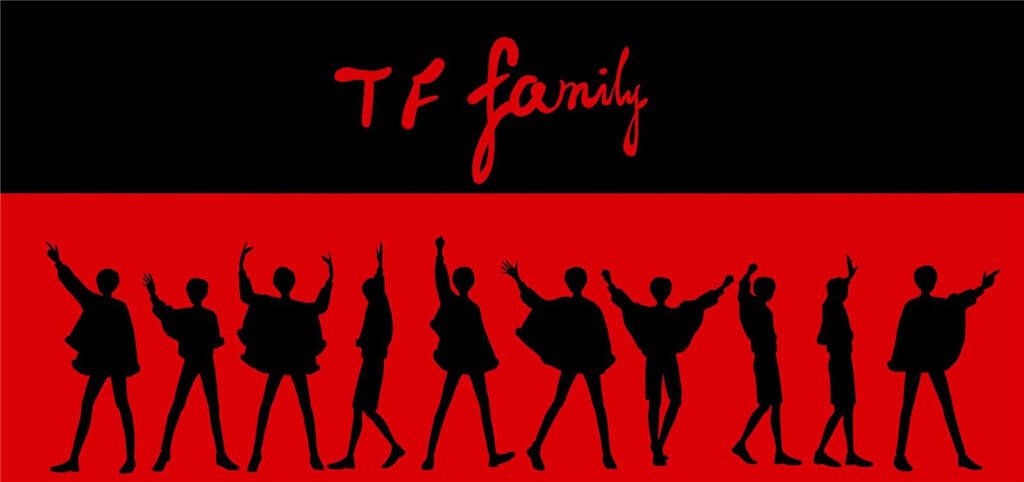 TF Family(TF家族) is under Beijing Times Fengjun Entertainment was established in 2009 to recruit and discover trainees with excellent overall conditions. After receiving professional performance training from the company, the trainees make their debut through the company's new media operation.

Two groups TFBOYS and TNT have been launched by the company.
TF Family Official Account
Weibo: TF家族
Website: http://www.tfent.cn/
Debuted Members
Join Date

Debuted Date

2010

Karry Wang

TFBOYS

2013-8-6

Leader

2011

Roy Wang

2013

Jackson Yee

2013

Ding Chengxin

TNT

2019-8-25

2015

Yan Haoxiang

2015

Zhang Zhenyuan

2015

He Junlin

2016

Song Yaxuan

2016

Liu Yaowen

2017

Ma Jiaqi

Leader
Leaved Members
Huang Yuhang (now known as Sun Yihang in Yi An Musical), Huang Qilin (now known as Lin Mo in Yi An Musical) and Ao Ziyi (Solo).
Current Traniees
Zhu Zhixin, Zuo Hang, Tong Yukun, Deng Jiaxin, Yu Yunhan, Su Xinhao, Zhang Ji, Zhang Zeyu, Zhang Junhao, Chen Tianrun, Mu Zhicheng, Yao Yuchen, Zhao Guanyu.