Sunshine by My Side – Xiao Zhan, Bai Baihe
Sunshine by My Side is an urban romantic drama directed by Song Xiaofei, led by Xiao Zhan, Bai Baihe, Tian Yu, and Zhu Zhuco-starring Yuan Wenkang, Liu Xun, Xiang Hanzhi, Wu Xingjian, Han Qiuchi, with Yang Haoyu, Wang Lin, Dai Lele, Wu Dairong, Bu Guanjin.
Details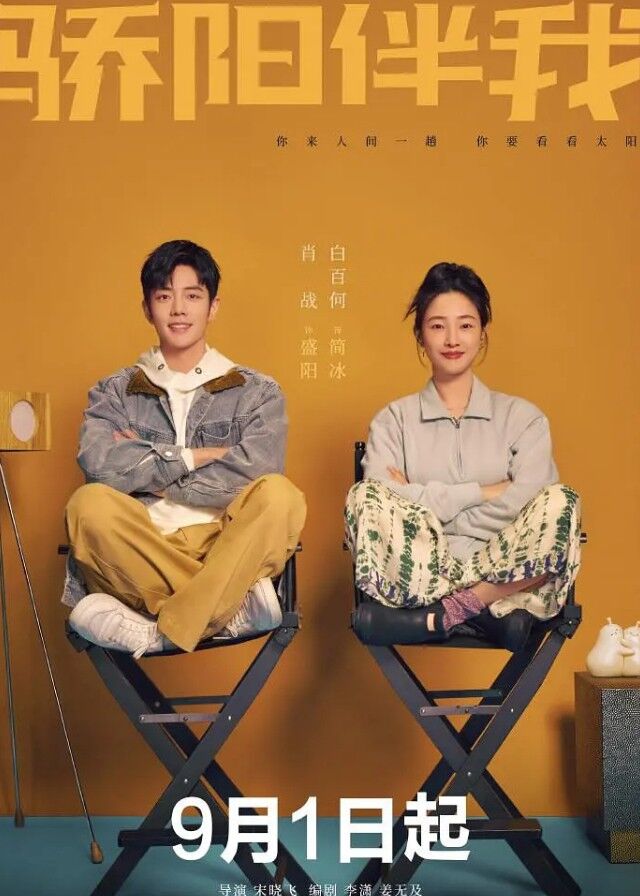 English Title: Sunshine by My Side
Chinese Title: 骄阳伴我
Other Titles: Sunshine With Me
Genre: Urban, Romance, Drama
Tag: Multiple Couples, Older Woman/Younger Man, Age Gap, Divorced Female Lead, Artist Male Lead, Life Lesson
Episodes: 36
Duration: 45 min.
Director: Song Xiaofei
Writer: Li Xiao, Jiang Wuji
Producer: Ma Jun, Yang Bei, Li Eryun, Tian Tian, Zhao Xiaobo, Wang Xiaoyan, Hu Bo, Quan Shan
Product Company: CCTV, iQIYI, NCM, Tencent Penguin Pictures
Released Date: 2023-09-01
Broadcast Website: iQIYI, 中剧独播
Cast
Synopsis
Jian Bing is a well-known advertising director in the industry, and Sheng Yang is a newcomer to society.
They meet by chance at a restaurant. One has just ended her marriage and the other is waiting for love in vain. The two strangers bond and embark on a wonderful, romantic journey of love and growth.
With the company of Sheng Yang, Jian Bing regains her confidence in life and love; with the guidance and encouragement of Jian Bing, Sheng Yang grows up from a young and reckless teenager.
They heal each other, grow together and gradually fall in love.
However, reality gets in the way. Faced with differences in status and experience, family opposition and rumours in the workplace, Jian Bing and Sheng Yang decide to leave their future to time.
Three years have allowed them to grow and change. They have dedicated much to each other.
It is this trust and experience that allows them to become better versions of themselves. They go round and round and move towards each other again.
Reviews
Natalie Sky

"Sunshine by My Side" is a highly recommended drama

"Sunshine by My Side" has a cinematic quality in its visuals, with a light and fast-paced rhythm. The storyline flows smoothly, and the emotional transformations of the characters feel very natural, giving it a strong sense of realism!

Bai Baihe, who plays the female lead, and her husband, have seen their emotions fade away over the course of a decade due to work and temptations, ultimately leading to the decision to divorce. This is a very realistic issue that is widespread in today's society.

Xiao Zhan portrays the newly graduated office worker very convincingly and has great chemistry with Bai Baihe. His character's resigned yet optimistic attitude towards life, despite humble circumstances, is commendable.

As it stands, this is a highly recommended drama.
You May Also Like
Related Posts
Chinese Dramas Like Sunshine by My Side

Is Xiao Zhan and Wang Yibo's Relationship Getting Worse?

What A Pity Of Xiao Zhan And His Girlfriend In College

Fans Worry Xiao Zhan And Ren Min Will Fall In Love Because Of "The Longest Promise"

Wang Yibo Xiao Zhan's Controversial Interactions - Another Infighting Between "Bojun Yixiao"?

Xiao Zhan's Ideal Type Is Disclosed. Do You Meet?

How Is the Relationship Between Xiao Zhan, Yang Zi?

What's Xiao Zhan and Li Qin Relationship?

Xiao Zhan Photos

Did X NINE Disband? Xiao Zhan, Xia Zhiguang are going their own way.

Xiao Zhan Party Denied Rumors of Dating, Getting Married And Having A Baby Secretly.

Xiao Zhan Ranked 1st, Wang Yibo 2rd - The Most Popular Chinese Actor in Thailand

Xiao Zhan, Yang Zi: "The Oath of Love" Will Be Delayed-Release? HunanTV Confirmed It

Bai Baihe Dramas, Movies, and TV Shows List

Xiao Zhan Dramas, Movies, and TV Shows List

Xiao Zhan Won The Most Handsome Man of 2020

Yang Zi, Xiao Zhan: What Kind Of Chemistry Will They Bring In "The Oath of Love"

Xiao Zhan And Wang Yibo Become Competitor, "Douluo Continent" and The Legend of Fei" May Be Aired at The Same Period

Xiao Zhan Helped Yang Zi With Her Dress On Weibo Night, "The Oath Of Love" CP Is So Sweet.

Xiao Zhan, Wu Xuanyi Staged Mutual Dislike On The Press Conference Of The "Douluo Continent"