Reunion 2: Mystery of the Abyss – Ji Chen, Ji Xiaobing
Reunion 2: Mystery of the Abyss is a suspenseful adventure film directed by Chen Juli, starring Ji Chen, Ji Xiaobing, and Ji Xiaofeng.
The film is the second film in the "Reunion" series, following the "Reunion: Escape from the Monstrous Snake", and tells the story of "Hei Yanjing" and "Xie Yuchen", who join forces in an adventure.
Details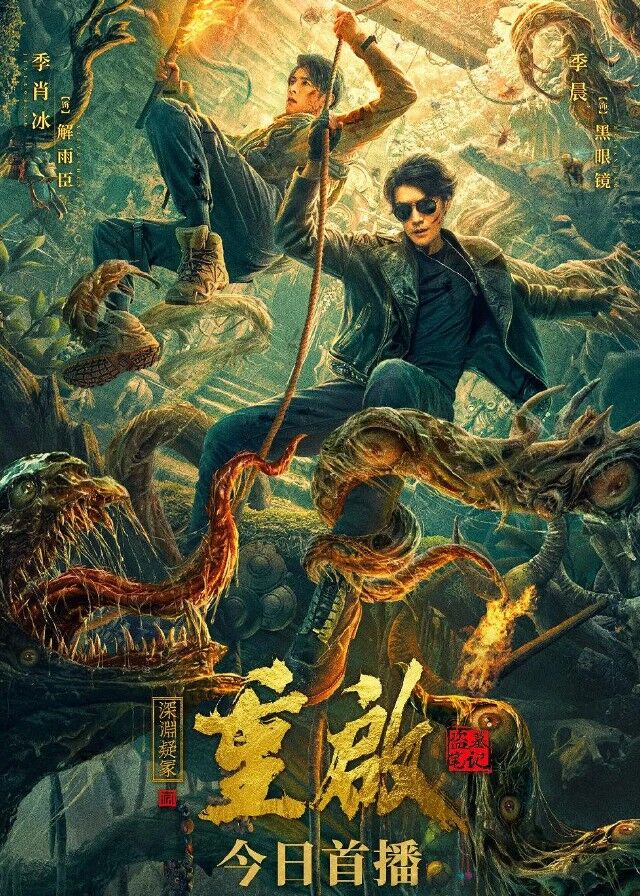 English Title: Reunion 2: Mystery of the Abyss
Chinese Title: 重启之深渊疑冢, 重启2
Genre: Suspense, Thriller, Adventure, Action
Duration: 90 min.
Director: Chen Juli
Writer: Chen Juli
Released Date: 2022-11-04
Broadcast Website: Youku
Cast
Synopsis
The adventurer named Hei Yanjing, who had spent half of his life exploring, began to live a semi-retired life in the Mu Ma Lu tribe on the China-Myanmar border due to the worsening of his eye condition.
His good friend, Xie Yuchen, led the pathologist Lao Wei into the Mu Ma Lu jungle in search of rare parasitic wasps for research on eye diseases. Unexpectedly, the team encountered danger in a deep crevice in the jungle.
Upon learning the news, Hei Yanjing immediately went to rescue the team, only to discover that the crevice was inhabited by a gigantic monster named Nagas, revered as an "ancient god" by the Mu Ma Lu people.
The team mysteriously fell under the "summons of the ancient god" and had to continue deep into the god's lair.
After a series of thrilling descents and climbs, they finally reached a vast underground palace in the southern region.
However, they encountered not only parasitic insects fiercely attacking humans but also the ancient god summoning them to open a coffin. They struggled to survive in extreme conditions and gradually uncovered the secrets of the ancient god...
Reviews
You May Also Like
Related Posts