Light Chaser Rescue – Luo Yunxi, Janice Wu
Light Chaser Rescue is an urban rescue drama directed by Zhang Tong, led by Luo Yunxi and Janice Wu Qian, and co-starring Marcus Li Mingde, Li Tingting, Xu Shaoying, and Yang Anqi.

The drama is based on a private charity rescue organization and tells the story of a group of people who join a rescue team and go through various disasters and eventually have mutual salvation.
Details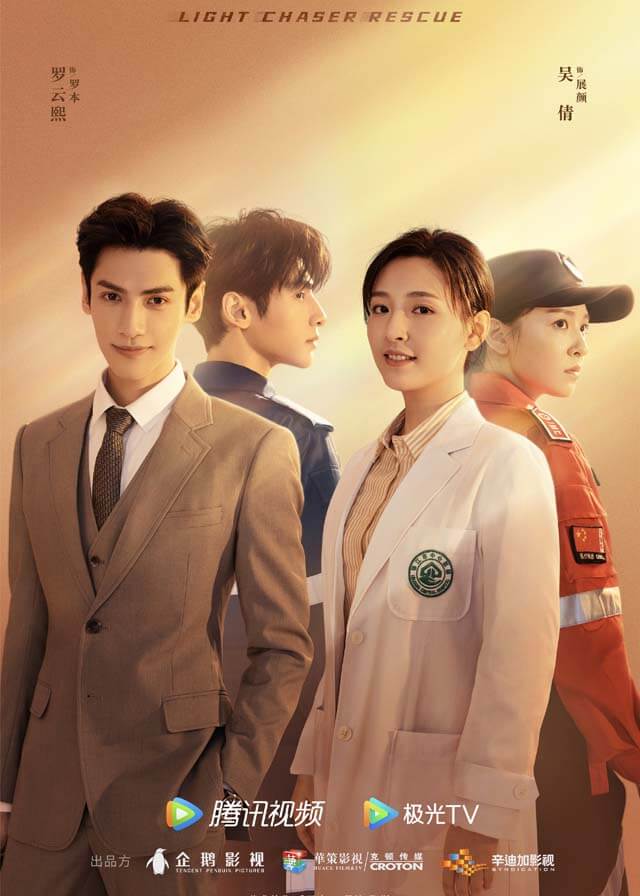 Cast
Synopsis
When an earthquake occurred in Xichuan, Luo Ben, a lawyer, went to the disaster area to look for his sister Luo Yuan. He had his first contact with the rescue team led by Captain Qingshan and met Zhan Yan again.
Luo Ben was deeply infected by the people in the disaster area who were helping each other and the rescue team members who sacrificed their lives to save others, and he also admired Zhan Yan's excellent medical skills and selfless spirit.
Luo Ben, Xiong Fei, Zhou Mingming, Ding Dingding, and other newcomers joined the rescue team. Under the "devil training" of Captain Qingshan, the team members participated in various rescue and relief operations, such as earthquakes, fire, drowning, and typhoons…
Reviews
You May Also Like
Related Posts
Chinese Dramas Like Light Chaser Rescue

How is Luo Yunxi and Bai Lu's Relationship?

Who is Luo Yunxi 5-year girlfriend, is the net rumor of his love history true?

Luo Yunxi and Dilraba His Favorite Actress on the same stage

Luo Yunxi and Zhang Ruonan Compose Love Symphony, How Their Chemistry Together Is?

Janice Wu Qian, Zhang Yujian Were exposed To Be Married With A Child

Does Yukee Chen Yuqi Have A Boyfriend?

Zhang Yujian Admits To Having A Daughter With Janice Wu Qian

Luo Yunxi Photos

Janice Wu Qian, Zhang Yujian Announced Divorce

Luo Yunxi Was Injured In A Filming Accident, Fans Were Heartbroken, The Related Actor Issued An Apology And Denied Wearing A Ring

Luo Yunxi, Cheng Xiao Have Suprise Chemistry. What's Their Relationship?

Luo Yunxi looks very handsome in the live video streaming

Janice Wu Dramas, Movies, and TV Shows List

Luo Yunxi Dramas, Movies, and TV Shows List

Luo Yunxi, Bosco Wong Takes On The Role Of A Daddy, Taking Care Of The Baby With Fun

Victoria Song Qian, Luo Yunxi: Dangerous Relationship in "Broker"

"Lie To Love" is about to shoot? Luo Yunxi will play the leading actor, Cheng Xiao will be the leading actress?

Bai Jingting, Janice Wu Qian's CP Is Less Attractive Than Ni Dahong In "Octogenarian And The 90s"

Luo Yunxi's Mr. Moxi Season 3 aired on December 24, 2020